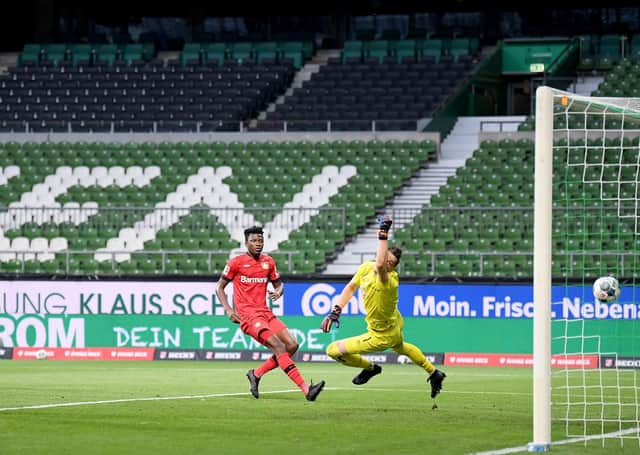 German games have resumed in empty stadiums. Picture: AFP via Getty Images
A meeting of League 1 and League 2 clubs has confirmed the overall willingness of teams in the two set-ups to play games behind closed doors when circumstances related to the Covid-19 pandemic allow for next season to start.
However, this desire was tempered with an appreciation that it may simply be impossible because of the harsh financial realities.
Stenhousemuir chairman Iain McMenemy described himself encouraged that procedural matters were on the agenda, and discussed in detail in a spirit of togetherness.
Yet, he and his fellow club representatives recognise there may be insurmountable hurdles to avoiding the need for clubs effectively to be mothballed until the new year.
"I think most clubs agreed we shouldn't throw in the towel at this point and that we should at least explore whether there could be a means to put games on in parallel with the resumption of the Premiership and Championship, " he said.
"Many of us have a great fear that if we are on ice while those leagues are playing, then we could leak fans to those clubs and supporters could get out of the habit of watching our teams. But as one person put it, there is no light at the tunnel and, as with so many businesses in this crisis, we are in a black hole."
It might be said the lower league clubs are in a red hole because there seems simply no way they could afford to cover the costs of the testing regime required for their squad. Calculated as between £3,000 and £5,000 a week, McMenemy points out that represents the entire weekly playing budget of most of the clubs. In essence then, the lower league clubs would have to double their outgoings while their chief revenue stream – gate receipts – would have been lost.
"The league [SPFL] can't provide the money to cover the testing and we would require government assistance to make this work.
"In terms of the infrastructure allowing us to broadcast the games, there are potential solutions, with the concept of a hub base for staging of games worth consideration. Every day that goes by, though, realistically the challenges do not become any easier to meet."