Johnny Russell: Kansas City forward opens up on Scotland recall, life in US and the Dundee United sock terrorist
As he prepares for the last game of America's Major League Soccer season in Dallas tomorrow night, Johnny Russell is also contemplating what might be his final tattoo.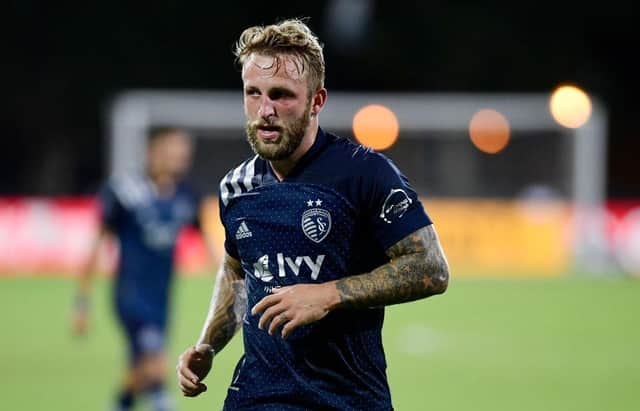 "I think this is it," he smiles. "Mind you, I've said that before. Tattoos are addictive but I consider them to be art. I probably started a bit younger than I should have done – my first was on vacation in Bulgaria aged 15 – and if this really is to be my last then it's going to be huge: me and my two kids, right across my back, walking out of a tunnel, stadium rearing up. The artist isn't finished yet so I've got to suffer some more pain but I'm sure it'll be worth it."
But while we're talking conclusions via Zoom, Russell at home in the suburbs of Kansas City, there's one aspect of his life which he sincerely hopes isn't over, finito, consigned to history: playing for his country.
This son of Coatbridge last turned out in attack for Scotland three years ago next Thursday. "Then came Covid – I knew that was going to kill me," he says. "I was in every squad up until the pandemic and then it became impossible for me to fly over from the States." Russell missed the playoffs which took us to the delayed Euros. "Then I had a brilliant 2021 – 16 goals and ten assists – but didn't get the call [for the finals].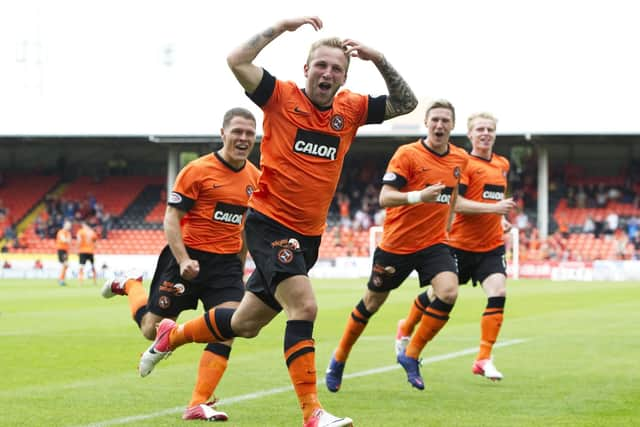 "I'm not stupid – I know where my career is at right now. You might call it the home straight at 32 but I'm still feeling good with plenty more to offer. I hope everyone knows that I'd still answer the call."
He always did in the process of winning 14 caps, the first from the bench in the 2014 friendly against England. Gordon Strachan picked him for a bit then stopped and there were three years in the wilderness before the player, who'd moved from Derby County to Sporting Kansas City, was brought back by Alex McLeish.
"During my time out of the squad I wasn't playing badly. I did wonder if my Scotland career was over but I didn't give up hope." Could he having been recalled, though, make the commitment to keep coming back across the ocean when some found it too arduous to pop over to Hampden from Bothwell? No problem, even though international duty could involve 20-hour treks and six flights covering 13,000 miles. "Sometimes I'd get the last 15 minutes of a game, other times none at all, but that was okay – I was just happy to be involved again." Russell became the transatlantic tartan trouper and was much admired for it.
He's six hours behind us in America's midwest and with no training today is just off the golf course. The birthplace of Tom Watson, and music gods Burt Bacharach and Charlie Parker, Kansas City has been his home since 2018 and he loves the life he's made there with wife Nadine, his school sweetheart from Coatbridge, and their children Blake, five, and two-year-old Julius.
So what's the most USA thing he does? "Barbecuing. It's massive here. I'm not as super-professional at it as some of the guys we know but I have a go." There are, though, plenty of traces of the homeland around the house: "Lots of tartan, a fair bit of whisky too, and at the airport the other day I picked up this fridge magnet which plays the bagpipes. The kids love it. They've both got strong Scottish accents which, given all their wee pals are American, is surprising, but I'm glad."
Behind Russell on the wall of his man-cave is a dartboard, which might be there to remind him of Perth Road, Dundee, where his football journey began. This was the address of the Dundee United digs which housed the club's teeny terrors, Russell being banged up with 20 other youth team prospects. "That was mayhem. Rooms would be ransacked, boys would be locked in cupboards and there were submission matches every night. It was brilliant, but I felt sorry for Carolann and her husband Steve who ran the place for having to tidy up after us smelly tykes."
Not that Russell was spared scrubbing duties in his early development. "The youths basically cleaned Tannadice. Went round the entire stadium with brushes and mops. I think my age group were the last to have to do these menial jobs. Wrongly, the practice was stopped. It would probably be called bullying nowadays but I reckoned it instilled discipline and character.
"My tasks included looking after the first-team equipment. That wasn't the hardest but there was still pressure. It wasn't uncommon for a first-team player to send back his boots five times if he didn't think I'd cleaned them well enough. And the balls had to be kept absolutely spotless, right down to the stitching."
One day the players disembarked for training at college grounds but the glistening spheres had been left back to Tannadice. "The goalie coach claimed he told me to pack the balls, which was a lie, but I was made to run the two miles to the stadium – in my boots along the dual carriageway – to fetch them." Russell's manager was Craig Levein. "He was modern in his football philosophy but old-school strict in his handling of players. He was tough on me. I asked some of the senior guys what I might be doing wrong and they said: 'No no, he loves you.' Looking back, I can see he didn't want all the mucking about to hinder me fulfilling my potential. I'm grateful to him for that."
These footballers, they do like their jolly japes. Following Scottish football on TV from the heart of Missouri, and seeing sharply-dressed Hearts manager Robbie Neilson cut a dash on the touchline, reminds him of the great holed hosiery mystery of Tayside, and how it was ingeniously cracked: "When Robbie was a player at United he had good gear even then. But someone was cutting the toes out of his socks. This went on for quite a while and he was getting more and more mad. Then he had the idea of setting up his phone in the changing-room in the hope of catching the culprit on video. A few of us watched the footage back with him. It was really quite exciting. Suddenly, when no one else was around, this figure skulked into view. It was Michael Gardyne."
While his father Iain followed Rangers, Russell's mother, Patricia, hailed from the Calton area of Glasgow so trips there to visit his granny on bustling Celtic match days persuaded him to switch allegiance from Albion Rovers. He has a funny story about his younger brother: "Mark when he was wee was convinced he'd been on Earth before. He told everyone his dad was [Ivory Coast's one-time Celt] Olivier Tebily. That still gets brought up at every family get-together. Mark was on Dundee United's books for a while and has just finished uni, studying physiotherapy." Russell, incidentally, was asked to leave high school after going against the head teacher's wishes and joining a United trip to Cyprus. "Looking back, I wish I hadn't. My kids won't get to know about that." His football education, though, saw him burst into the first team at Tannadice with a clutch of thrilling goals, none more so than in a Dundee derby in 2012, cutting in from the right for a left-foot rocket shot from 25 yards. "That's definitely one of my all-time favourites. I like watching it back because there were a couple of Dundee fans behind the goal up on their feet and about to jeer because they thought the shot was flying over the bar. They had to quickly sit back down."
His most memorable goal from his four and a half years at Derby was a similar strike in another derby, against Nottingham Forest. But his time in the Midlands ended sourly. "A lot of things happened off the field which made me feel completely let down and disrespected. There was stuff done behind my back. I found out about it and was told lies." Russell won't elaborate, though, other than say those responsible are no longer at the club. "I had a good time there, the fans were great to me, so I don't want to dredge it all back up."
Russell's decision to move to the States prompted some consternation. "Folk thought I was joining a retirement league. The view was: 'You've no ambition, you're done.' To me that's a lazy, ignorant perception of the MLS. I supposed it might have been valid ten or so years ago when some ageing stars came over here and didn't do quite as well as the big build-ups suggested they would, but it doesn't apply any more. Recruitment is centered on young players, lots from South America." As one of the more experienced men at Sporting Kansas City, Russell has taken it upon himself to learn Spanish to aid integration. He's also been a kind of cultural attache for Scots contemplating crossing the Big Pond for a league that currently features Ryan Gauld, Sam Nicholson, Lewis Morgan and Danny Wilson. "Maybe the MLS should be cutting me in on some of the deals," he jokes.
So how does he think his adopted country will fare in the World Cup? "They'll be dangerous. England and their other opponents in the group shouldn't underestimate them. The USA have Christian Pulisic, the kid [Giovanni] Renya and others from some of the best teams in the top leagues of Europe.
"The conditions in Qatar are going to be an insane factor. The heat will still be in the thirties at the time of the tournament and the humidity will be crazy high. I don't see European countries coping with that so if I was a betting man my money would be on Brazil or Argentina to win it."
Always one who fancied a footballing adventure – at one stage that might have been Italy – Russell's completes his fifth season in the States tomorrow. "I love it here," he says. The training facilities are space-age in contrast to being on loan at Forfar Athletic and having to change in the car, though he rates working under Dick Campbell one of those special times.
The MLS may lack the intensity of the derbies he experienced in Scotland and England but, having had his fill of that, this is a positive. "I miss the banter of back home but some folk couldn't, or didn't want to, distinguish between that and out-and-out abuse. Life is more relaxed here and it's a great place to bring up kids. Will we end up staying? I reckon I'd be happy doing that whereas Nadine is more likely at some point to want to return to Scotland. It's a topic we kind of tiptoe around but we don't need to have the conversation just yet."
But whether the Russells eventually announce, in the words of The Wizard of Oz's Dorothy, "We're not in Kansas anymore", Johnny continues to hope for another dark blue recall.
"I remember the nervous excitement of my debut. Would this be my big chance? Was I ready for it? My whole family and lots of friends were there to watch. Suddenly I was on the park, playing well, a couple of chances, then setting up Robbo's [Andy Robertson's] goal. Then, five years later, getting my first international goal, a pretty miserable night in San Marino, but no one can take that away from me.
"I'd love the chance to do it all again. You guys know where to find me. As a Scot I don't think you should ever officially retire and say you're done playing for your country."
Comments
 0 comments
Want to join the conversation? Please or to comment on this article.