John Nelms confirms Dundee's big Dens Park call and speaks on futures of manager and players
Dundee's 99th season of top-flight football will take place at Dens Park, their home ground since 1899.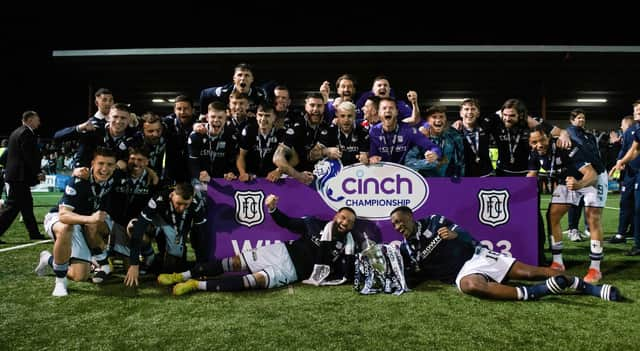 Managing director John Nelms has confirmed this important piece of housekeeping while also admitting the club took a "calculated risk" allowing so many first-team players' contracts to run down while in pursuit of Championship glory.
The gamble paid off in dramatic fashion at Ochilview on Friday night as Dundee prevailed in an eight-goal thriller against Queen's Park. The hosts were two points behind Dundee at kick off and moved above their opponents for five first-half minutes when leading 2-1 in the high-stakes shootout. "Two years ago no one expected us to be promoted. This year everyone expected us to," reflected Nelms.
As many as 20 first-team players are now out of contract while manager Gary Bowyer and assistant Billy Barr are not guaranteed to be around next season. Two young stars from Friday night, 20-year-old pair Lyall Cameron and Josh Mulligan, are reported to be interesting clubs elsewhere and are free to leave for the return of a development fee. They have been offered new contracts but the situation remains unresolved.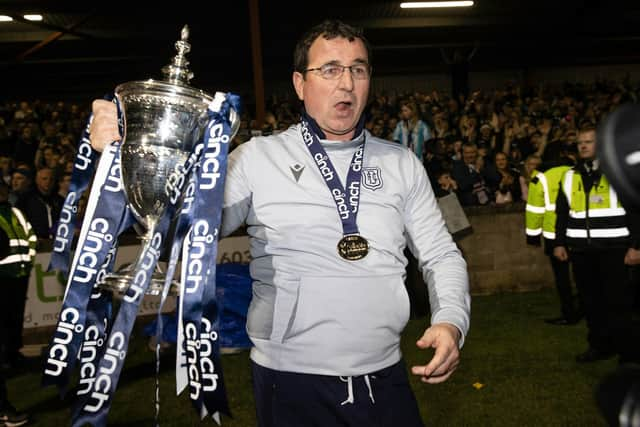 Skipper Ryan Sweeney, who hoisted the Championship trophy aloft on the balcony of the City Chambers on Sunday afternoon at a civic reception for the title winners, will shortly be out of contract, likewise Alex Jakubiak and Lee Ashcroft, who scored Dundee's first two goals in the 5-3 win. Nelms admitted the strategy was risky with players potentially losing focus amid personal uncertainty. But he explained the club were desperate to avoid a situation like the last time they went up, via the play-offs in 2020-21.
"The last time we didn't have any contracts to give really," said Nelms. "It was the same team going into the Premier League that we had in the Championship. Very few changes. This time we have a base but we can build on it and bring quite a few more players in. We wanted to make sure the players were all really focused on winning the league. That is what we have been trying to do. As you know, if you don't know what league you are going to be in, it is really hard to build. We took the decision this time to hold off (contract talks) until we knew where we were going to be and then work that little bit harder to make sure we are prepared for next season."
He admitted he feared this policy could backfire. "There is risk in everything you do. We took a calculated risk and it worked out. Sometimes it doesn't, this time it did."
It did go too close to the wire for his liking. "My cardiologist isn't too happy with what happened but we are where we are!" he said. "We were top of the table at Christmas and in the form table in February we were second bottom! But we were still second in the league so we still had a chance. Credit to the players, they stuck in and fought and fought and fought."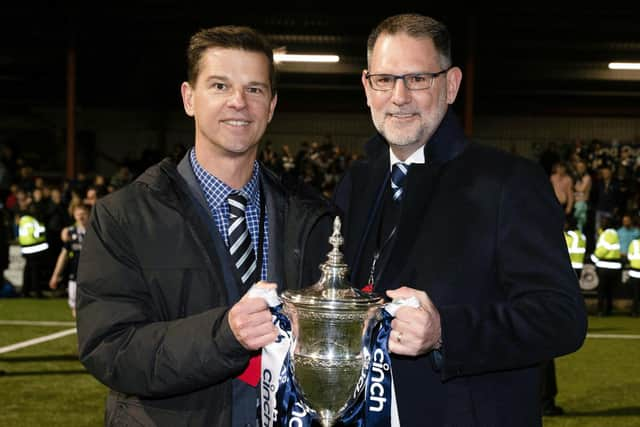 One thing seems sure – the team that steps out at Dens Park next season will look very different to the one that left the pitch at Ochilview in various states of undress. Despite speculation about groundsharing amid on-going delays with a proposed new stadium on the outskirts of the city, Nelms revealed it will be Dens Park hosting top-flight football for one more season at least.
"Definitely Dens next season," he said. "We are definitely there. The groundsharing thing – there was only a very specific way that would happen. It came all down to financing to do with one of our financing groups, because of the way it was set up.
"Planning (for the new stadium) still has to be approved," he added. "Transport Scotland came back a couple of weeks ago asking us to look at a few more intersections, which we have done. It is ticking along ever so slowly. We are behind schedule but everyone is pushing as hard as we can."
Chairman and owner Tim Keyes is due to return to the United States on Monday after extending his stay to attend the civic reception held in honour of the champions. He has already begun the process of preparing for next season alongside Nelms.
The last thing Dundee want is to come straight back down again. They already have the dubious distinction of being the most relegated top-flight club since reconstruction in the mid 1970s. Their 12th place finish in 2021/22 was the eighth time the club had slipped through the trap door in that time frame.
Remarkably, Bowyer is the last manager since Tommy Gemmell, in 1979, to start and end a season where Dundee finished second tier champions. The Dens Park club have a habit of sacking managers mid-season, even when at the top of the league. That fate befell John McCormack in 1998. John Brown left midway through the 2013-14 season and Iain Munro (who had replaced Gordon Wallace earlier in the campaign) was replaced by Simon Stainrod in 1992.
Asked specifically about Bowyer's future, Nelms said the relevant parties, including technical director Gordon Strachan, are due to meet imminently. "We are going to sit down with Gordon (Strachan) and everybody will get together and start talking about what's next," he said.
Bowyer is not naïve about the size of task ahead – whether it's him or someone else who is handed the responsibility of keeping Dundee up. "Obviously that will take a lot of hard work both on and off the pitch," he said. "Finance comes into that as well. Hearing what clubs pay in the Premiership, I'm not talking top four but lower down, and how competitive it is it is a big ask next season. We have 20 players out of contract as well. I only signed one permanent player this season as well as Pierre Reedy and Derick Osei. The club has now got to move forward."