Jim Goodwin refuses to 'chuck towel in' after Aberdeen's horrendous night at Hearts
Aberdeen boss Jim Goodwin said that he had been blindsided by his side's 5-0 humiliation at the hands of Hearts but he insisted he would not "chuck the towel in".
"I am extremely embarrassed and the players will be feeling the same," said the Dons' gaffer. "We have let everyone down and that's on me. I didn't see it coming. We played well on Sunday and it's difficult to make a lot of sense of it. I can't get my head around how I am speaking after a 5-0 defeat. I can talk about this, that and the other thing but we didn't deal with situations defensively well enough. That is why our goals-against column is as bad as it is. But I am not a beaten man, I will never chuck the towel in if that's what you are suggesting.
"Part and parcel of being a manager at any club is getting results and winning games of football. Unfortunately, up to now, we haven't earned enough points away from home. It's something that has to change quickly. We need to do better defensively. That's on me. I am the one that puts them out there and asks them to play a certain way but when they cross that white line it's over to them and you want them to do well in key situations."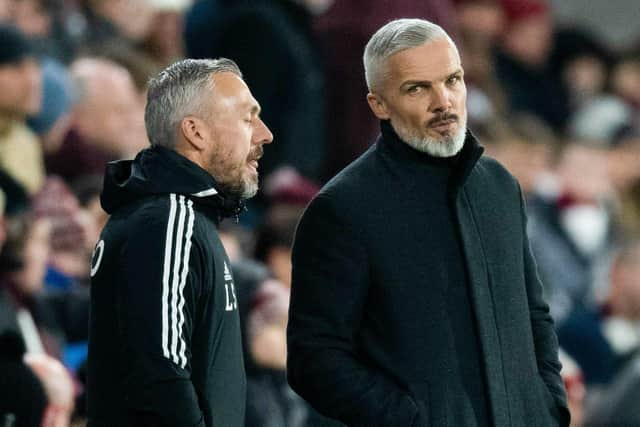 The Pittodrie side have won just one of their eight matches since returning from the World Cup break and they now trail third-placed Hearts by nine points, but while certain flaws are obvious, Goodwin said he still has faith in his players.
"Some of our defending for some of the goals was very hard to explain. Hearts have had six shots on target tonight and have scored five goals. Joe Lewis has made one save in the whole match. I can't point the finger at Joe Lewis. I don't think there's anything he could have done with any of the five goals."
The absence of captain Anthony Stewart, following his red card in the League Cup semi-final, was telling, but Goodwin was not looking for excuses. "I don't think they are a weak group, I really don't. I think there are a lot of good characters in there. It is very early right now for me to analyse the game and there is a helluva lot to digest. But our home form has been very good this season and our away form has been abysmal. And you can't rely on our away form to take us where we want to be. It's an extremely difficult one for me to put our finger on right now.
"This is on me. I'm the manager, they are my players, I brought the majority of them to the club. I still believe in them as a group. I think there are a lot of good players in there, a lot of talented players, but ultimately we concede far too many goals and that's the crux of the matter."