Jim Goodwin on that picture at Hibs, how Rangers and Celtic cost him his job, Aberdeen fans and elbows at Dundee United
The image of Jim Goodwin scaling an advertising hoarding as he sought to make a quick getaway from Easter Road shortly after being sacked by Aberdeen remains seared in the memory.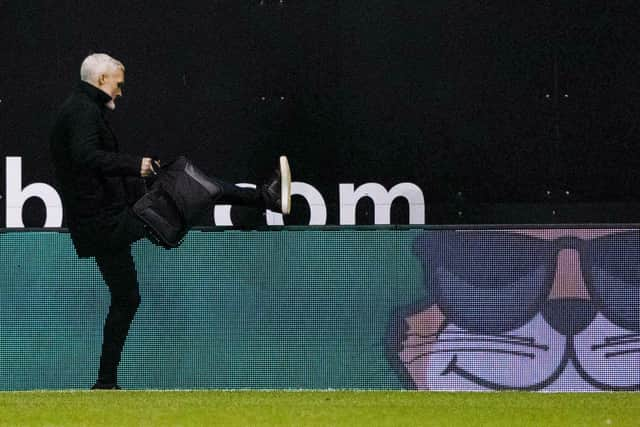 Described by some as another iconic hoarding-related moment in Scottish football, after Gordon Strachan tried something similar when celebrating scoring against West Germany during Mexico '86, it felt more hands-over-the-eyes, how-can-he-ever-recover-from-the-indignity kind of memorable.
Some Hibs players were still warming down when Goodwin was spotted exiting the scene while carrying a bag, like a criminal with his swag. It seemed entirely possible this would be the last we would see of Goodwin for quite a while. The epic nature of Aberdeen's implosion under him meant it was deemed likely that he would need some time to take stock. He might even prefer to head to another country to rebuild his management career.
Goodwin affixes no blame to Dave Cormack, the Aberdeen owner who wasted little time in telling the manager he was being relieved of his duties after the 6-0 defeat. The news emerged just 19 minutes after the final whistle. Goodwin immediately turned to head down the tunnel to meet what he understood would be his fate. "I know it's not good enough," he told Cormack.
What he didn't anticipate was the act of his departure being seized upon to ridicule him. "Some of the videos I have been sent have been dramatised – it looks like something from a Hollywood movie!" he said on Thursday, as he settled into his new surroundings as Dundee United manager.
Hollywood might have struggled to come up with this script, particularly the bit where Goodwin's new team play Aberdeen next. But first, those poignant last scenes at Easter Road. Why walk across the pitch in full view of photographers? "I can assure you, I was looking for the quickest route to my car!" he explained. "The steward pointed me in that direction and that was the way I went."
He reflected on a sound start to the season that had Aberdeen sitting third before the World Cup break. "We had a brilliant first half of the season," he said. "Well, maybe brilliant is a little bit over the top, but it was a very good first half."
The slightly pathetic manner of his exit was far removed from the way Goodwin arrived at Pittodrie a year earlier, when slow-motion footage of him signing on for duty in a crisp white shirt and sharp suit was released. It was a more traditional, scarf-over-the-head sort of unveiling for Dundee United.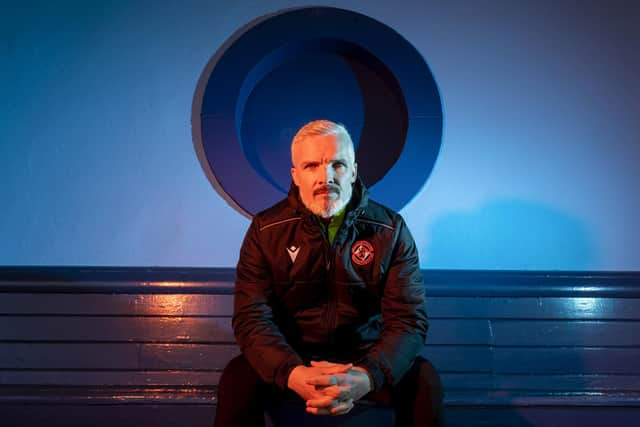 Goodwin sat with reporters in the buzzy reception area of the St Andrews University sports centre. It would be wrong to say he looked humbled and, indeed, why should he? He's not the first manager to walk into another job shortly after being sacked. Goodwin contends he was the victim of "one horrendous week" – ten days actually – and that the fixture list had done him few favours, with back-to-back league visits to Tynecastle (0-5) and then Easter Road (0-6).
In between was the result that really altered the debate about his future, when Aberdeen were humbled by junior side Darvel in the Scottish Cup. He argues that he would have been sitting plotting Dundee United's downfall with Aberdeen this week had his then side been able to hold out a little bit longer against Celtic and Rangers during a few fateful days in November.
"Against Celtic we were three minutes away from taking a point, against Rangers we lost two late goals in the 95th and 97th minute," he recalled. "If we'd taken four points from those two games, I don't think I'd be sitting here, quite frankly. The last week prior to losing my job was a disaster, there's no hiding from that."
There is also no hiding from the fact that, while many United fans have welcomed him, there are some who remain distinctly unimpressed with the United board's choice of Liam Fox's successor. On top of this is his reputation as a fiery midfielder. He was the sinner in two elbowing incidents against Dundee United while with St Mirren. "There's not many stadiums in this country I can walk into and get a warm reception," he responded. "The most important thing for Dundee United fans is they support their team."
And then there's the Aberdeen fans to consider. Unusually, because of the seating arrangements at Tannadice, they will be housed over Goodwin's shoulder tomorrow night. It might not be pleasant. The Aberdeen travelling support is a big and often vocal one – particularly given the evening scheduling, when drink will have been taken. These fans will likely aim to make Goodwin feel as uncomfortable as possible.
"I don't know what kind of reception I will get," he admitted. "I stopped worrying about what reception I would get as a player a long time ago. Normally it wasn't a very good one. That sort of thing doesn't affect me. All I would say to the Aberdeen fans was that I am very grateful to them for the support they gave to me during my short time at Aberdeen. I loved the club and everything about it."
Few can have such a unique insight into Aberdeen's weaknesses as Goodwin. He signed many of their players after all – or at least had input into them coming. He knows mistakes were made.
"We probably didn't bring enough players of experience, who know what the Scottish game is all about defensively," he said. While he stopped short of repeating the pledge that returned to haunt him at Aberdeen, when he described defensive flaws as the easiest to solve, he did point to United's seasoned rearguard, citing Ryan Edwards, Charlie Mulgrew and Scott McMann. "There's a number of defenders there who know exactly what the Scottish Premiership is all about."
They now have a manager who sports the scars of experience and is extra determined to succeed. It's what United are gambling on.