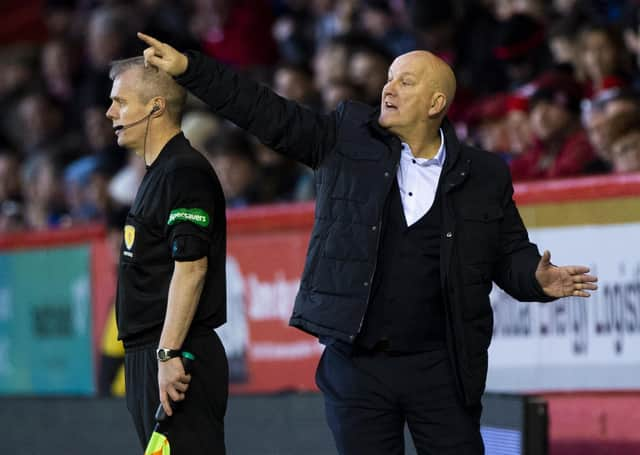 Dumbarton manager Jim Duffy has been a fixture on Scottish touchlines for decades. Picture: Bill Murray / SNS
When he was playing at the heart of a Morton defence that shipped a record 100 goals, Jim Duffy still showed up well enough to earn the favour of his peers and be named Scotland's Players' Player of the Year in 1984/85.
If there was another vote now for most popular person in the Scottish game, he would likely win that title as well – and it would be every bit as deserving.
The worrying news that emerged on Tuesday night that the Dumbarton manager, aged 61, had suffered a heart attack was met with concern throughout the game, in Scotland and beyond.
Even at Chelsea, where Duffy spent some time as a youth coach in the late 1990s, they took time out from preparing for tonight's Premier League fixture with Manchester City to tweet their best wishes: "All of us at Chelsea are wishing our former youth team coach, Jim Duffy, a speedy recovery following news of his recent heart attack. Get well soon, Jim!"
Duffy enjoyed a period in London working with Gianluca Vialli, whose assistant at the time – Graham Rix – had played with Duffy at Dundee in the early 1990s. Rix and Duffy, of course, later teamed up together at Hearts. That earlier spell at Chelsea helped Duffy recover from an ultimately troubled 13 month-long tenure at Hibs, where he was sacked for the first time in his career after a 6-2 defeat by Motherwell in February 1998.
Hibs were among the many clubs to tweet a message concerning Duffy yesterday. "Everyone at Hibernian Football Club would like to wish our former manager, Jim Duffy, a speedy recovery following his health scare," it said. Dumbarton, his current club, issued an update, which included the news he is "making positive progress". He felt well enough yesterday to respond to well-wishers.
Duffy reacted to the heart-attack diagnosis – he was admitted to hospital on Saturday after suffering chest pains – with the wry amusement expected from him. "Those 40 years of not drinking and smoking worked out well," the well-known teetotaller told sports writer Kenny MacDonald, one of his many friends in the game.
He has, however, put on weight in recent times, a consequence of a devastating knee injury suffered while he was in his pomp at Dundee. It's far too great a leap to link that personal health crisis with his current one but he always knew he would struggle to keep active because of the long-term repercussions from catching his studs in the lush Ibrox turf during a game against Rangers early in the 1987-88 season.
It's interesting to note that former Hearts manager Craig Levein, who suffered a heart attack in August 2018, suffered a similarly serious knee injury while a player at Tynecastle that has badly affected his movement in recent years.
Duffy initially told manager Jocky Scott he wanted to run the injury off. Days later a surgeon was reeling off a sickening litany of mostly incomprehensible medical terms to him.
"You've got a ruptured cruciate ligament, a damaged medial ligament'," Duffy was told. "You've got a femoral condylefracture, you've got meniscus damage and you've got articular surface damage."
The upshot was he was told he would never play again. Just under two and a half years later, he made an emotional return to the Dundee side in a Forfarshire Cup final victory over St Johnstone. The following weekend against Rangers, where he was up against Maurice Johnson, it was as if he had never been away.
Duffy later led Dundee to two major cup finals as manager and is rightly regarded as a legend at Dens Park.
Just the evening before Duffy's scare I was interviewing the recently-retired Gary Harkins and he brought up the subject of his former manager at Morton. We were discussing those he had enjoyed playing under most throughout his career.
"Duffy was brilliant," Harkins said. "I spent a year there, and I was like: 'how he is not back at a higher level?' He just makes it so, so simple for everyone. Everyone knew what they were doing, it was not complicated. He knew his football.
"If anyone ever asks me about a new manager, I would say Duffy no bother. You have the new modern coach with the badges but it's about getting players to understand what they need to do, and that's what he did."
The hope is that Duffy is back imparting such wisdom at Dumbarton before long. The one blessing is he knows he is not missing much at present.