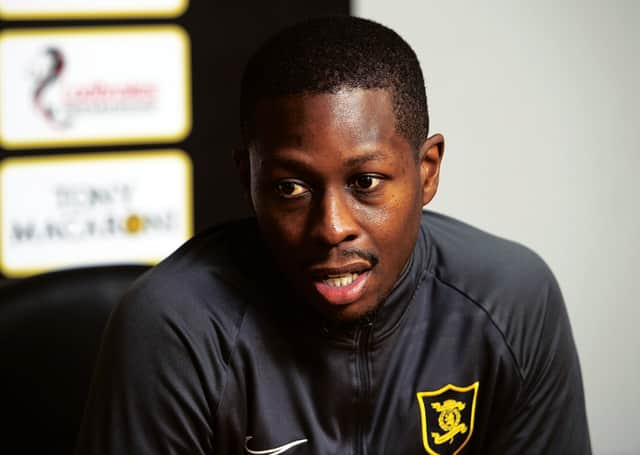 Livingston's Marvin Bartley. Picture: Paul Devlin / SNS
As social media ferments with preferred options for resolving a season that has been halted in its prime and the game's power brokers debate the same conundrum behind closed doors, Marvin Bartley says it is important that players are a major part of the dialogue.
With little chance of pleasing everyone, unless an unexpectedly swift return to action allows the season to be concluded on time, the Livingston skipper hopes that when consideration is being doled out to minimise the upset, players are not left at the end of the queue.
"We are human beings, with our own lives outside the game, and families, and sometimes I think that does get overlooked," he says, reminding people that footballers are not faceless commodities or Subbuteo play-things.
"It is a huge concern and it has been spoken about in the dressing room because we only get a certain amount of time off and we have all booked holidays in advance, people have weddings, and someone has a family reunion as well, and that has all been planned around the summer break.
"Even my family, they have to plan a lot of what they are doing through the year around the football season and the limited time I am back.
"I'm not asking people to get the violins out but we do make a lot of sacrifices in our personal lives throughout the season, which is why everything is planned around the four weeks we do get off in the summer. And I'm just asking people to remember that. This impacts on us, too.
"I get why people are saying we could play into June but we have plans as well, and families, and we can't be expected to just keep training indefinitely, waiting to find out when we will play. That's before we even think about things like contracts which expire at the beginning of June and would need to be extended.
"Even then, there are a couple of boys who are getting married – can you imagine that? You can't just phone up the venue and tell them you've got to carry on playing so can I just have my money back. They are not going to see that as a valid excuse to cancel. They are going to say 'no'. Not to mention the fact that guests travel from all over for weddings and have probably already booked flights or hotels.
"And can you imagine how their girlfriend will react. Weddings can be two or three years in the planning but they have to turn around and say: 'Sorry, we have to cancel because I have to play football'.
"Look, we understand that 
people's health is the most important thing and understand why the league has been suspended – we have families, too – but some of these so-called solutions would cause so much disruption and players would be stuck between a rock and a hard place. Between their club and their families, and I don't think that is fair."
Which is why the 33-year-old midfielder wants to see players consulted before any definitive decision is taken.
"I know PFA Scotland have been trying to protect the players, and they do a great job," he says. "But when it comes to something like this, I think there should be players involved in the discussions because who speaks more passionately about the issues that affect the players than someone in that position?"
Bartley accepts that finding an answer to the question of what happens next is not easy. With the season nearing its conclusion, he thinks it would be unfair to now void the previous 30 league games and deny teams titles, but acknowledges that sporting integrity becomes a factor if the current league standings are used to determine outcomes that the clubs involved believe they still had a say in.
With the virus, fans, clubs, contracts, finances and the world football calendar all to be given cognisance, several solutions have so far been mooted but all of them come with flaws.
Whether that be voiding the season, ending it now and issuing titles, European spots and relegation based on current standings, seeing out the final run of games behind closed doors, or postponing the conclusion until a resumption is possible and playing through the summer, there are plenty of suggestions.
But football is nothing without fans, maintains Bartley, who would hate to see closed-door games. He says that this option also shows disregard for players and their families, who would still be exposed to each other and the army of staff it takes to put on matches, with some staff and players already showing signs of the virus.
"And what about part-time players or referees who still need to do their day jobs?" he asks. "There is no simple answer. But I think everyone agrees that people's health is the priority."
Others have advocated taking the anticipated lengthy lay-off into consideration and postponing the curtain call until after the usual summer shutdown, whereby this campaign could be played to a conclusion over the course of four weeks, in place of the drawn-out League Cup group stage and then a new, possibly abridged, league campaign could begin.
The latter option, although still not perfect, would probably be the one that Bartley favours. It lets everyone know where they stand, and provides a more ethical and therefore satisfying outcome, he suggests.
"A lot would depend on whether contracts could be extended until the conclusion of the season and what is going to happen with European competitions etc. But playing the season to a conclusion makes a lot more sense," he adds.
"It would be a more exciting return from the summer break and, yeah, it would mean that there was no talk of tainted titles or rows over who did or didn't deserve relegation.
"The players would prefer it. You go into every season knowing how many games are in a league season and you don't want to feel there is a question mark over anything you achieve.
"This would give players the chance to feel fulfilled and if you win a title, get into Europe or are relegated, at least you know it was down to what you did, nothing else."