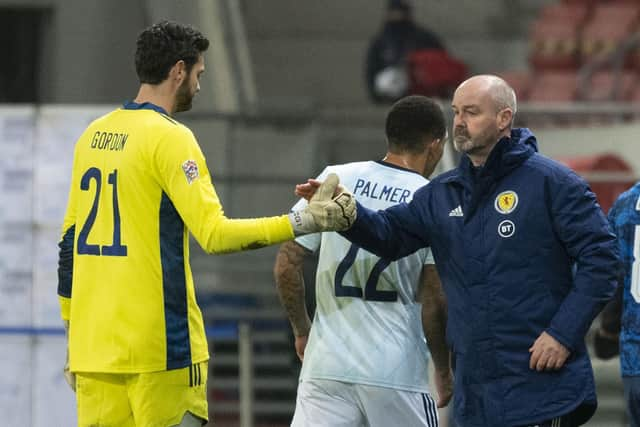 The Hearts veteran is that important to the Scotland cause. That might be considered a concern when Gordon will turn 40 next month. However long his eternal footballing youth is proving, it cannot go on forever – even if the 73-times keeper is likely to extend his starting sequence for his country to 17 games in Wednesday's friendly in Turkey. Yet, with no natural heir, the Scotland manager is comforted Gordon dares to look two major finals ahead when calculating the possible longeivity of his time as an international.
"Big Craig has assured me he's going to try and play until he's 50," said Clarke. "When you look at Craig's physical appearance, he's physically fit and looks after himself. He had that long spell out in the middle of his career when he didn't play so he's determined to play as long as he can. After the disappointment of not getting to the World Cup, David Marshall decided that he was going to retire. But Craig was immediately on my shoulder saying: 'gaffer, I want to go to the next tournament'. He doesn't just want to go to Euro 2024, he wants to go to the World Cup in 2026 if he can. That's good news. Is it feasible? He mentioned a keeper who played in a World Cup [at a good age, in 45-year-old Saudi Arabian Essam El-Hadary four years ago], Craig will be 43 but he's got his eye on it."
At the other end of the age spectrum comes 23-year-old Hibs centre-back Ryan Porteous. A player who, with his superb debut in the draw with Ukraine last month that claimed Scotland Nations League success, demonstrated his reputation as a rash and sometimes error-prone prospect can be exaggerated.
"I had no qualms about putting him in, I didn't make a big issue of it, I just picked him," said Clarke. "No big pep talk, just there you go, you're playing. And that's what he did. He played very well. It's why you try to keep the nucleus together so that the players who come away regularly can feed that international experience into the younger ones. Even though you take some away and you don't use them – I remember being in loads of squads and I sat on the bench – they are learning and they are picking up from those around them. They understand the way that you have to behave and work as an international player. Ryan has been in a few squads without being selected and the last camp was his chance. He did very well."