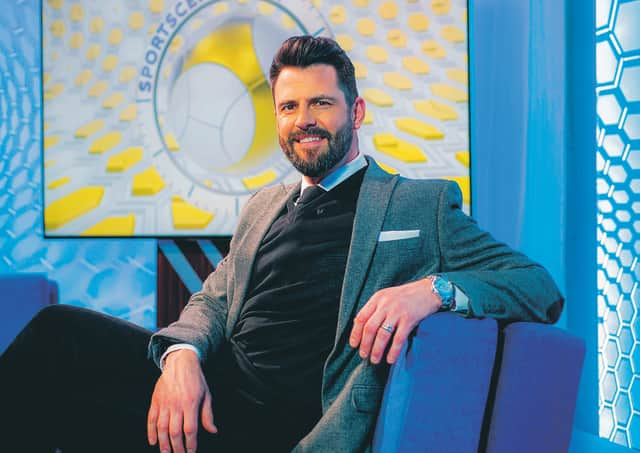 Steven Thompson gets ready to be the front man on Sportscene. Picture: Contributed
There's a lovely old photograph of Archie Macpherson and Arthur Montford attempting to play keepy-uppy in the centre circle of Hampden Park. It reminds you how, in the pair's pomp, Arthur's sports jacket and Arthur's sheepskin were woven into the very fabric of Scottish life – but it also makes you think: "Great guys and all that, but they obviously never played football." Unlike Steven Thompson.
Tonight, the former striker – Dundee United, Rangers, Cardiff City, Burnley, St Mirren and 16 Scotland caps in a 20-year career – will make his debut as host of Sportscene, Archie's old theatre. He is weel kent as a pundit, of course, but ex-players offering their opinions, either provocative and anodyne, are ten-a-penny. This is something different, and something new for Scotland, with Gary Lineker the gold standard here. No pressure then, Thommo.
"How am I feeling right now? Excited – this is a fantastic opportunity – but nervous, too," the 41-year-old admits. "Gary on Match of the Day is the elite but I'm just starting out, trying to find my way and my own style. Getting somewhere near being as good as him, though, would be amazing."
Thompson isn't a complete novice. Indeed, he has endured some seat-of-his-tight-pants experiences in front of the cameras that TV veterans would claim was the perfect training. Alongside Leanne Crichton he has fronted Friday night games in the Championship: live broadcasts from rickety old-school grounds with rushed finishes and therefore little opportunity to be as comfortable and relaxed as the boy Lineker.
The double-act was spoofed on the most recent Only an Excuse with the presenters – Jonathan Watson impersonated Thompson – interrupting each other and a hoofed ball bouncing off his exaggerated quiff. The target of the send-up saw it and laughed. Though he thought Jonathan Watson's take-off was "shite", he got the joke. "Dual presentation is tricky, live TV is obviously tricky and we were two rookie presenters so there were times when we talked over each other. At the beginning that happened a lot but I think we got better. Another challenge was that there was never much time post-match to discuss the game, get the interviews, etc, so the shows could end quite abruptly.
"Those Friday nights were a steep learning curve for Leanne and me but in their own way they were exciting and hopefully they'll stand me in good stead for Sportscene. Live outside broadcasts are completely unstructured. As a presenter in a studio my life will have structure – and an autocue."
The new season brings ramped-up coverage of football from BBC Scotland with Sportscene returning to Saturday nights, a programme fronted by Jonathan Sutherland who is passing Sundays to our man. In addition all midweek games in the Premiership will be covered by same-night highlights.
Thompson's promotion means an end to the punditry bromance between him and Michael Stewart – not Brokeback Mountain but maybe we could call it Brockville Mountain. "Steady!" he laughs. "I've enjoyed working alongside Mikey these past five years but nothing lasts for ever. The good thing is that he'll still be involved in Sportscene because he's a brilliant pundit. He'll move between Saturdays and Sundays and the rest of the coverage."
Analysis will be shared around. An expanded pool of pundits will include Marvin Bartley and his collection of outrageous shirts plus Crichton, James McFadden, Steven Naismith, Craig Gordon, Julie Fleeting and Shelley Kerr.
Thompson couldn't have envisaged any of this when he was a football-daft schoolboy watching Sportscene in his bedroom in Houston, Renfrewshire while jiggling the aerial for a better picture. Nor did he think, even though he'd started to punditise as his playing career wound down at St Mirren, that he would one day be helming the show.
"I reckoned I might go into coaching when I hung up my boots. On my A-licence course was Nuno Espirito Santo [now manager of Wolves]. But I wasn't proactive enough, didn't take the reserves as some guys nearing the end will do – I just tried to prolong playing because I was dreading the day I'd have to stop.
"I was very lucky that I'd got a foot in the door of TV and that BBC Scotland seemed to like me. There are not loads of coaching jobs to go round for former players and they can't all become pundits either.
"A number of friends who've finished with football have had to try to find entirely new careers, which is tough, because most of us have never been to uni or college and we don't have the skills to do anything else." What else might he have done? He invested in a set of turntables in his teens to DJ at underage discos – maybe he could have dug them out of the attic. "I actually thought of that." Yes, and with the addition of flashing traffic lights he could become the go-to guy for silver weddings. "No, I would have been far more niche!"
Dad-of-two Thompson thinks his football-averse wife Joanne might watch tonight and knows he can count on son – the 12-year-old is an academy youngster at St Mirren. A good number of the rest of us will surely be tuning in, what with Covid depriving us of the end of last season and this campaign being so intriguing.
How does he see the Premiership unfolding with Celtic chasing history and Rangers absolutely determined to halt them? "I think they can stop Celtic but there's huge pressure on Steven Gerrard – possibly the most a Rangers manager has ever faced. He's got to deliver for if he doesn't the record books will forever show that Celtic won ten-in-a-row."
That puts the pressure the new presenter faces into some context. And reminds Thompson that Sportscene is a great gig, one to be enjoyed, just smile for the camera.
"Nothing in life is ever going to beat playing football – a 50,000 crowd, a cup final, scoring the winning goal. But TV gives me a fantastic buzz," he says.
Sportscene is on the BBC Scotland channel tonight at 7:15pm and repeated on BBC1 at 10:30pm.
A message from the Editor:
Thank you for reading this story on our website. While I have your attention, I also have an important request to make of you.
The dramatic events of 2020 are having a major impact on many of our advertisers - and consequently the revenue we receive. We are now more reliant than ever on you taking out a digital subscription to support our journalism.
By supporting us, we are able to support you in providing trusted, fact-checked content for this website.