Steve Clarke backs Scotland players' standing anti-racism stance and has say on taking the knee message
Steve Clarke has issued strong support for his players after it was confirmed the Scotland team will stand rather than take a knee before Thursday night's opening World Cup qualifier against Austria in solidarity with Rangers midfielder Glen Kamara and others.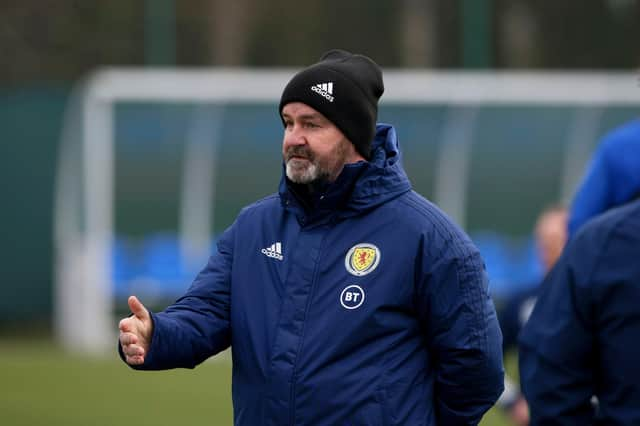 Steve Clarke: backs Scotland players' choice to stand rather than take a knee before opening World Cup qualifier v Austria (Photo by Craig Williamson / SNS Group)
The Ibrox player was the alleged victim of racial abuse from opponent Ondrej Kudela during Thursday night's Europa League clash against Slavia Prague.
Players from both Celtic and Rangers stood prior to the Old Firm clash on Sunday in a show of protest against this and other high-profile incidents of late. Players from Dundee United and Motherwell also stood as opposed to taking a knee before their games against Aberdeen and Kilmarnock a day earlier.
The Fir Park club issued a statement from the players complaining that taking a knee prior to games had become an "empty gesture".
Most Popular
502 Bad Gateway
Clarke also believes the anti-racist message communicated by players taking a knee for a few seconds before kick-off, as has happened since the start of this season, has become "diluted" over time.
He backs his players' decision to remain standing prior to the Austria clash as Scotland embark on the first full World Cup campaign under the manager.
"I think recent events and past events tell you that you have to keep changing people's mindsets and reminding them," said Clarke. "The knee, when it was first taken, was a really powerful symbol. It has maybe become a little bit diluted.
"There have been some high-profile cases recently and the abuse is still there, and it's not acceptable. Maybe just taking a stand, as opposed to taking a knee, will just waken everyone up. If we go to sleep, it will never go away, we have to keep confronting it and pushing forward, and making sure in years to come racism of any form is not acceptable."
Steven Reid, Clarke's assistant, has stressed he would always support players who feel the need to walk off a football pitch because they or one of their number have faced racial abuse.
Reid, who played for clubs including Millwall, Blackburn Rovers and West Bromwich Albion, believes the problem has become worse in recent times. He insisted he would be right behind a player or players who felt extreme action such as walking off a pitch was necessary.
"Absolutely, I would," he said. "Now, I think we're getting to that stage now. Again, talking about it, it's now got to be about proper, meaningful action.
"Something needs to be done. I think time's come on now from opinions of 'you should never walk off the pitch'. Listen, it's a player's decision. If he's got the support of the players and that's the action they want to take, then I think we have to totally support that.
"I limit my social media use," he added, with reference to his own experience of racism. "I've been quite lucky. There have been individual moments. But I've got to say that things have escalated in the period that I've finished playing.
"It wasn't such a massive issue that I think it's become now. Obviously, there were issues. It just seems to have escalated massively now into a daily occurrence."
Meanwhile, Rangers midfielder Ryan Jack, who missed Sunday's 1-1 draw with Celtic, has withdrawn from the Scotland squad through injury.
Want to join the conversation? Please or to comment on this article.