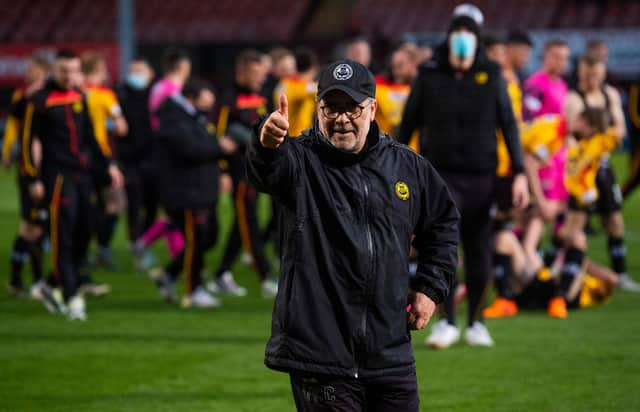 Thistle will now celebrate the victory with the trophy on Wednesday, the day after their final league fixture of the season, away to Montrose.
However, SPFL chief executive Neil Doncaster along with others won't be allowed to be present to hand over the trophy and medals.
Instead McCall has suggested the club's chair Jacqui Low or Thistle legend Alan Rough present the trophy.
"I'm feeling great, I'm feeling clear-headed which I wasn't the past few days," he said on BBC Sportsound. "The scenes outside Firhill on Thursday had to be seen to be believed. They were fantastic. We reckon there would have been a 10,000 sellout.
"It will be eerie getting the trophy on Wednesday when we get it and the players get their medals. We will celebrate and luckily for us, the club and me are in complete agreement because nobody from the SPFL or SFA will be allowed in the stadium which is great. They are not allowed in the stadium, simple as that.
He added: "Yes," when asked if Doncaster is banned. "They won't be allowed in the stadium.
"Is it really going to make a difference? Is the governance going to change? It has been incompetent for decades now. Is it going to change? I don't know.
"We just need to look after ourselves and try and win another title next season to try and get back to the Premier League. That's the big target."
'Bewildering'
McCall also hit out at Doncaster for sending a congratulatory text following Thistle's title win.
"You know what really worries me? Really worries me? Myself and my chief executive Gerry Britton got texts from Neil Doncaster saying 'congratulations, worthy champions".
"Now, that level of not knowing what's going on, not understanding. That level of closing your eyes to a situation is bewildering. Bewildering.
"He could think better than to send a text to the manager of bloody Partick Thistle, that's what he can do."