Scotland midfielder Ryan Christie hints at why penalty wasn't given against Austria - and why he didn't protest too much
Ryan Christie believes Scotland suffered from a lack of crowd influence on referee Carlos del Cerro Grande when they were denied what appeared to be a cast-iron penalty during the 2-2 draw with Austria.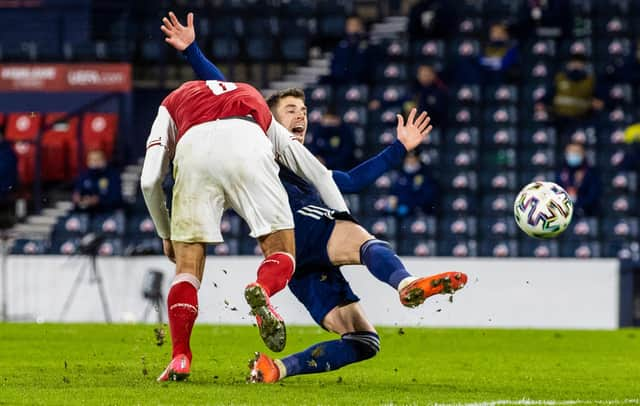 Ryan Christie is bundled to the ground by Austria's Stefan Ilsanker.
Christie was hauled to the ground by Austrian defender Stefan Ilsanker in the second half of Thursday night's World Cup qualifier at Hampden Park inside the penalty box and despite the strong claims for a spot-kick, the Spanish official was unmoved.
Television pictures backed up Scotland's grievance at not being awarded a foul and Christie reckoned having 45,000 Scotland supporters screeching from the stands might have made a difference, although he admitted he kept his own protests to a minimum due to the fact he had been booked for dissent earlier in the game.
"I just went to the floor and I was just waiting for the referee to blow his whistle," recalled Christie. "I couldn't believe it and after my booking in the first half I didn't really feel I could open my mouth again. I will take a bit of the blame because it was a silly yellow card but it wouldn't come as much of a shock if you played in Scotland. I was booked for asking for a foul, nothing else. If there were crowds he might have given it, but it was a definite penalty. He hasn't gone to play the ball either and it was probably a red card as well.
"It is frustrating when you play at home without the crowds and you don't really get those wee things. Things didn't go our way."
Christie plans to channel the frustration of Thursday night into Sunday's next World Cup qualifier when Steve Clarke's men head over to Tel Aviv to take on Israel.
Scotland lost on their last visit to the Middle East, going down 1-0 in Netanya and ending their aspirations of making Qatar 2022 via the Nations League play-offs. Christie feels he has a score to settle.
"We feel going over there that we owe them one," added the Celtic midfielder "We beat them on penalties in the play-off but they beat us across there in the last camp. "We feel we are a better team than them and we need to go and prove it by getting three points."