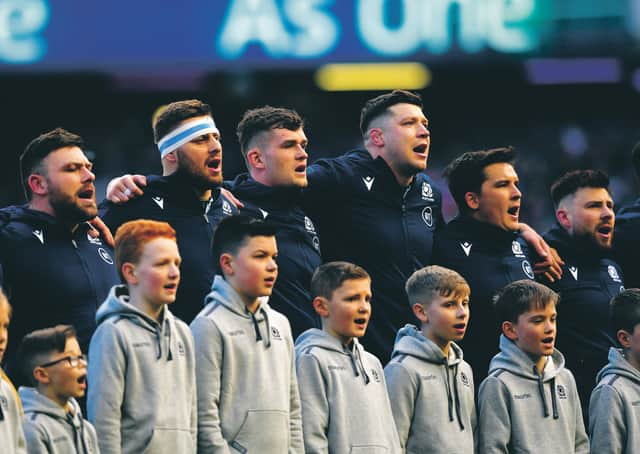 The Scotland team line up to sing the national anthem ahead of last week's Six Nations game against France at Murrayfield. Picture: Stu Forster/Getty Images
Every so often there's a call for change. Let's get a new anthem, or a new/old one. Flower of Scotland is not as rousing as La Marseillaise or Il Canto degli Italiani, but actually that depends who's doing the singing.
A Scotland rugby crowd are so much better at it than a Scotland football crowd. This might be because of the song's hymn-like quality and the higher preponderance of ex-public schoolboys in the crowd with burned memories of compulsory chapel attendance.
While Hampden is rarely full these days, Murrayfield is always posting "Sold out" notices and that helps. As does the fact all of the rugby team sing it, including those born thousands of miles away. The camera-pan along the football line-up always exposes refuseniks. Sometimes they've been the Rangers players in the team. The excuse non-singers might use is that warbling too slowly behind badge-festooned Tartan Army sodjers still writing hopefully to Estonian and Lithuanian barmaids would get in the way of their careful mental preparation. The players are trying to "get in the zone", don't you know?
I cannot be anti-Flower of Scotland because the Corries were part of my childhood and always round our house rehearsing, often delaying tea-time, which was fine if it was cod roe or tripe. My father was an impresario of the Scottish folk music scene of the 1960s and, as a BBC Scotland producer, installed the Corries as the house-band on his Hoot'nanny Show.
If there were times when the sporting renditions haven't wobbled the chin – and of course there have been – then that changed when the Murrayfield piper began checking out halfway through, requiring the crowd to, if you like, pick up the loose ball and dash for the line: to go a capella all the way to the end.
It would be great to see, and hear, Hampden giving Flower of Scotland maximum welly like this, but first the football team will have to fill the stadium. And the Tartan Army will need choir practice.