Scotland at Euro 2020: when is the Scotland vs England game, full list of group fixtures and how to get tickets for the tournament in 2021
Heroics from David Marshall ensured that the Summer of 2021 will be one to savour for members of the Tartan Army
They've only gone and done it – after 22 years the Scotland men's team have qualified for a major championship.
And now the countdown to the European Championships is underway, with Scotland set to kick off their tournament against Czech Republic next Summer.
The scramble to get a ticket for any of Scotland's three group stage fixtures is such that it would make Willy Wonka wince, but there are still limited avenues to attain a ticket for the tournament.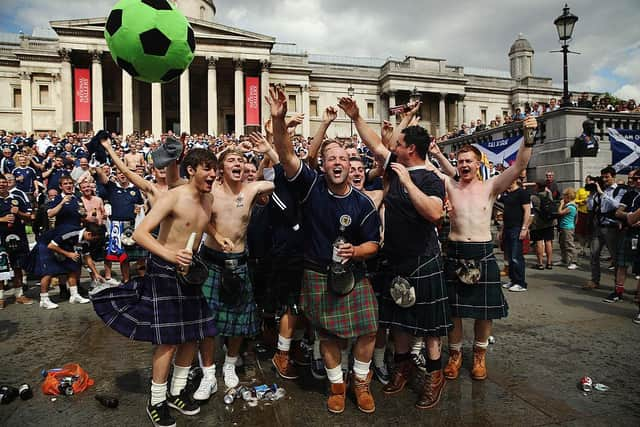 Here's everything members of the Tartan Army need to know about watching Scotland at the European Championships next Summer.
When are the group stage fixtures?
The tournament might be named Euro 2020, but due to the coronavirus pandemic the finals have been shifted to the Summer of 2021.
Scotland will play all three of their group stage fixtures in June.
Scotland vs Czech Republic, Hampden Park – 2pm, June 14, 2021
England vs Scotland, Wembley Stadium – 8pm, June 18, 2021
Scotland vs Croatia, Hampden Park – 8pm, June 22, 2021
Last 16 – June 26 to June 29, 2021
Quarter-finals – July 3 to July 4, 2021
Semi-finals – July 6 to July 7, 2021
Could the tournament be moved?
The tournament is set to be played in 12 cities across the continent.
Due to the ongoing coronavirus pandemic, the tournament's final form remains uncertain with some suggesting that the tournament be played in one country to prevent the spread of the respiratory disease.
French outlet Le Parisien suggested that the tournament could be hosted in Russia, a claim which UEFA has denied.
UEFA are standing by the decision to host the tournament across 12 cities for now, but have refused to rule out changes to the tournament's format.
Can I still purchase tickets?
There are still question marks over whether fans will be allowed to attend fixtures with the bulk of tickets for the tournament already sold.
But UEFA have told fans of teams which qualified via the play-offs to keep an eye out for updates on tickets, with unwanted tickets to be resold closer to the tournament.
A statement on the UEFA website reads: "dates for potential future ticket sales including for fans of the four teams that qualified via the play-offs will be confirmed at a later stage."
Scotland fans can register interest in purchasing tickets at uefa.com.
Buying and selling tickets from third party sites, such as Stubhub and Viagogo, is prohibited under ticket terms and conditions, and fans will not be granted entry to stadia if they were purchased via a ticket tout.