The centre-back will leave the Dons after 25 years at the club with his contract not being renewed.
Considine's time came to a somewhat acrimonious end with manager Jim Goodwin talking about a leak to the press and having to release a statement explaining why the defender would be leaving.
The 35-year-old is a one-club man, an Aberdeen legend, making 571 appearances.
In a lengthy post, he thanked family, team-mates, fans and namechecked the majority of the managers he has worked under.
"25 years @aberdeenfc came to a close yesterday," he said on Instagram. "Being in the academy from 11 years old, the rest is history. I have had the most amazing 19 years as a professional at the club, through all the highs and lows there have been so many special memories.
"Firstly I would like to say a huge thank you to my wife Madeleine and my 3 boys who are my No1 supporters and have travelled up and down the country to support me and the team over the past 7 years. Their love and support I am forever grateful for and means the world. Without them I wouldn't have had such a successful and consistent career over the past 10 years.
"I have graced the pitch and shared the dressing room with so many great players and I thank each and every one of them for the laughs and sharing the pain of defeats, it always brings a strong squad together. Also, for passing on their knowledge and experience which has helped me as a player. The dressing room is a special place and I'll miss it at the training ground and at Pittodrie.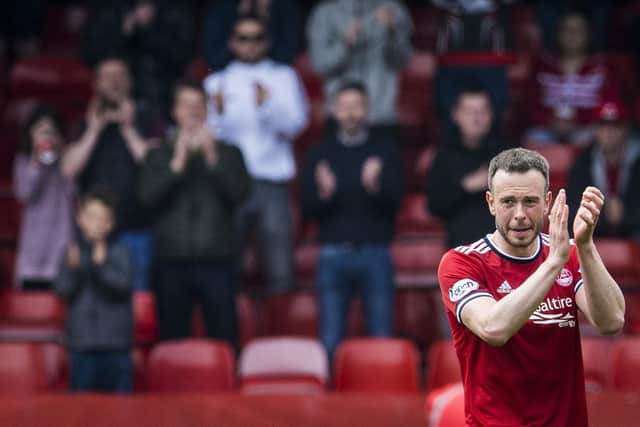 "To all the managers and staff I have worked under – Forever grateful to Steve Patterson for my debut. Jimmy Calderwood for the trust he had in me to play so many games as a young lad & my first taste of European football – that season getting to the last 32 was so special. Mark McGhee and his staff for the time he was manager, to have been coached by a Gothenburg legend was a huge honour. Craig Brown and Archie Knox, two gentlemen who I hold in very high regard for all they have done in their managerial careers and the only manager to make me club captain for 6 months.
"Derek and Tony brought the best out of me as a player, we made so many finals and great European victories. During those 8 years we had so many strong teams and finished majority of season within the top 4. Stephen Glass & Allan Russell, even though it was only 7 games for me, I learnt so much from you both. Huge thank you to all.
"The fans who have supported me from the moment I stepped foot on the pitch back in 2004, from the bottom of my heart - thank you. Your turnout week in, week out to support Aberdeen & travel in your numbers to all the away games. The best fans in the world. Thank you."