Planning for Euro 2020 play-off ties in June would be unrealistic
For the Tartan Army, tonight was supposed to be spent in either Oslo or Belgrade, hopefully bearing witness to Scotland bringing an end to 22 years in the international football wilderness.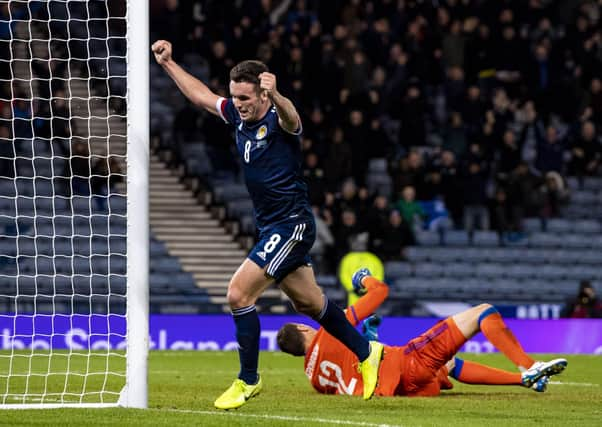 Assuming Steve Clarke's squad had managed to negotiate their way beyond the challenge posed by Israel five days earlier, the Euro 2020 play-off final would have pitted the Scots against either Norway or Serbia.
Like everything else in both life and sport, of course, those plans have been ravaged by the scourge of coronavirus.
Yet while the Euro 2020 finals themselves have been put back a year until the summer of 2021, Uefa are still persisting with the hope those play-off matches can take place in just over two months' time.
The evenings of 4 and 9 June have been pencilled in by European football's governing body as the new dates for the semi-finals and final respectively.
It seems implausible, to say the least, given the uncertainty over when – or even if – domestic campaigns across the continent are able to resume.
How could Clarke, or any other international team boss, be expected to gather together a squad of players whose inactivity during the current suspension of football will have left them in a condition ill-suited to the demands of such crucial and momentous matches?
Ian Maxwell, the chief executive of the Scottish FA, has already expressed serious misgivings about the play-offs taking place in June and suggested even later in the summer might be too optimistic.
"Whether it's July, August, September, those dates don't seem realistic at this moment in time," Maxwell said.
"For us to be able to play an international window in late May or early June, we'd be looking at football starting again in May, and as we're in March I don't see how that's possible.
"I think it's unrealistic, even if you do the simple maths in terms of wanting clubs to release their assets, their top players to the national team, having not played a game – it is not going to happen realistically. They'll need to have played a bit of football by that point."
Norway, whose squad includes Celtic defender Kristoffer Ajer and the Scottish champions' Southampton loanee Mohamed Elyounoussi, were due to start their domestic league season on 
4 April but that has now been put back to 23 May.
The country is under a strict lockdown regime which its government last week extended to at least 13 April.
Uefa's directive for the new Euro 2020 play-off dates was confirmed by Norway's assistant manager Per Joar Hansen who is concerned over how their squad, a mixture of home-based players and those at foreign clubs, would be able to adapt.
"We were told 4 June," said Hansen. "That's what we are relating to and working towards.
"But the situation changes from day to day. So it is impossible to plan very much.
"We had thoroughly prepared for playing against Serbia in March, but by June it will be an entirely different 
situation.
"Suddenly, we are looking at our squad who may have players who will have played three times a week."
If circumstances had panned out in the way Norway and Scotland would have wished last Thursday night, then Clarke's defence would have been faced with the imposing threat of Erling Braut Haaland in Oslo.
The 19-year-old has been Europe's most talked-about striker since his move from Red Bull Salzburg to Borussia Dortmund in January, scoring 12 goals in his first 11 appearances for the Bundesliga giants.
It was when he paid a visit to check out Haaland's form in person before the shutdown that Norway coach Hansen began to appreciate the impact of COVID-19.
"I travelled this winter to see around 25 players in and around our squad and the only restrictions for the coronavirus I saw was in Dortmund," revealed Hansen.
"Borussia Dortmund's doctor told me I could speak to Erling Haaland, but not at the place where the players ate. They began to see that it made sense to protect the players.
"It's just such a strange feeling. No one in our generation has experienced anything 
like this."