Sitting top of Group A after two matches, Steve Clarke's men go into the next international fixtures with confidence but they are wary of previous summer dips in form and have taken steps to avoid similar slip ups this time around.
Twelve months ago they went into their June triple header on the back of eight games without defeat, but lost out to Ukraine in the World Cup play-off. They recovered sufficiently to notch up a 2-0 win over Armenia before running out of steam and succumbing 3-0 to Republic of Ireland in Dublin.
It was a tough hit, as players struggled to cope with the consequences of a rigorous campaign for clubs and country and injuries left manager Clarke with a depleted squad.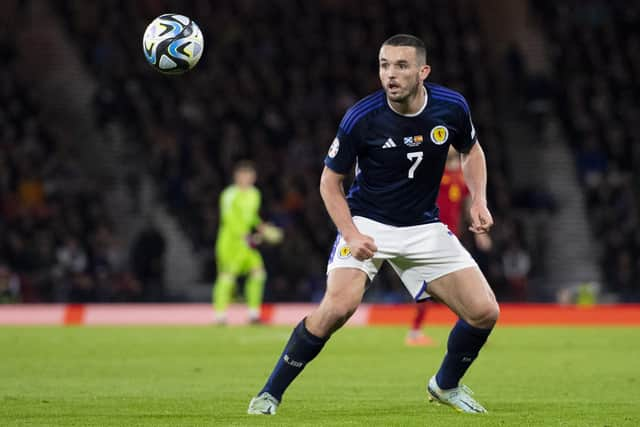 Having recovered to gain Nations League promotion and then kick-off the Euro 2024 campaign with two triumphs, including notable success over Spain, Aston Villa captain McGinn says they cannot afford a repeat of last year's post-season slump.
"If we want to get to the major tournaments, we need to just park the excuses. I know it's a long season, but we have just got to adapt," said the Scotland midfielder, who has been named William Hill Scottish Football Writers' Men's International Player of the Year for the fourth successive season.
"Last year, we didn't adapt properly. We didn't probably prepare well enough for the games and this year there's been a lot of things behind the scenes getting us prepared.
"There's absolutely no question that the players, whether some need a rest more than others and some need to train more than others, will be extremely prepared for that game against Norway on June 17.
"It was a completely unusual experience for all of us having such an important game and the gap in between. We didn't do a training camp last year, so this year we are doing it. We don't know if that's going to bring a change, but it's something we have to try to address so we are more than happy to do that, train away and keep ourselves fit, and give ourselves the best possible chance of winning these two games.
"Whether that would have changed the result last year, I don't know. But that's the sign of the growth of the squad. Not only on the park, but also off the park. We are learning from our mistakes.
"When we have a positive result, we go back and see why. If we have a bad result, we go back and see what we can change as players. The staff will get together and say the same. It's a very open group."
There were changes ahead of the last fixtures, against Cyprus and Spain, as the team swapped Oriam, in Edinburgh, for a Glasgow base and training at Lesser Hampden.
"It contributed to two wins and if we can deliver performances and results on the park then I am sure the SFA and everyone involved will more than back us moving forward," said McGinn. "As players, we're pretty low maintenance. We're all just so proud to play for Scotland. That doesn't change, no matter where we're staying."