Kevin Thomson: "Some of my players work day shifts on a Saturday for extra money; Dundee United players will not be going to work tomorrow!"
Kevin Thomson rued his side's failure to make the most of their chances as Kelty Hearts fell to a narrow defeat in the Premier Sports Cup against Dundee United last night.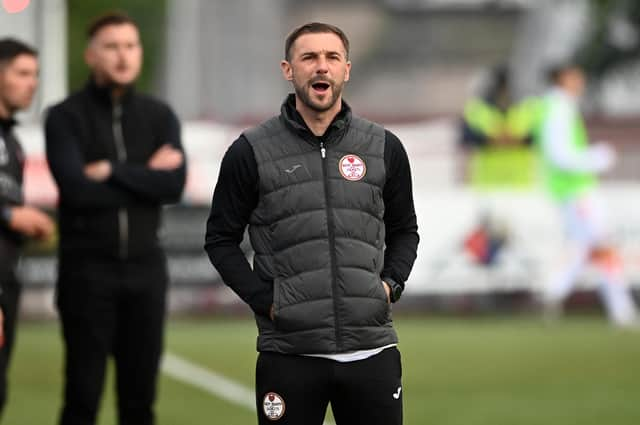 New Kelty Hearts manager Kevin Thomson urges his side on during last night's Premier Sports Cup defeat to Dundee United (Photo by Paul Devlin / SNS Group)
A Lawrence Shankland winner 13 minutes from the end gave Tam Courts a winning start on his return to the club where he started his managerial career.
Thomson's own debut saw Kelty give a good account of themselves against top flight opposition in the Group B opener. "I thought we had good chances," he said. "I am led to believe some people think we didn't but the general consensus was we had good chances, albeit good chances for a League Two team playing against a Premiership team."
Kelty's best chance of the game was a header for Nathan Austin after just 11 minutes. He sent his effort over the bar.
"I said to Nathan: 'was it close?'" smiled Thomson. "He said: 'it went right across my face'. I said to him: 'why did you no' header it!?' I felt as though it was a good chance. But even in the second half after they got their goal and then got a bit edgy and we brought a wee bit of speed on, there were a couple of wee half chances. The harsh reality is you need a bit of luck, but I did not feel as though they cut us open.
"I like to win so getting beat always hurts but I have to put it into perspective. Part-time is difficult. Some of them will be going to work tomorrow. Some of them work day shifts on a Saturday for extra money, it's just the way it is. Dundee United players will not be going to work tomorrow!"
Thomson is still hoping to strengthen his squad before next weekend's clash with East Fife in the same competition. "We want to bring in one or two more. We are looking to complement the squad. We have tried a few audacious bids, a few different people. But it's not come off for us. We would like to bring one or two more. I need to try and persuade some of these Premiership managers or Championship managers to give us some players on loan!"
Want to join the conversation? Please or to comment on this article.