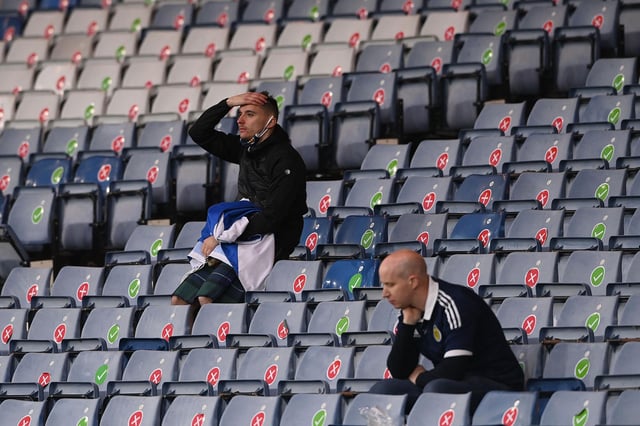 Scotland supporters react to the 3-1 defeat to Croatia at Hampden that ended their Euro 2020 hopes (Photo by STU FORSTER/POOL/AFP via Getty Images)
The 3-1 defeat to Croatia at Hampden left some fans questioning the team's Euro 2020 performance overall, where Scotland managed just a single point, and one goal, in their three games, two of which were on home soil.
Others have taken encouragement from simply being there, as well as the memorable 0-0 draw against England at Wembley that lifted the nation.
Here is a selection of how fans reacted to going out of the tournament:
Calum Leslie (@calumsleslie): Sore one tonight. But Steve Clarke's taken us from a side that really didn't produce absolutely top level performances, to one that can do it 30-50% of the time (Serbia, Netherlands, England) - and all in a couple of years. That's the right direction #SCO
Jason McKell (@JasonMcKell26): Not clinical enough in all three games. Should have gone with the two v Czech's. England were the poorest in the game and there for the taking out of the three played. Croatia miles ahead in quality despite all the chances this evening.
Gregg McSwiggan (@SweegerOfficial): If this is the absolute garbage that awaits us in every tournament from now on then I'm more than happy to wait another twenty-three years to qualify again. Abject.
Garry mcintyre (@Garrymcintyre12): Amateur defending no pressure on the ball standing off players allowing the other team to pick a pass and no high press when are we going to learn the high press worked against England why not play the same way total joke
AzideGaming (@azide95): Terrible in the second half. No pressing or bombing forward. Looked beaten as soon as modric scored but there was basically 30 minutes left. 2 really poor performances out of 3.
Liam (@liamdev27): Clarke got it wrong tonight unfortunately. Really bizarre approach to substitutions over the three games. Saying that when a player like Modric decides to show up
Alistair Burnett (@afburnett): Some positives for the future but again poor selection decisions cost us - should have played 2 up against the Czechs & showed more ambition against a poor England team which left us with too much to do against the best team in the group - Turnbull didn't get on but Armstrong did
Ross Cunningham (@RCunningham_MMM): For perspective we were the fourth seeds in our group and Croatia were finalists in the last World Cup - and are captained by one of the best players of our generation. We gave a great account of ourselves for large spells and had hope but it sadly wasn't to be. Next time.
John Mcilwaine (@JohnMcilwaine93): Beaten by a brilliant team. Modric and Co unreal. What a privilege it has been to watch my country at a major championships. We go again in September against Denmark to kick start qualifying for the World Cup in Qatar!
Mags Matheson (@magsmatheson): Absolutely crushing to go out but there is no doubt the team has given the nation a huge lift. Great to be back in a major tournament after so long and there is loads of young talent coming through with a promising future for the national side.