And the 58-year-old maintains there will be no issues over the fact the high flats that overlook the Queens Park facility potentially allow for prying eyes when it comes to Clarke's game planning with his players. "I think we will be quite clever with it," said Carver. "Don't worry about it, we will be quite clever with it. We are quite good at mixing things up to put you guys off."
Indeed, the move from the Oriam complex in Edinburgh - which he felt created the sense of having to operate and adapt to a rugby environment - to the shadow of Scottish football's spiritual home in the form of Hampden is a switch he sees as propelling Clarke's side onwards and upwards. "Absolutely," he said of whether it is a "buzz" to be conducting sessions next to the famous old stadium. "We came up and looked at the facility a good few months ago. I was so enthralled. The pitch was so nice and the plans they had were so impressive that I didn't actually realise there were flats behind one of the goals. People were saying: 'They'll be watching us training'. I didn't even notice that because I was so fixated on the pitch and what they were going to do to the place.
"And for you to have Hampden right there...The national stadium is right there. So what an inspiration. You are training every day looking at it. The support of Willie [Haughey], Queen's Park and their staff [has been so good]. They are desperate to help the national team, they want us to be successful, they want the best facilities, they want everything right. It is amazing. I hope we can get the whole of Scotland behind us like that."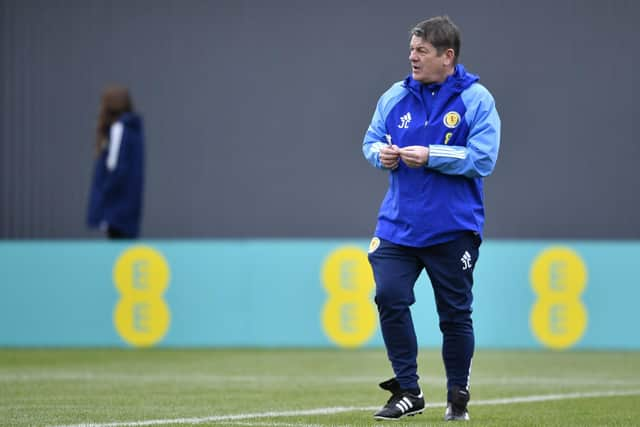 Carver believes that the universally welcomed new camp regime can represent one of those incremental improvements forever sought in sport. A domain where minor positive differences have been shown to result in major impacts. "If you get that right I believe - because I've seen it - the football then starts taking care of itself. Because you have good players," he said. "Okay we have to have a little bit of luck in games and what have you, but getting those things right around the outside, it creates the right environment. It's all about that, and Steve has definitely done that since he came in. We are always looking to do that, always looking to improve the team and go forward.
"It's like Formula One isn't it? They are always looking to improve that car. It's the fine margins. It does make a difference, it does make you feel different. I remember when people would talk and say: 'Players aren't that keen to come and play for Scotland'. I couldn't get my head around that. Now, they can't wait to be there. They're desperate to be involved. That's been an ongoing theme for a while. With how we are preparing now, you think: 'I would love to be in that squad, I would love to be part of it'."