Hampden Park to be improved if Euro 2028 bid is successful, SFA chief confirms
Hampden Park will have an upgrade if a joint bid from the UK and Ireland to host Euro 2028 is successful.
However, Scottish Football Association chief executive Ian Maxwell added that the exact nature of the improvements was still to be decided. The Glasgow venue is the only Scottish stadium to be included in the final dossier, which has been submitted to UEFA.
A total of 10 stadia across five countries will host matches if the bid beats a rival offer from Turkey to stage the European Championship finals when the UEFA executive committee votes in October.
The SFA recently bought the national stadium from long-time owners Queen's Park, prompting an intensification of debate around the views and atmosphere of the stadium, which was largely rebuilt in the 1990s.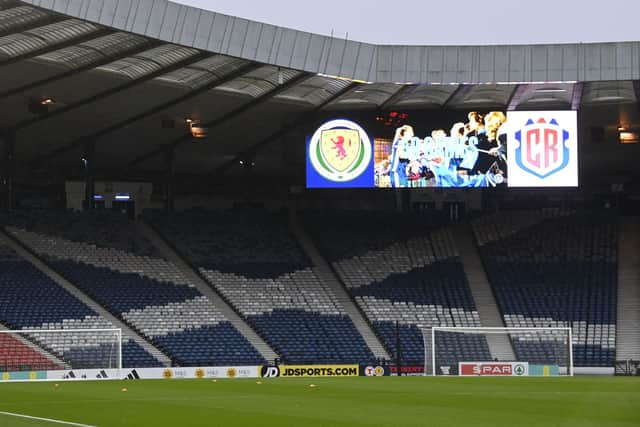 Less significant, and in some cases temporary, alterations were made ahead of Hampden staging the athletics event in the 2014 Commonwealth Games and again when the stadium hosted four Euro 2020 matches.
Maxwell said in an SFA video: "We're always looking to improve the stadium and that happens alongside Euro 2028. Obviously as the stadium owner now, we want to make sure the supporter experience is as good as it can be.
"There will be some additions and improvements that are made as part of the Euro 28 bid and hopefully when we're successful, we will work out exactly what those will look like."
The bid team has predicted staging the tournament could bring a combined £2.6billion worth of benefits to Scotland, England, Wales, Northern Ireland and the Republic of Ireland.
Maxwell said: "We missed out on that to an extent during Euro 2020 because of the Covid restrictions. We didn't see the full benefit of hosting full stadiums at Hampden as much as we would have liked and it's important to put that right.
"We can't underestimate the impact that would have on Glasgow and Scotland in terms of growing and developing the game, which is our primary objective. There is no better way to engage an audience, and a young audience in particular, than seeing Europe's best male players coming to Hampden and participating in such an iconic tournament."
Most of the grounds to be used will be in England – Wembley, the Tottenham Hotspur Stadium, St James' Park, Villa Park, Manchester City's Etihad Stadium and Everton's new home, which is still under construction. The Principality Stadium in Cardiff, Dublin's Aviva Stadium and Casement Park in Belfast – which requires building work – are the other venues being proposed along with Hampden.
The Scottish Government has welcomed the bid. First Minister Humza Yousaf said: "Scotland has a well-earned global reputation as an outstanding host of major events, and football – our national game – is a powerful force for good in communities across the country.
"It is this combination which underpins Scottish Government support for the joint bid. Together with the Scottish Football Association and partners across the bid nations, I am excited by the prospect of building on the successful delivery of Euro 2020 in Scotland and our country hosting another incredible championship.
"UEFA Euro 2028 will have a significant global reach and has the potential to leave a positive lasting legacy in Scotland by generating significant economic, environmental and social benefits."
Debbie Hewitt, chair of UK and Ireland bid, said in a statement: "Our pioneering five-way partnership will deliver a record-breaking and unforgettable UEFA Euro. We will work together tirelessly to be the best partners for UEFA and to deliver on every one of our shared priorities.
"We will focus on growing football, connecting with and engaging new fans, players and volunteers. We continue to invest £50million (57m euros) annually into grassroots football development across our five associations. Together, we want UEFA Euro 2028 to be the catalyst for a new and sustainable era for football, from the grassroots to the very top of the European game."
Comments
 0 comments
Want to join the conversation? Please or to comment on this article.