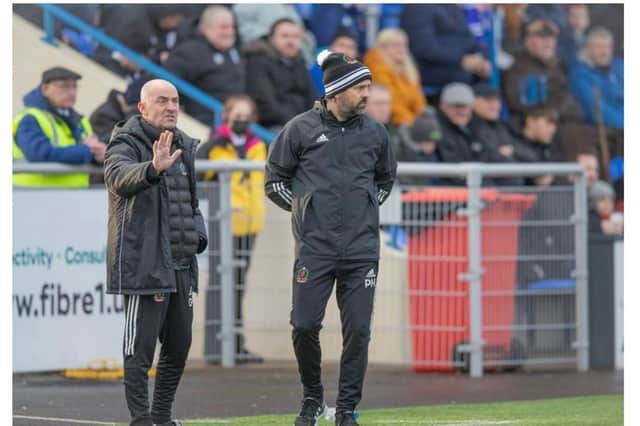 Gordon Young (left) on the sidelines with Cove Rangers manager Paul Hartley
He has offered valued dugout assistance in Scotland, at the likes of Dundee United and Motherwell, where he also discovered such talents as Celtic midfielder David Turnbull among others.
He has also suffered for his profession. A recently published book, Licence to Skill – From Cambuslang to Kazakhstan, chronicles both his football journey and on-going battle with depression.
He has described writing his autobiography during the recent lockdown as "therapeutic". The source of so much laughter in dressing rooms and on training pitches around the world encountered a period of lingering sadness.
Gordon Young with a young David Turnbull signing on at Motherwell.
"Other people are going through the same thing," he said. "It's so important to reach out and talk if you can.
"You can be going along this avenue that ultimately has a dead end. The hole can get deeper and deeper. So, it's vital you reach out. I was always the joker in the dressing room. But you ask the question, who makes the clown laugh?
"It's all well and good being the 'funny guy', but funny guys need a bit of help sometimes too. I found writing the book was a great help to me in that regard."
He found a spell out of the game after being let go by Dundee United to be one of the most trying spells. He was assistant to Mixu Paatelainen when the Tannadice side were relegated in 2016 and though the Finn had recommended Young to replace him, the club elected for a clear out.
He wended his way to California and then eastern Europe. Now back in tow with Paul Hartley, who he worked with at Falkirk, he is enjoying a period of stability. By the time he is 60, Young would like to be back working in the top flight with Cove Rangers. Few would bet against it.