'Forgotten, ignored and patronised' - Partick Thistle blast SPFL over decision to end reconstruction talks
The Jags are fuming over the decision to end reconstruction talks and took aim at SPFL board and top-flight clubs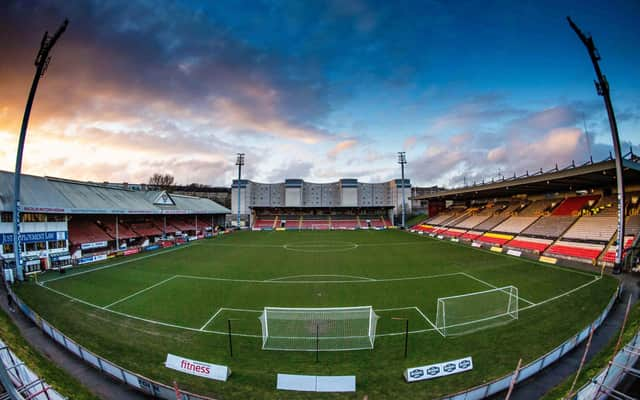 Partick Thistle have issued a furious statement attacking the decision taken by the SPFL to bring an end to talks over reconstruction.
In the strongly-worded blast the Firhill side brand comments made by Aberdeen chairman Dave Cormack "patronising nonsense", criticise SPFL chairman Murdoch MacLennan and claim the club's treatment throughout Scottish football's coronavirus hiatus has been "unprecedented in Scottish football".
Slamming the "selfish behaviour" of some top-flight clubs, Partick's statement continued: "The Partick Thistle Board is deeply angered by the decision to halt league reconstruction due to "insufficient support for any prospect of league reconstruction at this time" after a meeting of Premiership clubs.
"As the reconstruction group hadn't even formally presented a final proposal, it is surprising and disappointing that this decision could be made regardless. So it is hard to see this a considered decision about reconstruction, it smacks more about the settling of scores within the Premiership.
"We know you will share our disbelief and concern so it is important that we share all relevant information with you and, most importantly, reassure you about the Club's future.
"First of all, the way that this news was made public before clubs affected by the decision knew – and before they could inform staff and players – was a disgrace.
"Yet again we were left to pick up the pieces due to thoughtless, selfish behaviour that showed no regard for fellow clubs.
"Speaking on behalf of the group of Premiership clubs yesterday (Friday), Aberdeen FC chairman Dave Cormack said: "The strong feeling of the group was that we must focus all of our energies on emerging from the crisis we face."
"This is patronising nonsense. Is Mr Cormack suggesting that no clubs in other leagues have considered what's happening to Scottish football?
"If so, that is disrespectful and offensive."
Partick explained that they had accepted an invitation to join the Reconstruction Group task force, adding: "We did so in good faith, despite our initial misgivings that it was not a genuine attempt to address the problems created by a hasty end to the season, after assurances from the SPFL.
'Difficult for Thistle to emerge unscathed'
"Indeed, they – in their statement on April 15 where they confirmed the resolution had passed yet "forgot" to acknowledge our relegation – stated: "The SPFL executive will provide all possible services and support to make the work of the task force a success."
"Sadly, this has not proven to be the case, the SPFL has fallen way short in this undertaking."
The Firhill side's statement goes onto warn that the "SPFL and some clubs… have now made it even more difficult for us to emerge unscathed from the crisis we now face.
"What's galling is that it all stems from the arbitrary and unjust way the club was relegated, with no say in it, which effectively saw a members' organisation inflict damage on us, one of its members, amid the most extraordinary circumstances.
"We have been forgotten, ignored and patronised while senior figures, for reasons best known to themselves, have scuppered a potential solution that did the least harm with no regard to the plight of those who have been betrayed for a second time.
"This is a sad indictment on those who govern our game and the clubs who think this is acceptable, especially when some of them may be in our shoes one day."
The club concluded the statement by paying tribute to the fan and vowing to put the club first.
"We have been supporting a number of different committees set up to help the SPFL/Scottish FA and clubs to overcome this crisis. We must now reconsider whether our participation in these committees are the best use of club and staff resource at a time when we must put our football club first."
Falkirk chief blasts 'utter shambles'
The Jags' statement followed similar words from Gary Deans, chairman of Falkirk. The Bairns will remain in League One after the three divisions outwith the Scottish Premiership were finished with the Bairns a point off league-leaders Raith Rovers, with eight games left to play.
Mr Deans added: "Today's announcement will not come as a huge surprise to Falkirk supporters who have, along with the rest of Scottish football, witnessed firsthand the utter shambles engulfing our game these last few weeks.
"Once again progress has been hampered by the short sightedness and self-preservation of a small cabal within Scotland's top division.
"You will share my anger at this latest injustice, the failed promises and the general mismanagement that has occurred at the top of Scottish football for many years.
"The handling of this entire situation has been farcical ranging from the decisions made by the SPFL board to those clubs who have, what could only be charitably described as misled and deceived.
"The principle of 'do no harm' to Scottish football during the pandemic was thrown out of the window a long time ago and the decision taken today will cause harm to many clubs – Falkirk included.
"To add insult to injury to release a statement on a Friday evening adding to the stress of players, staff and the many people connected with football clubs is a sign of the blatant contempt that those in charge of our game hold for us all.
"I have already embarked upon discussions with other clubs who share my anger and we will be considering the next steps to take over the weekend.
"I will keep you informed as matters progress but for now the club has made it clear that we cannot support this unfair decision taken by six clubs and supported by those at the SPFL.
"Change is required," he added.
Comments
 0 comments
Want to join the conversation? Please or to comment on this article.