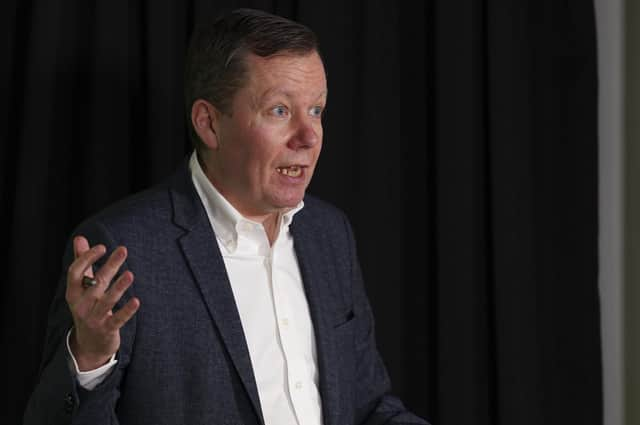 Professor Jason Leitch says the football authorities is responsible to any decisions on suspending matches.
The national clinical director was responding to a question about the continuation of the semi-pro game after Lowland League Dalbeattie Star issued a statement calling for a firebreak over concerns about spreading Covid-19.
Some semi-pro managers and club officials below Championship level have expressed concerns about continuing to play under the Scottish Football Association's exemption for 'professionals' following Monday's national lockdown. A handful of clubs cancelled training this week.
Others, however, want to continue for as long as possible, citing the benefits to both physical and mental well-being and the lack of evidence that the virus is spreading under the safety protocols in place.
The SFA has made no changes or comment since the lockdown was announced, leaving it to league administrators to decide for themselves.
The North Caledonian FA has put its league on hold until February 6. The east and north regions of the Scottish Junior FA have done the same.
The Lowland, Highland, East of Scotland and South of Scotland Leagues have all called meetings for early next week to discuss a possible suspension.
Professor Leitch confirmed the Scottish Government was in "constant communication" with the SFA and said only the football authorities could decide on any suspension. "That is a decision for them, not for us," he said.
Dalbeattie Star said in a statement: "We are classed as elite professional players but no provision is available for Covid testing at our level.
"We do however query the professional status as we are a part-time club and all players have other careers out with football.
"Like all clubs in the league we would love to be able to be able to complete this season in a timely manner but the safety of our committee, management team, players and of course the people of our local community is of more concern than football at this present time."
Manager Ritchie Maxwell, who works for the NHS, said: "I don't see any other option but to postpone it at our level."
Mandatory testing is carried out in the Premiership only, but more than 250 clubs in the men's game – less than 25 of which have full-time players – are covered by the exemption which goes down to tier seven of the pyramid and also includes the top two leagues in the women's game, which starts a new season next month.
Professor Leitch explained: "At the beginning of these restrictions we had long conversations about what professional football meant and the seven tiers of professional football takes us down to senior women's teams, for example. That remains the case now.
"But we and the football authorities are in constant communication and if [Dalbeattie's concern] is a common feeling at that level, of course they should listen."
First Minister Nicola Sturgeon added: "We are continuing to discuss the situation with the football authorities. They have been keen to see it continue, but in any walk of life, be it someone asked to go into a non-essential work place or a lower league footballer, we do not want people feeling unsafe."