Comment: It's heartening to know local clubs in the lower divisions are as important to people as the big clubs
We've been bowled over by the goodwill and kind gestures from our supporters, our community, and from strangers, too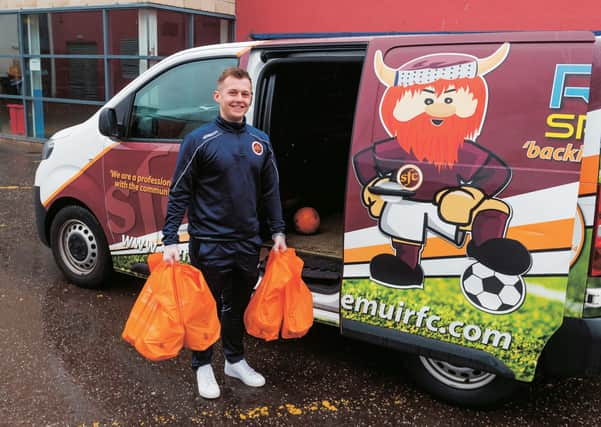 In amongst the madness, it's important to keep trying to find the moments of sanity, and to focus on the positive things that are still happening.
Football has been in a crazy space for a number of weeks and I reckon this will continue for a lot longer. However, despite the issues and the uncertainty, there are a number of good news stories from inside clubs.
At Stenhousemuir, we've been bowled over by the goodwill and kind gestures from our supporters, our community, and from strangers, too.
We've been a community-owned club for a decade, but in this last month, we've doubled the number of Stenhousemuir shareholders. These are ordinary people who wanted to support our club through the difficult times. People of all ages, from our local community, and also from a multitude of countries further afield, like Australia!
This has brought over £25,000 into the club, too. This is a level of funding that is significant to us and could mean the difference between us staying afloat or going under.
As well as the financial element, we have received many supportive messages from our new shareholders. We received a message from a key worker in Stoke, so grateful to us for supporting her parent through our Community Help Initiative. Many of these messages have been very emotional to read. Families split apart, where older children who have been used to supporting their elderly parents find themselves unable to do so due to the restrictions. We've been able to step in and help and it's good to know that it makes a difference.
I know that there are many other clubs who have had similar financial support from crowdfunding appeals and local donations. When you operate in a space dominated by the bigger football clubs in Scotland, it is really heartening to know that the local clubs in the lower divisions are just as important to people as the big clubs are.
The other wholly positive aspect to come out of this crisis is the way that clubs in League 2 have come together. The other clubs in our division are our rivals. We face off against each other and it is always competitive.
But, right from the start, clubs in League 2 agreed to start working together to help each other get through this crisis. I can honestly say that the way we have all come together has been magnificent.
Where we needed advice, someone has gone off and found it and shared it. Where we have needed to find consensus for the good of all clubs, we have.
There is a real commitment amongst clubs to help each other through this and ensure that we are all still in business at the end of it.
At times we have had to compromise on our own ideals, but there have also been times of immediate agreement.
We hope that this same spirit of compromise could extend to other clubs in other divisions, too.
We know that the new routine of video calling has in some ways already brought people closer.
Whilst we haven't as yet had anyone on a video call in their PJs, I think it does break down barriers when people are talking to each other from their homes.
It definitely adds a personal feel to what is usually a more formal interaction.
It certainly looks like this way of operating will be here for some time yet as the lockdown and social distancing continues. But I think we're getting used to it. Who knows, maybe by the end of it, Scottish football will have found a new sense of togetherness. Maybe.
• Iain McMenemy is chairman of League Two club Stenhousemuir.
Comments
 0 comments
Want to join the conversation? Please or to comment on this article.