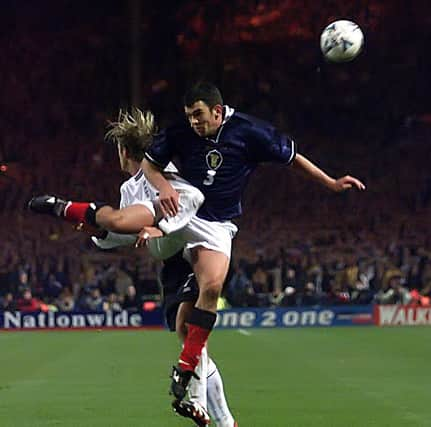 How many cups and medals did he win as a kid at golf, tennis, squash and, oh yes, football and how much did his poor mother have to spend on Duraglit to keep them sparkling?
"A few," says the Saints manager with typical understatement, "and my older brother Andrew was sporty as well so he brought home his fair share. He had a fair temper, understandably, because to him I must have been this annoying little squirt who did quite well. But all the little trophies are up in the attic now."
"Quite well" is yet more downplaying from Davidson. Judy Murray still talks about the teenage tennis tyro in a manner suggesting he could have gone on to do something in the sport. As it was, he was one of the Dunblane High proteges she coached to a national schools title.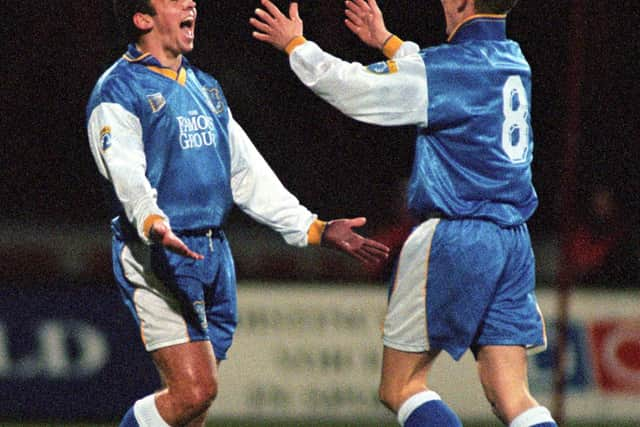 Davidson, 44, persists with this modest line, telling me he doesn't remember much about his achievements in tennis, and anyway, his 15-year-old daughter Eilidh's now outshine his. "She's No 1 in Scotland in her age group," he says.
Another mantelpiece must be starting to groan, I suggest. He laughs, adding that there's not much room either in the gym he's rigged up in the family home. "It's got to have a bookings system and I'm still trying to get a decent slot for myself."
So who would win on the court between dad and daughter? "Probably Eilidh, although I reckon I could still get in her head." Tennis, and the justifiably world-renowned Dunblane Sports Club, was how Davidson met his wife. "Lorna won't like me saying this, thinking it makes her seem ancient, but she used to babysit for Jamie and Andy. There were two competitive brothers. They used to fight over tiddlywinks and marbles."
He means of course the fabulous Murray boys but if he had an idea, before the rest of the world, of how good that pair might turn out to be with rackets in their hands - and he did - then their parents Judy and Willie had similar early insight into Davidson's potential with a ball at his feet.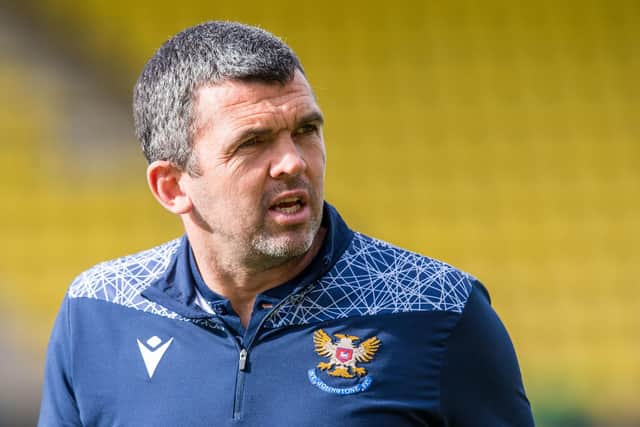 And, sorry, this bashfulness is going to have to stop. St Johnstone, his first professional club as a tenacious left-back and, many tackles later, also his last, are performing splendidly under his tutelage and were only prevented from winning at Celtic last weekend by a late and desperate equaliser.
After a long warm-up as a No 2, he's enjoying being his own man with his own views on the game. Such as this on academy culture and the drift-net approach to youth recruitment: "I don't like it. Rangers and Celtic bring in everybody, frightened they'll lose somebody, but only end up wasting kids. Ninety-five percent will be ruined. If I had a boy of 19 and ahead of him is Ali McCann, 20, who's severely limiting his opportunities I'd tell him to go and play somewhere else in the hope he'll make it."
Davidson almost didn't make it in football, for a number of reasons. His dad Jack was in the Merchant Navy, at sea for six months at a time, and he did wonder if life on the ocean wave might be for him. "I could have seen the world," he says wistfully.
PE teacher mum Maggie, meanwhile, insisted he further his education so he picked civil engineering and enrolled at Edinburgh University - where his eldest daughter Carrie is currently studying law - and this meant football having to jostle for his attention with the course work.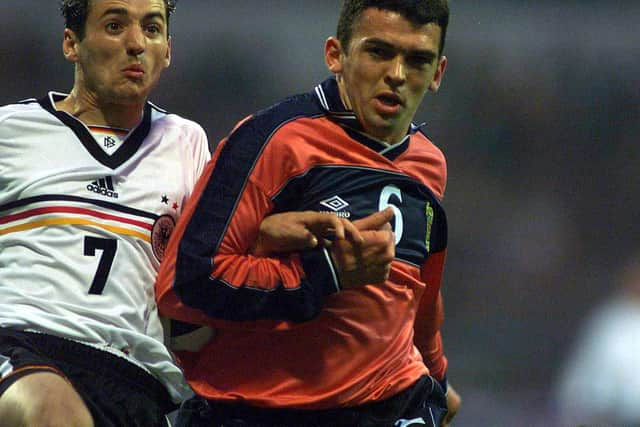 "Being a full-time student and a young player at St Johnstone was tough and I struggled at both. My flat was in Marchmont - Edinburgh's Studentland - which should have been good fun but I missed all the parties. I trained down at Meadowbank Thistle or up here with [Saints No 2] John Blackley taking me on runs. Then I had to try and catch up on my studies. It was all too much and I actually quit football. I was on the bench in the Reserve League (East) on a freezing cold night at Tannadice and thinking: 'What's the point?' And I might never have gone back if John hadn't talked me round."
There's a lesson in his story, he thinks, for wannabe footballers enduring similar struggles. Being a self-effacing fellow, though, Davidson is not promoting himself as a role-model. But he should. Look at his all-rounder capabilities: every other sport has helped his football.
I get him to rattle through the repertoire once again. It's hugely impressive. No, it sounds hugely tiring. And what must wash-days have been like for him mum with all that smelly kit? "She made me take everything off at the front door. Some weekends I'd have games at everything, maybe three football matches. Sunday nights I played in a squash league, got invited to Scotland sessions and that sport was great for me. As a footballer I got my speed from squash. I wouldn't have been as quick without it."
He continues to dismiss the tennis years though enjoyed Judy's coaching. "She and Willie were great fun. What I do remember is shouting over to her to watch my Boris Becker 'kick-serve'. I'd been practising for ages to arch my back like him."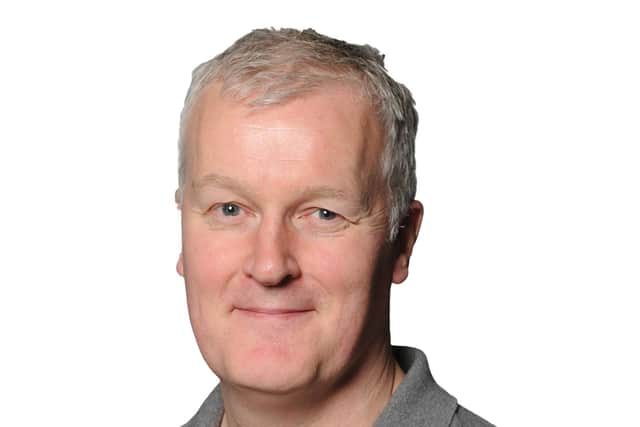 Practice, practice. Davidson knows the value of this discipline, none more so than in golf where he was Dunblane men's champ at 16 and represented Scotland in youth home internationals. "If you don't practise putts, 50 in a row, you're not going to hole them on the course. I took that into my football: muck about in your passing drills, don't expect to make the team." Kids: that's another tip from a 19-cap international right there.
Davidson still loves golf. He plays off +1, laughs that he would have been perfectly happy spending half the year on a boat as long as he could have strung up a net enabling him to finesse his long irons, and counts Jamie Murray as a regular partner on the course. "He's the only guy who can out-drive me. Sometimes I get told regarding my golf: 'You're lucky to be good.' No, that's just down to hours and hours of hitting balls as a youngster." So does he love golf more than football? "Maybe in a way, yes. Golf is never about someone else's opinion. Shoot a round of 71 and no one can argue with that. But I could play well at football, know in myself I'd had a good game, and there would still be: 'Aye, you were rubbish.'
"There are too many opinions in football now. All those shows plus social media, which I avoid. I think if a manager follows that stuff it must get him down. It might also force him into making wrong decisions. Why I love golf is it's all to do with you. It gives you mental strength."
Quitting uni after two years, Davidson arrived at a fork in the road: golf or football? "Eventually I decided to give football a quick go. If I didn't make it then I would have switched to golf. I couldn't have done that the other way round. But after that first couple of years at St Johnstone I thought: 'Aye, this is alright.' And where football has got me I can't complain about."
So what did his mum say about him giving up on his degree? "She was fine, although too nervous to ever watch me play. Once, needing to beat East Fife for promotion and leading two-nil, she jumped in the car hoping to be in time for the celebrations. Close to the ground she heard on the radio it was two-two, so she turned the car right round thinking she'd jinxed the result. We still won."
His Saints were the team of Roddy Grant, George O'Boyle and Allan Moore. Oh, and Jim Weir: "Pre-season in Ireland I jogged back and he went ballistic, shouting: 'You sprint.' That stayed with me." Davidson says he wishes he had "more belief, an inner arrogance" in those early days. "I had to keep telling myself: 'You're doing okay.'" But there was a clear and definite plan for his football career: "I wanted to be Scotland's regular left-back. Playing in England wasn't the No 1. Representing my country was."
He was doing more than okay and in 1998 joined Blackburn Rovers, earning a record £1.75 million fee for St Johnstone. And his Scotland debut would come later that year in Lithuania as a second-half substitute in a Euros qualifier. "I thought it was going to be the shortest international career ever, just two minutes. Right away I absolutely smashed this guy. Ally McCoist told the ref: 'It's his first game, he's excited, don't send him off.' Thankfully I only got a yellow."
His national coach, and the one for most of his Scotland tenure, was Craig Brown. Davidson beams at mention of the venerable Broon's name. "I'd have run through a brick wall for Craig," he says. Like every new-to-the-job manager Davidson says he'll be utilising what he's learned from his various bosses, hopefully just the good stuff. He says Paul Sturrock at St Johnstone was "brilliant on detail" and the same with Roy Hodgson at Rovers. Isn't that the sort of thing that applies to all coaches? It should, he says, but naming no names, there was one who at training would just randomly throw down the cones.
Hodgson, who'd come from Inter Milan, brought continental science to Blackburn - and pasta. "I think I ended up eating rather too much of it. We hadn't had that up the road." And in his student flat? "Pot Noodles!" Brown he credits with salvaging his career when he was on the brink of retiring. "I'd had a spate of injuries, actually arriving at Blackburn with one, then at Leicester City suffering inflammation of the bones around my pelvis, which was really bad. Craig, who was at Preston North End by then, said: 'Come on, I'll fix you.'"
Davidson's playing-time was also curtailed by a double fracture of his cheekbone, the result of a punch by Leicester team-mate Dennis Wise. He's initially reluctant to discuss the incident from a 2002 training-camp in Finland. It was, he says, a long time ago. He has absolutely zero interest in being a part of any footballing hard-man mythology, and even less in seeing Wise's macho reputation enhanced by it, but this is what happened: "There were a few of us playing cards in my room. Dennis was cheating. The others were all experienced guys but it was me, the youngest there, who challenged him. He didn't like that.
"The game was over and everyone left. I was lying in bed when he came back into the room. 'About earlier, Cal,' he said, and put out his hand. I moved to get up, lifted the covers and that's when he smacked me on the side of the face. Matt Elliott threw him out. He barricaded himself in his room, put the wardrobe behind the door." Davidson says he'd got on fine with Wise until then, the altercation resulting in the player being booted out of the club. "He was one of those guys with a wee switch."
Who'd be a football manager having to sort out unseemly stuff like that? Davidson watched and learned under Tommy Wright - "He was brilliant" - and was called up by Gordon Strachan to help with the national team before Gary Rowett, an old Leicester team-mate, recruited him for first Stoke City then Millwall. "Stoke was difficult. A just-relegated club, players thinking they should still be in the Premier League, lots of foreign ones so different temperaments, a big squad so plenty who were left out, not all of them taking it well. But for me, all part of a manager's education."
As was Millwall. Davidson was disappointed by the New Den's booing of players taking the knee in support of Black Lives Matter. He remembers fans who always got behind a team who were hard-working, much like St Johnstone, although recalls the night he declined a drink in the pub across the road from the ground. "I was waiting for my Uber to take me to King's Cross. This supporter spotted me and shouted: 'Where you going then?' 'Scotland,' I said. 'I was there for three years.' 'Oh really? Where did you stay?' 'Barlinnie!'"
Davidson's favourite game? That's easy: England 0, Scotland 1, 1999, again under Craig Brown. He's thrilled Steve Clarke's team have gone one better than he did and qualified for the Euros where they'll meet the Auld Enemy, but the memory of going so close in that earlier playoff still burns bright.
"I think that was also my best game. I was injured for the first leg when we lost two-nil. The bus taking us to Hampden played old goal clips and songs to get us in the mood, not that that was really necessary. I remember we turned a corner and were engulfed in this sea of Scottish fans - that was a wow moment. There weren't quite as many of the Tartan Army down at Wembley but they made a great racket.
"We all reckoned we could turn the tie around and very nearly did. Craig told me to mark David Beckham and I think I did a no' bad job." This is Davidson being modest to the end. The manager's verdict was that he "eliminated" the sainted Becks. "Did he? Is that what Craig actually said? I love him!"
A message from the Editor:Thank you for reading this article. We're more reliant on your support than ever as the shift in consumer habits brought about by coronavirus impacts our advertisers. If you haven't already, please consider supporting our trusted, fact-checked journalism by taking out a digital subscription.