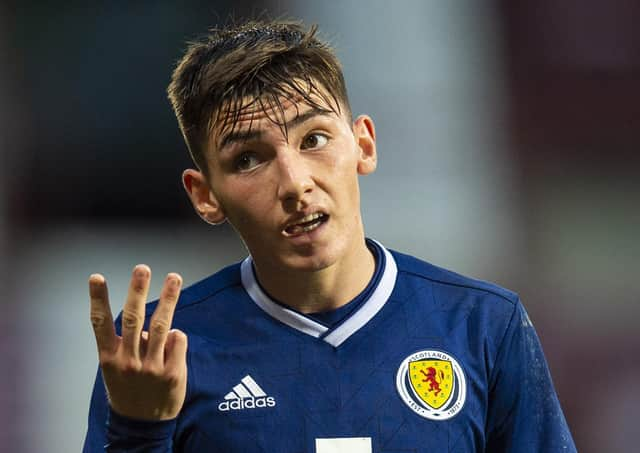 As SFA performance coach Malky
Mackay recounted yesterday, it took little more than hour of the first training session at the Oriam performance centre prior to the squad flying to France to be reminded they were blessed with someone very special. As the coaches stood and watched Gilmour's use of the ball and his crisp touch, the only appropriate response was: "wow".
He had improved in that relatively short spell in England, to the extent that the 20-year-olds around him were continually looking to give the 16-year-old the ball.
He didn't play the first game of 
the tournament against Togo but started against France in the second. He then helped secure a semi-final place with a classy finish against South Korea in the third outing. He couldn't prevent Scotland falling short in their bid to reach the final after a 3-1 defeat by England but captained the team in the third and fourth-place play-off against Turkey.
"If you look at the brochure for that tournament they put the top 100 who have played in that tournament on the front cover," said Mackay. "It is a who's who of the best players over the last 25 years. And he wins breakout player of the tournament."
Of course, the Toulon tournament, prestigious gathering though it is, is not a Euro 2020 play-off match against Israel in front of 50,000 expectant Scots. It's not the kind of pressure-cooker environment that Hampden will represent come 26 March. Over 20 years' worth of hopes – and fears – will be accumulated in that historic bowl a fortnight on Thursday.
But then, 40,000 Chelsea fans with their eye on a last-eight place in the FA Cup create a fair amount of pressure, as Gilmour experienced against Liverpool last midweek. Just as 40,000 Chelsea fans who are expecting their side to beat Everton in order to consolidate Champions League qualification hopes create a fair amount of pressure, the challenge he was presented with on Sunday.
Gilmour sailed through both tests, drawing praise from Roy Keane as well as plenty of other notables. The former Manchester United midfielder is no dewy-eyed romantic. He knows of what he speaks. Even he was moved to put his cup of tea down and turn the volume up while watching the Chelsea v Liverpool match out of curiosity at this slip of a kid of who seemed to be running the show.
"Billy Gilmour must think this is easy!" quipped Keane's fellow pundit Jamie Redknapp after Gilmour's latest starring performance against Everton had earned him a second man of the match award in five days.
Steve Clarke saw the first of these two performances with his own eyes. It will have thrilled him to see another Scot shine at his old club whatever his own work circumstances. But given he's presently Scotland manager, the latest to be charged with getting Scotland to a major finals, Clarke's joy must have run deeper still.
However, he's also realistic enough to know Gilmour's high-profile graduation to the Chelsea first team presents him with the potential problem of having to explain to a dismayed nation why he doesn't fit into his plans, if that's what Clarke chooses.
Of course, if he decides otherwise and he includes him in his next squad, then playing down people's expectations becomes his next 
task – while his next headache becomes whether to play him or not. No point including him just for the ride. Gilmour is no hamper carrier.
Gilmour's position, the No 6 role, is not necessarily a game-changing
one. He facilitates play, he won't change games. Of all the positions on the field, except perhaps left-back providing Andy Robertson and Kieran Tierney are fit, the middle of the park is where Scotland are currently well stocked.
Scotland Under-21 manager Scot Gemmill will today name his squad for Euro Under-21 Championship qualifying matches against Croatia and Greece later this month and Gilmour's name is expected to appear. But that would not prevent the player being promoted to the senior squad instead.
Clarke may well feel he doesn't have to take the chance to include an 18-year-old with a smattering of first-team starts to his name, particularly now Scott McTominay has underlined his return to fitness with a goal in Sunday's Manchester derby.
The thing is, with Chelsea due to meet Bayern Munich in the second leg of an admittedly already redundant-looking Champions League tie, Clarke won't be able to say the player is not ready. There is every chance Gilmour could start in the Allianz Arena in Germany in the very same week as the Scotland manager is naming his squad to face Israel.
Clarke has already admirably demonstrated he's willing to pick 
a forward currently playing in 
Scotland's second tier against the likes of Alloa Athletic.
It would be curious in the extreme if Clarke then goes the other way and overlooks someone performing in some of the great cathedrals of European football simply on age grounds.
Gilmour is proving he's good enough to play at these places. If Lawrence Shankland's talent outrides all other factors, so it should be with this endlessly exciting 
teenager.