Alan Pattullo: David Marshall waited long for his Scotland chance - and now he's close to being in class of his own
The international career of David Marshall has been a study in patience. It is comforting to think it might be one where he also finds some delayed, but intense, gratification.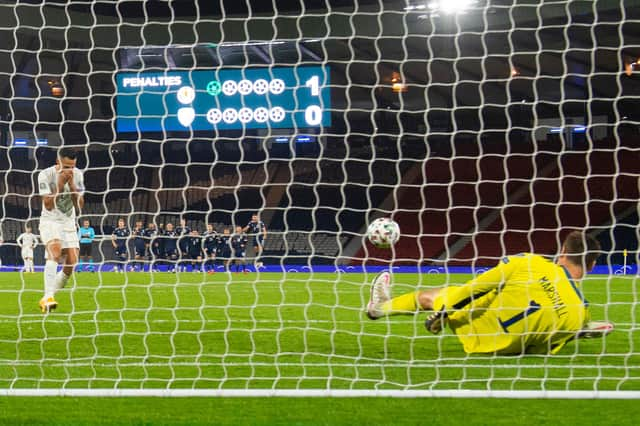 David Marshall saves from Eran Zahavi (left) during Thursday's Euro 2020 play-off semi-final between Scotland and Israel. (Photo by Alan Harvey / SNS Group)
If, and it's still a big if, Scotland can prevail against Serbia next month in a Euro 2020 play-off final, few would deserve to feel the excitement of preparing to play at a major finals more than Marshall. He made his international debut as long ago as 2004 under Berti Vogts – yes, Berti Vogts.
Scotland's absence from the finals of a major competition was then a trifling matter of six years. This top table exile has now stretched to 22 years – and is guaranteed to become at least 23 – as Scotland prepare for a decisive night in Belgrade.
Steve Clarke has much to ponder before then. Scotland have two games to play first for a start. But when it's time to sit down and name his starting XI for what promises to be an enormously tense night in the Serbian capital on 12 November, there are several names the Scotland manager will already know must feature, injuries – and, just as likely these days, illness – permitting.
Among them is Marshall. His journey to established No.1 has been long served and hard earned. It says everything about Marshall's enduring qualities that Clarke, following Thursday night's dramatic penalty shoot-out victory over Israel, revealed the 35-year-old goalkeeper – who will be 36 by the time of next summer's European Championships - was one of the first people he phoned after being appointed Scotland manager last year.
He was certain he wanted Marshall in the set-up despite the fact the 'keeper was in the midst of what actors would refer to as a resting period, internationally at least. "David has been very good since I called him up," said Clarke. "He was actually one of the first phone calls I made when I got the job to try and get him back involved.
"He has established himself as the No. 1 and he made some great saves in the games last month and then obviously saving in the penalty shoot-out."
Prior to Clarke's appointment, Marshall hadn't been picked for three years. Allan McGregor's retirement compounded with Craig Gordon's lack of playing time at Celtic helped create an opportunity, but Scott Bain had just finished the season as first choice at Celtic. He had played in Alex McLeish's last match in charge, a 2-0 win in San Marino.
Marshall, for all his reliability, was not an obvious candidate to be recalled. He was still performing to his usual high standard at Hull City, where McGregor's departure for Rangers had opened up the first-team spot once more.
Again, Marshall made the most of his chance, letting no one down. Now at Derby County, following a spell at Wigan Athletic, he'd doing the same. But few would have queried it had Clarke continued Marshall's exile, turning instead to the likes of Jon McLaughlin, or keeping faith with Bain.
In addition, what was Marshall's own state of mind with regards to Scotland? He was dutifully turning up when required but the gloves were being handed back and forth between Gordon and McGregor and had been for some time. In the battle between Ray Clemence and Peter Shilton, he was Joe Corrigan. It must have been dispiriting in the extreme.
Perhaps this of always being ready, always being on stand-by, knowing his chance might come – and come again – is something he learned from that night he came of age, deputising for the suspended Robert Douglas against Barcelona in the Nou Camp in 2004 as Celtic – largely thanks to Marshall – clung on to a 1-0 aggregate result in the fourth round of the Uefa Cup.
Afterwards then manager Martin O'Neill floated the possibility the then 19-year-old might never top that night, but he's getting closer, surely. Despite being relatively untroubled during the 120 minutes against Israel, Marshall pulled off a fine block from Eran Zahavi in the shoot-out. If he can now go on and help Scotland qualify for Euro 2020 in Serbia it will surely count as a defining night in his long career.
No one can say he does not deserve it. Marshall suspected Zahavi would put his penalty low to his right because he had put the work in with goalkeeper coach Stevie Woods. "All the goalkeepers had done their homework with Stevie - you maybe heard Woodsy shouting from the touchline, telling Marsh where to go, where to stand, how to do it!" said Clarke.
"They had an idea where every penalty was going because they do their homework properly. And for David to save one from possibly one of their banker takers, Zahavi, that set us up nicely to win the shoot-out."
Terry Gennoe, his former 'keeper coach at Celtic, recently expressed his view that Marshall can go on playing until he is at least 40 – at international as well as club level. Providing Scotland get there, an appearance at next summer's Euros might not even need to be his international finale. What it would do is take Marshall into a class of his own. As is stands, Ned Doig's stretch of 16 years and seven months is the longest between caps of any Scotland player. He was another goalkeeper, who won only six caps between 1887 and 1903.
It's currently sixteen years and just under two months since Marshall won the first of his 37 caps to date – and he's never looked more assured of his place between the sticks.
Want to join the conversation? Please or to comment on this article.