Aidan Smith's Saturday Interview with Willie Morgan: "That cross with the inside of my foot was once in a dark blue moon"
It was the dawn of the Sixties and the decade hadn't yet begun to swing. Willie Morgan would go on to enjoy all that the era would offer including screaming girls, pop star friends and songs celebrating his dazzling wingplay - but at the age of 15, as punishment for some long-forgotten "misbehaviour" at first club Burnley, he was sent home to cool off and think hard about his future.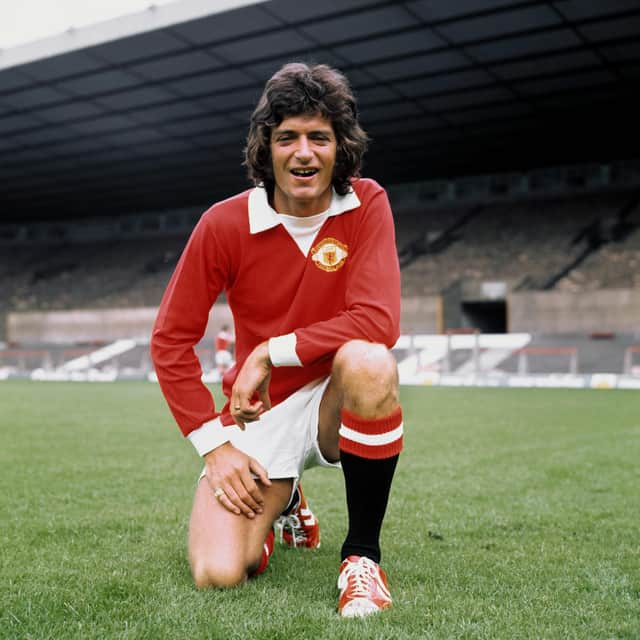 With his pop-star looks and indeed a song celebrating his wing play, Willie Morgan might have been a rival to George Best at Manchester United but the pair became great friends.
"That was when I found out my mum wasn't my mum," says the 21-times-capped Scotland great. "I was standing in the front-room in Sauchie getting a telling-off from one of my aunties and not taking it too well. She lost patience with me and said: 'Just wait 'til your mother finds out.'
"I was like: 'Eh? So who had been that woman who called me in for me tea every night while I was playing football under the gas lamps?' It turned out this was my granny. She and my grandpa had been the ones to bring me up. My real mum was a woman I thought was another of my aunties. Every Friday she used to come over from Tullibody and give me a threepenny bit or a piece of Cowan's toffee."
It's complicated, as they say in romcoms. Morgan's birth mother Annie conceived him out of wedlock after waving off to war her fiance, Bertie Hutchinson. His real father was an Italian prisoner of war and Morgan knows no more than that bald fact, nor in the intervening years has he been remotely curious about the man. "Everyone's into genealogy now and wanting to trace their origins right back but I'm not," he says. "I just accepted what had happened to me."
Small-town Scotland of the 1940s had been less accepting and in Morgan's corner of Clackmannanshire there were moves to have the babe put in the care of nuns, but Annie fought against this and her parents, William and Elizabeth, stepped into the breach, with help from Annie's sister, the one who eventually let the cat out of the bag. "In that house we were poor - everyone was, right after the war - and we didn't have a telly or a phone or anything but I didn't want for love," says Morgan. Bertie, who returned from the front to marry Annie, learned about the boy but was understanding.
Did Morgan ever wonder why his parents seemed older than those of his chums? "My 'mum' died when I was 12 and away at a school camp but, no, I didn't. Sauchie was a tough wee place, just about all the men of the village worked down the Devon pit, and everyone looked old! My 'dad' lived on for a good few years so he saw me play for Scotland. And I came to almost dread those big games at Hampden because there would be 50 requests for tickets waiting for me when I came up the road!"
Scotland's greatest-ever assist
Aha. We have been detained by fascinating familial matters but it is the big game in which he made his most stunning intervention that had been my excuse for calling up Morgan in Cheshire, the day after his 75th birthday.
Morgan goes close in the 1973 World Cup qualifier against Czechoslovakia and he was to play a vital role, crafting the winner for Joe Jordan
On an epic September night against Czechoslovakia in 1973, a few shy of 90,000 saw him cross for Joe Jordan to head the goal which sent us to the World Cup in West Germany and I'm wondering: was that Scotland's greatest-ever assist?
Martin Buchan firing over the ball for Kenny Dalglish to clinch qualification for the next finals four years later would run it close, but Morgan's contribution had been more artful. He hadn't run to the byline but was crossing from further back, requiring more cunning and geometry.
I suggest to him this was a Scottish speciality of the period with Chelsea's Charlie Cooke facing the same degree of difficulty to find the head of Peter Osgood in the 1970 FA Cup final replay. "Well," he says, "the first thing to say is that the Czechs were an excellent team and that it was near the end and we were under pressure. Aye, the cross was with the outside of my foot which is probably why people remember it. That was the only way I was going to find Joe. I would normally have used my instep but this big guy was blocking me off on that side. I would only cross the ball like than once in a blue moon and I suppose that was once in a dark blue moon.
"What a night! The shivers are shooting up my spine just thinking about it. After the final whistle, back in the dressing-room, we were giddy. For the next four or five hours these grown men were like excited wee boys."
"Willie, oh Willie Morgan ... " The winger's dashing play thrilled the Stretford End
Just as he could sling a ball over with the "wrong" part of his foot, Morgan will pepper his conversation with everyone from Don Felder of the Eagles to Kenny Ball, he of the Jazzmen, and not make it seem like shameless name-dropping. By the time of Czechoslovakia he was at Manchester United and you might assume it was playing alongside fifth Beatle George Best which turned the threepenny bit kid's world glamorous, but you'd be wrong.
He explains: "At Burnley I broke through just before George did and was the first British footballer to have an official fan club. These two girls started it and guess who the president was? Donovan." Certainly in old team photos from Turf Moor, while everyone else went with short, back and sides, our man sported a groovy haircut of the kind barbers would display on their walls as being the very latest from the continent. "That figures, doesn't it?" he laughs. "The Italian influence." When Burnley played in Swingin' London Morgan hung out with Tom Jones, Bruce Forsyth and other showbizzers. And he also opened a boutique. "It was called Supa-teek. I know, terrible name. But the three-quarter-length velvet jackets were nice."
Taking the No.7 shirt off George Best
Nevertheless, was he not a little bit apprehensive amid his excitement about moving to Man U given they had Denis Law, Bobby Charlton and an established right-wing love-god in Bestie? "Me, apprehensive? No way. At the time I was the number one player in the country and I wasn't coming from a bunch of yokels. Burnley were a good team who'd recently walloped Man U 6-1. I scored two goals and laid on the other four for Andy Lochhead."
Willie Morgan hogs the mic as the Scotland squad record "Easy, Easy", their 1974 World Cup song.
Maybe the dramas of his adolescence had steeled Morgan for any challenges after that. What else could life possibly throw at him? Well, later on quite a lot. He would be forced to fight Tommy Docherty in the courts, a confrontation which caused much bitterness. And his wife Pat, the mother of his two children, would succumb to cancer. Then, out of nowhere, he found love again with Kay.
"When I was about to sign for Man U Matt Busby asked: 'What do you want?' I said: 'The No 7 shirt.'" Until that moment this had been Best's number. "First day at Old Trafford George came over and said: 'Can I take you to lunch after training?' We went to a place in Manchester called the Fifth Inn. 'I want us to be friends,' he said. 'You know what the bloody press are like, they'll try to create a war between us. But I don't mind you having my shirt.'
"What a lovely guy George was - and what a fantastic player. He made goals for me and I made goals for him. We were similar in style, loved beating a man or three, but George could go into the box and was a better finisher than me. He wore 11 for the rest of his time at Man U. I maintain to this day that if he hadn't gone to London he'd still be with us. And he should have played golf!" After our chat Morgan is heading to his local course, the Mere, to get in a few holes before dusk. It's where, for many years, he organised the Howard Keel Golf Classic, the leading man of many musicals becoming a friend and the charity fundraiser enabling Morgan to boost his showbiz contacts. As he puts it, "a guy called Johnny Mathis" was best man for his wedding to Kay in Las Vegas.
Morgan might sound like quite a calculating fellow when he describes how, later in his career, hesitating over a move to the States and Chicago Sting and asked how the deal could be got over the line, the player replied: "Well, I like Elvis." The Sting owner promptly agreed to fly Morgan to wherever Presley was next performing but sadly the King died before this could happen.
What's wrong with having a keen sense of your own worth? Not much, especially at a time when players were completely controlled by their clubs, but if we return to his home village, Morgan insists he was a boy with innocent dreams who just got lucky. "My ambition wasn't to play for Manchester United, it was to get a game for Sauchie Juveniles. And there was a huge slice of good fortune about me becoming a professional footballer. When I was due to leave school, the options were the church or the pit. I told my dad - my grandpa - that I would be going down the Devon with him, his son, my uncle and his boys. But Clackmannanshire Schools kept winning games in their Scottish Cup. My headmaster asked if I could stay on for another term. No, he was told, there was a job waiting for me. Then my school's priest asked. So I delayed my mining apprenticeship until the next round and that match brought all the scouts to our front door. I was lucky, otherwise I'd have been digging coal for a living and probably dead by now from pneumoconiosis."
Sharing a record label with Elvis
Willie Morgan, buddies with many singing stars, meets Andy Williams along with Tommy Docherty, although he was to fall out big-style with his manager later
At the height of his Man U pomp, when he was darting in and out of thunder-thighed defences on treacly surfaces while the Stretford End cascaded Izal bog-rolls over the crossbar in exultation, Morgan was invited to choose his own song from one of five penned by Graham Gouldman, a young hit-maker soon to form 10cc. He went with Willie Morgan on the Wing which contains the lines: "Who's the one we're going to shout for, who's that certain someone?/Hey hey clear the way, here comes Willie Morgan."
"My claim to fame is nothing to do with football - it's that I share a record label with Elvis," he chuckles. "Seriously, I think 50,000 copies were sold, which would get me a No 1 today. A few years ago royalties were still trickling in - from Brazil, would you believe - and I'm told the song is sung at Old Trafford every now and again."
But those seven years as a Red Devil weren't all glory, glory. There was a relegation by dint of a Denis Law backheel following the latter's shock move to Manchester City and then came the bust-up with Docherty. "The Doc could be nasty. After Denis and Jim Holton and George Graham and Jim McCalliog, he started on me. I said on TV that he'd been my worst-ever manager and he sued for libel.
"I had 29 testimonials from players to support me but my QC warned that if lost I could be wiped out, the house could go and everything. We didn't expect the trial to proceed but it did. Every time the Doc lied I had to tug the QC's gown. It didn't go well for him and on the third day his barrister said he was dropping the case." Morgan hasn't seen Docherty since and some hostility lingers although he concedes: "The Doc may have been a nightmare at Man U but he was a great Scotland manager."
Rod Stewart and Billy Connolly slept on the floor
Mogan's international duty began with the 1967 world tour under Bobby Brown - "My PE teacher at St Mungo's Academy, Alloa." No caps were awarded but Morgan scored in his first appearance along with a certain Alex Ferguson, then of Dunfermline Athletic. Later that year, together with the rest of the team, he looked on helplessly as Northern Ireland's Best single-handedly dismantled Scotland. "We swapped shirts afterwards. That was as close as anyone got to him."
Then came the brief Docherty era which included 1972's Independence Cup in Brazil, a late Jarzinho goal in front of 130,000 in the Maracana clinching it for the hosts in a game which Morgan says Scotland should have won. Halfway through the World Cup qualifiers, Docherty answered the call from Old Trafford. "I got him that job," says Morgan. "Matt Busby was my golf partner and one day over our teacakes he asked me about the Doc. I said he'd shown on that tour to be a great improviser. Later that night Matt rang: 'Do you have the Doc's number?'"
Enter Willie Ormond. "We called him the Pink Gin Kid. Willie was a really nice guy but out of his depth at that level. If the Doc had stayed I've no doubt we could have gone far in the World Cup and who knows with a bit of luck maybe even have won it."
Scotland had no luck against Brazil, annihilating the holders 0-0. Morgan struck the corner from which Billy Bremner squirted a great chance past the post. "Brazil were evil that night, kicking us up and down the park. They did that because after the Independence Cup they were frightened we could beat them."
After another desperate draw, against Yugoslavia, what Morgan calls the "greatest-ever" Scotland team were heading home - but not before the greatest-ever party. The first tee is calling him but there's just time for one more celebrity anecdote. "There was high-security at that World Cup because of the Baader-Meinhof Gang - armed escorts everywhere and no one but the players allowed in our hotel. We had a couple of guests that night who by 4am had nowhere to sleep. So me and my room-mate John Blackley chucked pillows and the blanket on the floor and Rod Stewart and Billy Connolly slept there!"
A message from the Editor:
Thank you for reading this story on our website. While I have your attention, I also have an important request to make of you.
With the coronavirus lockdown having a major impact on many of our advertisers - and consequently the revenue we receive - we are more reliant than ever on you taking out a digital subscription.
Subscribe to scotsman.com and enjoy unlimited access to Scottish news and information online and on our app. With a digital subscription, you can read more than 5 articles, see fewer ads, enjoy faster load times, and get access to exclusive newsletters and content. Visit https://www.scotsman.com/subscriptions now to sign up.
Our journalism costs money and we rely on advertising, print and digital revenues to help to support them. By supporting us, we are able to support you in providing trusted, fact-checked content for this website.
Joy Yates
Editorial Director
Want to join the conversation? Please or to comment on this article.