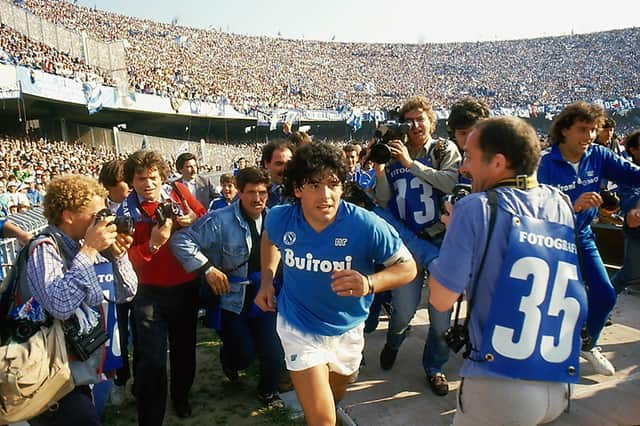 Diego Maradona's time at Napoli is brilliantly captured in this 2019 biographical film.
1. Scotland 78: A Love Story
The only home nation to qualify for the World Cup in Argentina, this is a brilliant BBC documentary chronicling Scotland's ill-fated and hubristic 1978 campaign. Now numb to the pain served up by Peru and Iran, simply sit back and revel in that Archie Gemmill goal. (BBC iPlayer)
2. My World Cup Sticker Mission
Jack Ross features prominently in the Netflix new series of Sunderland 'Til I Die.
A nod to the nostalgic childhood pastime many football fans can relate to, this programme takes one supporter – Radio One's Chris Stark – and his incomplete sticker book on a worldwide quest to track down six missing players and get photos to complete his 2006 World Cup album. (BBC iPlayer)
3. All or Nothing: The Brazil National Team
This five-part series follows the Brazilian national team as they seek to re-engage their disgruntled fanbase by winning the 2019 Copa America on home soil. With exclusive footage from training, locker room, and games, it is an interesting look behind the scenes with the world's most famous football nation. (Amazon Prime)
4. I Believe in Miracles: Nottingham Forest
I Believe In Miracles captures the glory years of Nottingham Forest under manager Brian Clough, right, and his assistant Peter Taylor. They are pictured here at the 1980 European Cup final in which Forest defeated Hamburg SV 1-0 at the Santiago Bernabeu Stadium in Madrid.
One of the best football documentaries ever thanks to its fantastic 70s soundtrack and superb storytelling, a mix of unseen match footage and recordings of Brian Clough, as well as interviews with Nottingham Forest's European Cup winners, detail the transformation from a side few believed in into Europe's best. (Amazon Prime)
5. Classic Scottish Cup ties
Sportscene are delivering some classic Scottish Cup showdowns. So far they have shone the spotlight on the 2012 Edinburgh Derby final, the "family final" between Motherwell and Dundee United in 1991 and the 1981 Dundee United v Celtic semi-final. Tonight it is the 2002 Old Firm final. (BBC Scotland)
With a second season now available to view, this is a sometimes intriguing, sometimes cringeworthy docuseries following Sunderland as they try to find their way back to the Premier League. Added interest in the shape of Hibernian manager Jack Ross, who features from his time at the Stadium of Light. (Netflix)
This isn't a brand new offering but it is worth a watch. This 2014 documentary follows Dutch coach Thomas Rongen as he is given the challenge of managing the famously-pitiful American Samoa national team and somehow lifting them off the foot of the Fifa's world rankings. (Amazon Prime)
This 2019 biographical film follows the man many regard as the best player of all time. Certainly supremely gifted, he is also a flawed character, though, and this follows him during his time with Napoli, in 1984, and shows how the pressures on and off the field threatened his game. (4 on Demand)
A mini-series which is loosely based on fact and follows Scottish footballers Fergus Suter and Jimmy Love as they attempt to help English working class teams wrestle the game from the grip of the upper class. An uplifting tale of the game's first professional players, albeit one with a hint of Downton Abbey. (Netflix)
10. Everton: Howard's Way
This acclaimed tale is of Everton in their mid-1980s pomp. Led by Howard Kendall, who had the club in his blood, they became the best in the country, winning the FA Cup and the league title, with a record points tally. This taps into the memories of those involved. (Amazon Prime)
11. Apache: The Life of Carlos Tevez
This is a gritty dramatisation of the life of Carlos Tevez. A story told in eight episodes, it follows the youngster on an emotive journey from his difficult early life, in the harrowing conditions of Argentina's Fuerte Apache, through family trauma, and on to the fulfilment of his football dreams. (Netflix)
12. Oh My Goal – Soccer Story
Although it uses the word soccer rather than football in the title, we won't hold it against these bite-size tales that tell little-known stories about men like Didier Drogba, who, it claims ended a civil war. The series also takes a closer look at a World Cup scandal. (Amazon Prime)
13. Bobby Robson: More Than a Manager
A couple of years old, this is still a lovely insight into Bobby Robson – the football manager and the man. Exploring the life of the legendary manager, it reveals how his keen mind for the game was matched by his man-management and devotion to his teams. (Netflix)
Based on the extraordinary story of Neil Baldwin, who refuses to let learning difficulties define him and becomes the Stoke City kitman, plays for his club in a testimonial and proves an inspiration. "I always wanted to be happy," he says. "So, I decided to be." (Amazon Prime)
15. The Women Who Built Glasgow City
Two women and their endeavours to grow the women's game in Scotland. They set up the country's most successful women's team 22 years ago and since then their ambitions have grown and grown as they turned Glasgow City into a presence in Europe and blazed a trail for others to follow. (Tonight BBC Alba, 9pm; BBC iPlayer)
An emotionally-charged six-part documentary, it explores football's astonishing impact on the world, from the streets of India and war-torn areas of Africa, to the glitz and finance of the Champions League. An interesting study of the game's power to inspire new generations and unite and captive millions. (Amazon Prime)
17. George Best: All By Myself
A feature-length documentary that explores the remarkable life of the prodigiously-talented young Northern Irishman, who went from a shy but sensational footballer to become one of the game's first global superstars, as famous for his life off the pitch as his displays on it. (BBC iPlayer)
18. Take Us Home: Leeds United
Six-part series from 2019 looking at one of the game's fallen giants and following them as they attempt to win promotion back to the Premier League. For a season full of drama, pressure and big personalities, it features the fans and the players and takes in the highs and lows. (Amazon Prime)
A docuseries, which allows the current-day Maradona to take centre stage as the fallen hero arrives in Culiacan, in the heart of Sinaloa Cartel territory. With experts predicting disaster, the Argentine legend attempts to save their local team, the struggling Dorados and, perhaps, also himself. (Netflix)
This one comes from the producers of Class of 92 and focuses on the Scottish footballer and ground-breaking manager who became a Manchester United legend. Combining previously unseen archive footage with interviews with those who knew him, it offers wonderful insight into the man and the football icon. (Amazon Prime)