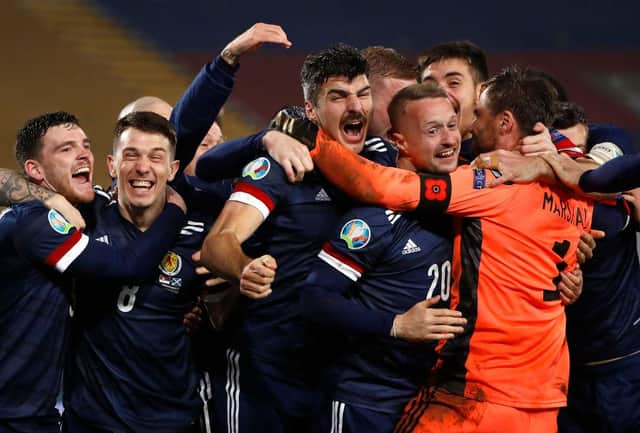 David Marshall is swamped by his Scotland team-mates after saving the winning penalty in the Euro 2020 play-off final shoot-out. Picture: Getty
Two years and two months after the national team started the last Uefa Nations League campaign with a 2-0 win over Albania, Steve Clarke's men made full use of the insurance policy granted to them under Alex McLeish's stewardship to reach the European Championships.
It wasn't pretty along the way. The 3-0 defeat in Kazakhstan was a low point in the life of many a Scotland supporter and ultimately cost McLeish his job. There remained a few bumps in the road once Clarke took hold of the wheel, but ultimately he was able to deliver the dream of every fan watching at home as David Marshall's penalty save saw passage to next summer's tournament.
In this picture gallery, we take a look at 13 of the stars who helped along the way and herald the grassroots clubs who helped develop them.
The Southampton star learned his skills at Dyce Boys Club.
The winger was at South Ayr Boys Club prior to joining Celtic.
The Newcastle winger was at Cove Boys Club prior to signing for Aberdeen.
The Celtic striker played for both Leith Athletic FC and Hutchison Vale.
The Rangers goalkeeper starred at Tall Oaks BC before moving to Hutchison Vale.
The Nottingham Forest defender honed his skills at Kirrie Thistle CFC prior to joining Aberdeen.
The Dundee United striker is another Hutchison Vale alumnus.
The Hearts captain was spotted as a youngster starring for Stewarton Annick.
The Motherwell right-back started his journey in the same area, playing for Wishaw Wycombe Wanderers.
Like many players before him, the now-Sheffield Wednesday star took the route to Hearts via Tynecastle FC.
Prior to joining Celtic and then Queen's Park, the Liverpool European Cup winner produced those iconic marauding runs at Giffnock.
Like Armstrong, Dyce Boys Club played a significant part in the Derby County midfielder's development.
The Hearts defender sparkled for Brechin City Youths prior to joining Dundee United.