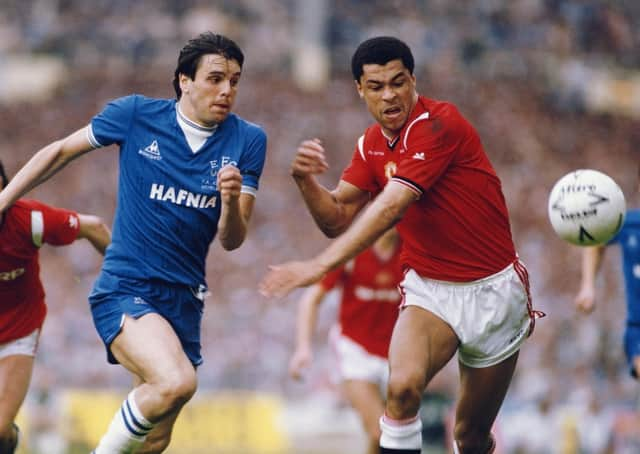 When Graeme Sharp turns 60 later this year he might reflect on how he almost didn't make it to his 20th birthday after putting his life in the hands of Alex Ferguson.
The Aberdeen manager was driving Sharp, then catching the eye at Dumbarton, back home to Glasgow after a week's trial. The experience almost put the youngster off driving for life. Sharp didn't pass his test until he was in his 30s after a move from Everton to Oldham Athletic tested the patience of his hired driver (Sharp had remained based in Birkdale).
"Aberdeen were playing at either Celtic or Rangers on the Saturday so Fergie was coming down anyway," recalls Sharp. "He said he did not want me to come down in the bus in case a reporter saw me getting off the bus and thought, 'what's going on here?' The other lads – big Alex McLeish and all them – were laughing because they knew what I was going to endure. Let's just say he was a fast driver."
Seven years after the white-knuckle ride from Aberdeen, Ferguson again put the player's life in mortal danger by playing him up front in the crucial World Cup clash against Uruguay during Mexico '86. Sharp had played against Wales on the night Jock Stein died, had played in the play-offs v Australia and was fresh from a season in which he and Gary Lineker plundered more than 60 goals together for Everton while narrowly missing out on the league and FA Cup double.
While Lineker went on to win the golden boot in Mexico, Sharp was left kicking his heels on the sidelines and "reading copies of the Daily Record someone had brought over from Scotland". He played only the once – 
in the bruising, must-win encounter against the thuggish Uruguayans, when the team toiled to create chances in a 0-0 draw.
It was his entire Scotland career in microcosm – frustrating. He admits his goal return was as unflattering as the band around the shorts Scotland wore at the time. He scored only once in 12 games but then he was rarely given two games in 
succession and when he did play, Scotland never lost.
But if he was proud when he pulled on the dark blue shirt – and even those ridiculous shorts – his father, a business journalist at the Glasgow Herald, was even prouder.
"I liked the shorts!" protests Sharp now, having just returned from an eight-mile walk with his dog at his home in north Wales – "to keep the wine off". He adds: "I have a pair upstairs in my loft and look at them and think: 'how the hell did I ever get into them?' "
In light of his father's occupation, it seems particularly poignant that Sharp puts some of the blame for his Scotland career never really taking off on the Scottish press. This perceived prejudice is a familiar complaint from so called Anglo-Scots, the term given to those who chose to spend the majority or even all of their careers south of the Border.
In Sharp's case, it seems a valid grievance – he was one of the finest strikers of his or any other generation. And yet it got to the point where he told Andy Roxburgh not to pick him unless there was an emergency. Roxburgh agreed but fretted about the press finding out about their arrangement.
One particular disappointment for Sharp was discovering the togetherness of the Everton dressing room was hard to replicate at international level. Once, at a hotel near Greenock during a Scotland camp, he shared a room with Brian McClair. "I swear to god the three days I was in the room with him I think he spoke twice – and even then it was a hard-to-get 'good morning!' How can you have a team spirit when no one talks?"
Another time he was playing in London with Everton and got the plane up to Glasgow ahead of a Scotland game. "There was Charlie [Nicholas] and myself and we were sitting there talking. Steve Archibald was sitting 50 yards away and would not come over to acknowledge us. I remember thinking, 'he is on the same plane as us to come up to Glasgow to play for the same team and yet could not come over and talk'.
"It was not my cup of tea. Coming from the dressing room I was coming from, which was the total opposite, it felt a bit cliquey."
There was intermittent talk of a return north of the Border. Aberdeen
were credited with an interest after Mark McGhee announced he was leaving. Hearts, too, were linked with him but the nearest he got to speaking to a Hearts chairman was a strange episode a few years ago when he found himself on the same flight from Lithuania as Roman Romanov. Chris, Sharp's son, had suffered a bad leg break playing for Rhyl in a Uefa Cup game against FK Suduva. With medical care in Lithuania leaving a lot to be desired, Sharp had flown out to bring him back.
Perhaps surprisingly given the road from Goodison to Ibrox was a well-trodden one, nothing ever came from speculation linking him with the club he followed as a youngster. There was a member of the Sharp clan who did pull on the light blue jersey – elder brother Richard. However, it was fleeting to the point of cruel. As Sharp and his father looked on from the main stand Jock Wallace replaced the young striker with Jim Denny at 
half-time of his debut in a League Cup tie at Easter Road in 1974. Rangers
were 3-0 down at the time and lost 3-1. Richard didn't play for the team again.
"He was probably a better footballer
than me," says Sharp. "He lacked a little bit of aggression, which was an accusation thrown at me when I first arrived at Everton. But he was decent enough. He went on to Kilmarnock, St Mirren under Alex Ferguson – he did the rounds. He did well at Dunfermline and finished up at East Stirling."
The brothers played against each other once, the younger sibling scoring twice in Dumbarton's 2-1 win at Dunfermline. Richard later joined the police, rising to the rank of detective and satisfying any sense of unfinished business by turning out for the Great Britain police football team.
That experience at Easter Road would have scarred anyone, however.
"It was sad," says Sharp. "Everyone has opinions. The manager's opinion was 'I need to change it' and he takes off the young kid making his debut. It did not make any difference. It was not one person's fault."
It didn't put the brothers off football though their father, a keener golfer, already had reason to question why he was having anything to do with football when someone pished up the back of his leg during Rangers' 6-1 Scottish Cup semi-final win against Aberdeen at Parkhead in 1969. The Sharps were all in the Jungle, which was taken over by Rangers fans that day. "He near knocked the guy out," recalls Sharp.
"Since I stopped playing I have probably been to more Celtic games because my brother-in-law is the fans' liaison officer at Celtic. I was a Rangers fan because that is what you had to be growing up. It's gone a bit crazy now."
While one of his heroes of his youth, Rangers legend Willie Henderson, spoke at his testimonial dinner, he invited Celtic down for the actual testimonial game until the Merseyside police put the kibosh on it. "Everything was arranged so Celtic agreed to come down but as we were getting nearer the time the police on Merseyside decided to get involved and said it is not possible, because they feared the risk of trouble with the Celtic fans coming down and spending the weekend in Liverpool or Blackpool.
"That was a blow being so last minute. We had to hurry around and, in the end, played a Merseyside v Manchester Select, which was a little bit of a damp squib. No disrespect to those who turned out and the players who came out at short notice but it was disappointing. The Merseyside police did us no favours there."
Sharp's new title of Players' Life President at Everton will surely help open doors now. Having dedicated more than half his life to Everton, he seems the perfect choice to act as a sounding board for directors and a point of contact for supporters and players.
There's the move from Goodison Park to a new stadium at the docks to ensure goes smoothly. It's quite something what has become of the player described as an "unknown" by the Liverpool Echo when he signed for Everton from Dumbarton 40 years ago this month.
Readers of this and other
papers in recent weeks may have noticed a proliferation of retrospective features such as "My Favourite Goal" helping provide content in these sports-deprived weeks and months. Sharp goals alone could sustain a series.
When he reflects how lucky he was in his career because "certain things I needed to drop for me, dropped for me," it's an apt choice of phrase.
Sharp tended to volley any opportunities that dropped for him straight into the net. Such as the ball from Gary Stevens that he deftly brought down with the left foot and then whipped past Bruce Grobbelaar with his right for a famous winner at Anfield in October 1984. Even Liverpool manager Joe Fagan admitted it would "almost have been a shame for us to score after a goal like that".
Another stunning volley, this time at Goodison Park in 1982, rattled into Ray Clemence's far corner on the former Liverpool goalkeeper's first return to Merseyside since signing for Spurs.
It is therefore surprising to learn that Sharp's maiden strike for Everton on the way to becoming the club's second highest scorer behind Dixie Dean was a scrappy effort that barely made it over the goal line.
"I hit a daisy cutter v Notts County
on a terrible pitch from outside the box and the keeper should have thrown his cap on it, but it went under him," he says. Not that goals necessarily guaranteed a place in the team the following week. Howard Kendall, who Sharp was not always sure completely rated him, once left him out after he scored in a 1-1 draw with Coventry City because the goal "didn't count as it came from a corner".
Something else dropped for Sharp 35 years ago next week – an Andy Gray back header after Gary Stevens' long throw on a night of nights at dear old Goodison Park. Again, it was not one of his specials. But being in the right place at the right time to flick in Gray's assist meant Everton were level after Dieter Hoeness' earlier strike for Bayern Munich in the second leg of their European Cup-Winners' Cup semi-final. Hoeness' opener had put pressure on Everton following a gutsy 0-0 draw in the Olympic stadium, when Sharp was employed as a lone striker.
Reunited with Gray for the second leg, the pair of Scots terrorised the Bayern defence. Gray put his side ahead and then Trevor Steven clipped in a glorious third. Gray scored again (from a Sharp assist) as Everton overcame Rapid Vienna, Hans Krankl et al, 3-1 in the final.
In Howard's Way, the terrific 
documentary of the era that was released earlier this year, Gray mentions how his career only really took off at Goodison after he purloined the No 9 shirt from Sharp. The story
says everything about the selfless Sharp, who was a striker's striker if ever there was one.
"When I came down to Everton I was made well aware of those who had worn the No 9 shirt," says Sharp. "I would not say it was heavy or too much for you, I enjoyed wearing it – of course I did. But Andy loved it. He loved all that kind of stuff. He wanted that No 9 shirt. But when Andy came in, he had to wear the No 8 shirt because I was not giving it up. You could see he was desperate for it."
An injury to Sharp handed Gray the chance of a run in the side. Everton's best-ever season, when they won the league as well as the Cup-Winners' Cup and lost out narrowly in the FA Cup final to Manchester United, finished with Gray at No 9 and the fit again Sharp in the unfamiliar No 8 shirt. "Andy being Andy I let him get on with it!" he says of his now Qatar-based pal, with whom he spoke as recently as last week.
Gray was barely given time to wear it in before he was ushered out to make way for Lineker, the latest in a string of high-quality forwards who were grateful for Sharp's generosity (though the Scot did take back possession of the No 9 shirt).
After watching Howard's Way during lockdown, Lineker, who is sometimes criticised for making scant mention of his time at Everton, tweeted: "best team I ever played for".
So, who's the best striker Sharp ever played with? He boils it down to three: Lineker, Gray and Adrian Heath, the last named being the one with whom he enjoyed the greatest on-field rapport in terms of knowing what each other was going to do.
"We used to laugh at Links," says Sharp. "We'd come in on a Monday and go out training. 'Where's Links?' He's in the treatment room or he's in the bath. 'What's up with him?' His hamstrings are tight. This would go on all week until Friday when he would come out for ten minutes and disappear – I mean we were only 
playing head tennis. 'What's up with this guy?!'
"Then on the Saturday he'd go out and score a hat-trick. We would come in on Monday and say: 'Listen Links, you do what you want, it is up to you!' "