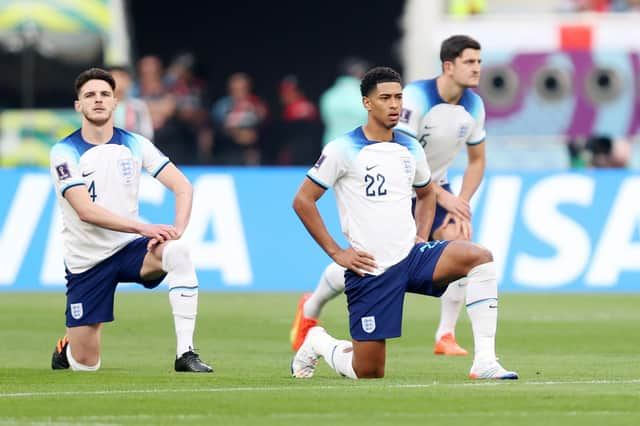 The growing significance of the kneeling movement is very much an expression against racial injustice, and has its origins in America.
Taking a knee: How did it start?
It all started in 2016 with NFL player Colin Kaepernick, then quarterback for the San Francisco 49ers. Kaepernick, one of the brightest young stars of the game at the time, had been increasingly vocal on social media about a number of high-profile cases, such as the fatal police shootings of Philando Castile and Alton Sterlin, the police shooting of Charles Kinsey and also the acquittal of police following the death of Freddie Gray.
During a preseason game against the Seattle Seahawks, Kaepernick sat down during the US national anthem, when it is customary to stand. In an interview after the game, he explained: "I am not going to stand up to show pride in a flag for a country that oppresses black people and people of colour. To me, this is bigger than football and it would be selfish on my part to look the other way. There are bodies in the street and people getting paid leave and getting away with murder."
As a result his actions became linked with the growing Black Lives Matter movement, which further highlighted cases of racial injustice.
How did sitting down change into taking the knee?
Naturally, Colin Kaepernick faced a huge backlash from the American right, with Donald Trump in power at the time there were many who claimed that sitting down during the national anthem was disrespectful to current and former members of the armed forces.
But Kaepernick spoke to Nate Boyer, a US Army Green Beret and former Seahawks player, who advised him that taking a knee during the national anthem would be more respectful than sitting.
Kaepernick agreed, and began kneeling for the rest of the season, but the backlash saw him blackballed by the entire NFL. When his contract ended at the close of the season, none of the 32 teams signed him as a free agent, despite him being one of the best players in the entire league. He has been without a team since.
What does that have to do with the England squad?
As Kaepernick's activism for justice continued to grow, the movement spread to other sports and indeed other countries, including England.
When did England decide to take the knee?
The team's intentions were clear before the game.
"We have discussed taking the knee," England manager Southgate said. "We feel we should. It's what we stand for as a team and have done for a long period of time.
"We feel this is the biggest and we think it's a strong statement that will go around the world for young people, in particular, to see that inclusivity is very important."