Inside Barry Robson's hour-long Aberdeen chat with new CEO Alan Burrows and Steven Gunn
Barry Robson has detailed his hour-long chat with new Aberdeen chief executive Alan Burrows and revealed they barely spoke about the currently vacant permanent manager's position.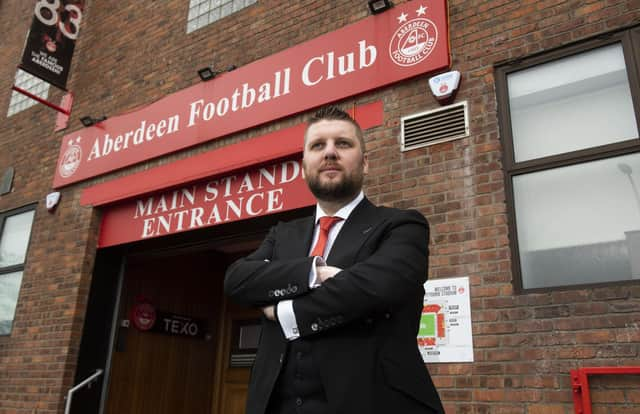 Robson is in interim charge after Jim Goodwin, the newly appointed manager of Dundee United, was sacked at the end of January. The pair reunite at Tannadice Park on Saturday evening in an intriguing clash between Goodwin's new and former clubs. The process of identifying his long-term successor has been complicated by owner Dave Cormack having undergone hearts surgery in the United States. Robson revealed he had spoken to Burrows, who is leading the search as Cormack recovers, earlier this week.
"His comments yesterday where he said they were looking to put a short-list together is exactly the same as he told me," said Robson. "He was quite transparent with that. We sat and spoke, Steven Gunn [Director of Football] was there as well. It was all about showing him the model that we have built for the club, especially the younger age groups and all the rest of it - loads of stuff that we are implementing and I have presented to all the young coaches.
"Alan was really interested in that," he added. Most of the conversation was spent actually on the other things we do at the club, which people tend to forget. I know the first team is the most important thing but for me everyone seems to think I was just sitting in the background doing nothing!
"You wouldn't believe the amount of work that has gone on by me personally to make sure the model we are building here, where we will change up and revamp a few things, is in place, working and starting to get moved on. This club was built on bringing young players through and youth development. Alan knows that and that took an hour to go through that sort of stuff."
All that Burrows told Robson – who has won two out of four games in his current spell as interim manager – was that they were hoping to begin making the short-list of names drawn up even shorter. "Obviously with Dave at the minute there are a couple of issues," said Robson. "He (Burrows) came to me yesterday and said we are looking and trying to get the list down. And in due course we can speak about that."