Since then, Shinnie has gone on to play three further seasons as a Don before joining Derby County and subsequently Wigan Athletic. For Robson, he has worked for the club during three managerial tenures and now he is the man in the hot seat, confirmed as the Aberdeen boss until the end of the season.
For his captain there is an element of surprise. Not of Robson going into management but the circumstances which has resulted in him now looking up to a former team-mate for direction and guidance. Even if there are still remnants of the previous relationship as colleagues.
"He always had an aura about him, that presence in the dressing room," Shinnie said of the new Dons manager. "Did I imagine that he would be my manager at one point? Probably not. I think being around him and him being around the dressing room when McInnes was manager the last time I was here. You could tell he had the aptitude to be a manager. He had the natural coaching voice and that presence. He has been brilliant since he has been in and it is important for us as players to try to back him up and do well for him on the pitch.
"He is still trying to have the banter and a laugh but it is maybe a little bit different relationship in that sense. However he is still the same way he was when he was in the dressing room. He is very serious when he is on the training pitch and has a job to do. But off the pitch he is a good guy to have around and is good for the squad. He is very approachable and in that sense has been good."
'Changes to training'
Aberdeen have been much improved under Robson, winning four of six games, rising to fourth and putting pressure on Hearts for that coveted third spot which could lead to European group stage football. There have been changes off the pitch as well as on it, including in training where the intensity has "been high and there has been a lot of expectancy on the players to handle it".
"When a new manager comes in there are changes to how they want to play," Shinnie said. "There are changes to training and how training can be. Every manager has their own ideas about training and how they want to do things. Naturally when managers change a lot of things change, not just on the pitch but off it as well. Now we have a manager who knows the club inside out and knows the demands of the club and on the players."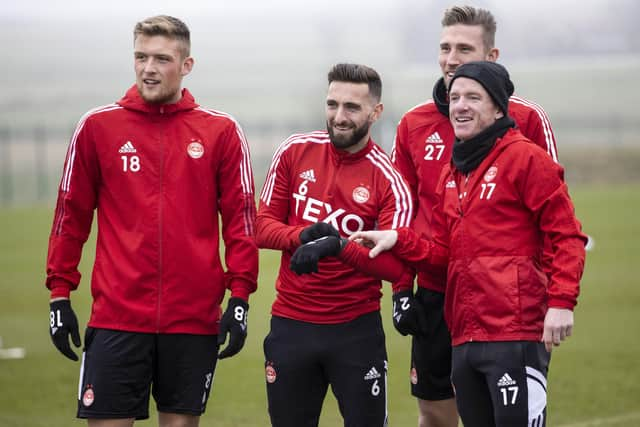 He added: "The performances have been good but it is never easy when a manager loses a job. As players you have let someone down. However football moves on fast and you have to move on quick. I think the squad have done that and put ourselves back into a decent position but we still have a long way to go until the end of the season."