Iain McMenemy: SPFL vote not about money but unfolding human tragedy
Is anyone missing 
Saturday football? Perhaps not, because it seems that the off-field antics have been even more exciting than most Saturday fixtures. The farce that surrounds the SPFL vote to end the league has ignited a war amongst some clubs and the league authorities.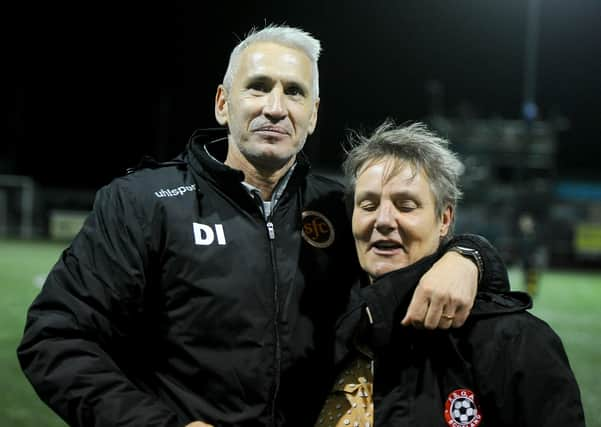 I won't rehearse the "did Dundee vote" saga, as I can't shine any new light on to what really happened. But what I can do is point out the obvious. Dundee can cast their vote at any time. Even right now. In claiming that because they accidently find themselves as the last club yet to vote in the Championship, this therefore gives them greater power and influence than any of their fellow clubs is a view I'd encourage them to reflect upon.
In the ballot, my club Stenhousemuir voted to end this current season. This wasn't for the reasons that most commentators and pundits have been saying, which was that the clubs in the lower leagues wanted their final pay-out. The amount we are due isn't going to make much difference. We voted because we want the season brought to an end.
There is no chance whatsoever that we will be back playing football anytime soon, nor should we be. There is a massive human tragedy unfolding in our communities. It impacts us all.
If I can give a personal insight for a moment, every morning for the last week or so, one of my first calls was to our general manager Margaret. Her husband had contracted coronavirus and he had been taken into intensive care for treatment. Sadly, horribly, unfairly, he lost the battle and passed away on Sunday morning. Billy Kilpatrick was someone we all knew. Someone who was a part of our club. A person who cared for our club – his club, and would do anything to help. He has been taken from us.
After checking on him every day, I then inevitably had to turn to conversations with colleagues on football. I never felt particularly comfortable about this. But I understand it. We all have a passion for the game. We all want to see it return. We understand the desire to see the fate of clubs settled on the pitch. But we in football shouldn't put any pressure on anyone to get the game back before it is absolutely safe to do so. We should never forget about the bigger picture – this horrible, savage, indiscriminate virus attacking our neighbours, our friends, our loved ones.
Let's accept that we are in the midst of a global event so unique and horrifying, that we have to accept an uncomfortable and perhaps unfair settlement to end this season.
I'm all in favour of trying to identify ways to lessen the damage to clubs and finances if we possibly can. I believe we can do this through meaningful reconstruction. This should not be a quick fix unless it is just a temporary short-term solution. Anything that will have a lasting impact should be well thought out, debated, consulted upon and fully inclusive across all of football, including the fans.
Meaningful reconstruction will need to involve give and take within the Premiership. It can't just come at the expense of the lower leagues, which is the usual proposition. And there needs to be trust. Agreements from all clubs need to be honoured, in all situations. It needs transparency.
One of the simple solutions I've seen advocated by many is to simply increase the Premiership from 12 clubs to 14 by promoting the two top clubs from the Championship, and by not relegating anyone from the Premiership. This would then have a cascading effect down the leagues with no relegation and two clubs coming up in each division.
However, what perhaps isn't understood is that thus far, the SPFL has refused to even enter into discussion on the model used to distribute funds to clubs. This model is based on where a particular club finishes right across the league tables with first in the Premiership being "club one" and last in League 2 being "club 42".
Therefore, in adding two teams to the Premiership, the only way to do this without altering the distribution of funds formula, would be to take the prize money from positions one and two in the Championship as they are technically clubs 13 & 14.
This has the effect of the Premiership, which already consumes 83 per cent of all money across the SPFL, taking a further £1 million away from the lower leagues. Another 3 per cent of all funds would go into the top flight, up from 83 per cent to 86 per cent.
This would be a cash grab from the Premiership that already divides 83 per cent among 12 clubs, while the remaining 17 per cent of funds is divided among 30 clubs.
This is only one of the issues that makes reconstruction that bit more difficult than it would appear at face value. So what happens next is anyone's guess. Clearly, there will need to be reconstruction talks, but as to where they go? As ever, that will depend on the powerful and wealthy clubs and their willingness to consider others apart from themselves.