'I didn't feel nervous which was weird' - Taking the winning penalty in a shootout as told by Premiership ace
The penalty shootout to decide the Premiership play-off final was in keeping with the drama which had occurred over the previous 210 minutes of the two-legged tie which finished 3-3.
Of the first six penalties, only one was missed. Kevin Holt of Partick Thistle's effort saved by Ross County's Ross Laidlaw. Jack Baldwin then had the chance to heap pressure on Jack McMillan but he blazed over the bar. McMillan scored, as did the Staggies normal time goal hero George Harmon. Stuart Bannigan, a Jags stalwart, saw his attempt bounce back off the post. Ketih Watson had the chance to win it but he too missed. So did Ross Docherty, a brilliant save from Ross Laidlaw.
Now it was Josh Sims' chance to win it for County…
"I was just thinking about scoring it," he said. "I didn't feel nervous which was weird.
"For the winning penalty, I was just thinking it was for the club and the fans. I'm just delighted I was the one who scored the winning one, but it was so much more than that."
Ross County, trailing 2-0 from the first-leg, had prepared for penalties. But it was kept simple.
"On Saturday in training, we just took one penalty each," Sims explained. "I put it bottom left, but just as I stepped up I had seen the goalie dive low, so I just lifted it up enough. In my head I was going to go bottom left, and I saw him dive early so I just lifted it, and when it hit the back of the net it was an unbelievable feeling."
That walk from the centre circle to the penalty spot, the excitement of knowing you can win it but also the pressure of a penalty in a hugely important shootout. As Sims noted, he had prepared to hit in a centre area. But was forced to change at the last second. How difficult is that?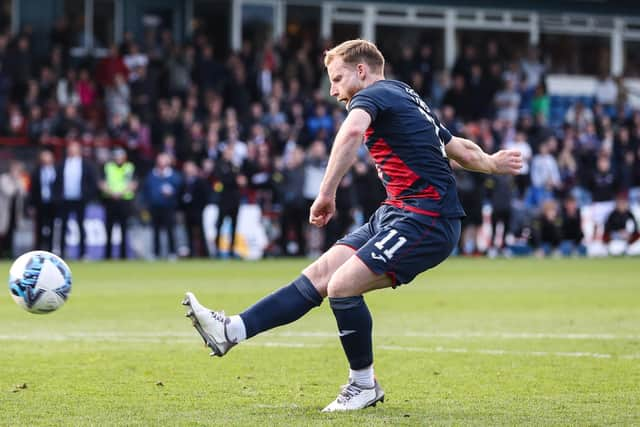 "It's not easy, because sometimes you can overdo it," he said. "That's when you lean back and it can go over. It's about having that confidence to do what you have been doing in training. It was Don (Cowie) who said that it could go to penalties, so he got us all to take one.
"That is credit to the staff to do that, because it means when you are stepping up there you have the confidence. It was a good feeling."
'Everything I have been through'
There were few more deserving players on the pitch at the Global Energy Stadium than Sims. The 26-year-old has not even played 120 first-team games yet. The 27 appearances this season is his third highest total in a campaign for a player who helped England win the Under-17 European Championship and was highly-rated at Southampton. Sims had a difficult 2021, in and out of hospital with various issues, some of which caused the player to feel like he was having a heart attack.
Scoring that winning penalty was a big moment, both collectively and individually.
"I got back to my phone and had everyone messaging me saying I had deserved that, after everything I have been through," he said. "For me personally, taking the winning penalty was amazing. But it was so much more than that.
"I have not played as much as I would have liked, so I've got to give credit to the boys because they put us in that position. They clawed it back. For me to take the winning penalty was a little moment in the season that I will take away, going into the summer."
Comments
 0 comments
Want to join the conversation? Please or to comment on this article.