How Hibs have taken to Nick Montgomery in first week: lots of information, clear idea, 'feel in a good place'
There have been no rash promises from new Hibs head coach Nick Montgomery to deliver the world as he got to know his squad this week.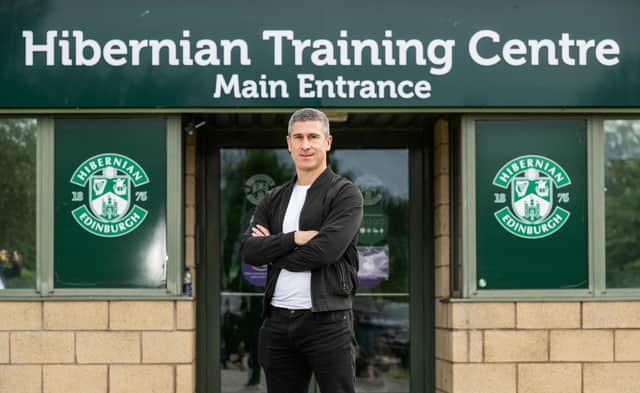 However, Jimmy Jeggo admits it is Montgomery's achievement on the other side of the globe that have made the players sit up and take notice ahead of the 41-year-old making his dugout debut in today's Premiership clash at Kilmarnock.
Montgomery arrived at the club on Monday as a proven winner after defying the odds to guide Central Coast Mariners to the A-League title Down Under last season. Part of that success was down to reigniting former Hibs favourite Jason Cummings' once flagging career. As an Aussie, Jeggo is able to appreciate just how big that feat was, and for that reason he and his Hibs team-mates are excited about what the future holds.
"He was a manager I knew about because you just look at what he did with Central Coast," said Jeggo. "How impressive that was, winning the Grand Final. The final was against Melbourne City, who have got three or four national team players, a massive budget – and the Mariners absolutely spanked them.
"That was the moment when everyone, if they hadn't already sat up and taken notice, really took notice of what Central Coast were doing. Since he took over there, the club has been a real feel good story – and a team we've all been impressed with. But you also look at what he did for players like Jason Cummings, or that a lot of young boys from his team have done well and come over to Europe. It was all really positive."
Having only been officially unveiled as Lee Johnson's successor on Monday, Montgomery's message to the players this week has been succinct, but clear. "It's been really good," added Jeggo, who made his debut for Melbourne Victory when Montomgery was still playing for the Mariners. "He's not come in and promised the world, it has been very straight forward and very clear what he expects from us and what he is going to give us.
"There is a clear idea going into the weekend what we'll try and do, he's asked us to be open in terms of what he's trying to implement and the boys have taken that on well. It's been a good week, a lot of information and a lot of time out on the training pitch, that's what we need especially with the new gaffer and the games coming thick and fast. It's still the first week, we're still getting to know him, he's probably still getting to know us but we feel like we're in a good place going into the game."
Montgomery brought assistant Serigio Raimundo and goalkeeping coaching Miguel Miranda with him from the Mariners but has retained Hibs legend David Gray as a first team coach. Jeggo insists the squad are delighted that Gray remains part of the backroom staff. He added: "Dave has been here a long, long time, he's a massive figure for the club, and you know the quality he delivers through the messages in his coaching is high. So for him to still be around is good, I think he provides a good handover to the new staff in that he knows the league, he knows what it's like going to Kilmarnock away and he knows the playing staff."