With Motherwell anaemic for large parts of the first half, it was the second 45 when he became a key protagonist. It was his booming, curling pass which had Matt Penney in a tizz, sending Elie Youan through to set up Kevin Nisbet for Hibs' second. Down the other end of the park, he read the danger and produced a key block at the front post as the Steelmen searched for an equaliser. Moved into midfield, he was heavily involved in what proved to be the winner, snapping into a challenge to win the ball back before releasing a team-mate, seconds before Nisbet completed a hat-trick.
He saved the best, or perhaps worst, depending on your view of football, until last. Motherwell were pushing, once more, for an equaliser. An undeserved one at that. They had managed to work it down the right into a dangerous area. As Johansen progressed, off the ball, towards the box, Porteous unceremoniously hacked him down before he could get there. Collateral damage on his way to cutting out Max Johnston's cut back as it rolled right towards Kevin van Veen, readying himself for his 13th goal of the season.
The Hibs star wasn't finished there. Once the full-time whistle had sounded, the team headed to celebrate with the travelling fans, Porteous with Rocky Bushiri in tow, made sure to noise up the home support, the Fir Park faithful's ire caught on camera.
'Likely to leave'
It was a real Ryan Porteous of an afternoon. Big moments, bombastic gestures, riling up opposition supporters but ultimately another impressive performance. Yet, it will be one of his very last in a Hibs shirt. Perhaps his last. The club's chief executive Ben Kensell admitted earlier this week that he is "likely to leave in this window" with the club "looking to strike the best deal possible".
Serie A side Udinese are keen, as are French outfit Toulouse, not to forget a host of English Championship clubs. It is an intriguing juncture in the career of one of the most polarising and divisive characters in Scottish football. His next decision will be key and it should be one which leads him abroad, benefiting both himself and the Scotland national team he made his debut for with a sterling performance against Ukraine last year.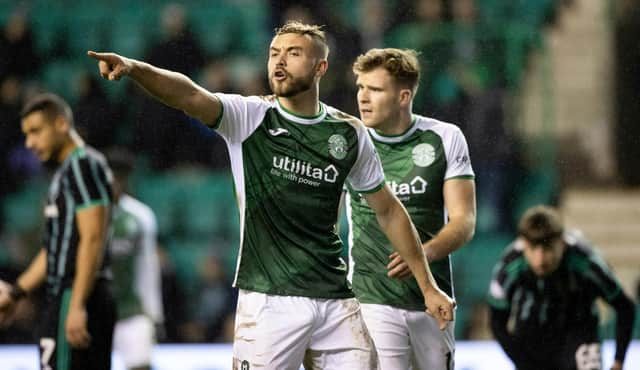 Porteous was certainly open to a switch to an England Championship side who harbour ambitions of winning promotion to the Premier League. It is a journey which has been travelled by many, many stars of Scottish football and there have been a number of successes but also plenty of, if not failures then disappointments. English football below the Premier League is a rat race. A 46-game slog and that's just in the league. Game, recover, game, recover, game. recover. The money will no doubt be good, the prospect of reaching the EPL promised land appealing but beyond that there is not all that much going for it compared to Europe, which is a much more fun and exciting prospect, full of adventure. But more than anything it is the environment which should get the best out of the player.
There will be many in Scotland who won't be able to look past Porteous' 'antics' but he is a very, very good football player. At the heart of his game is a superb passing range. He is a centre-back who acts as a de facto play maker for Hibs, capable of breaking lines with pinpoint passes, fizzed into the final third (no player in the Premiership has played more) and, other times, acting as a quarter-back and stepping out of defence and shouldering the responsibility. Potential clubs will see that characteristic as a huge benefit.
Scotland role
Meanwhile, he is nearing 200 games at club level and the mistakes are becoming fewer, while he retains that willingness to be a proactive rather than reactive defender. Going to the continent should enhance these qualities. Give his game room to breathe and help him become a smarter defender the way it has with Jack Hendry and Aaron Hickey. Doing well abroad keeps you in the Premier League shop window.
It also puts some room between him and Scotland. Rarely out of the headlines across the past two seasons, for good and bad, being overseas removes him from that goldfish bowl which can be suffocating, even doing long before you realise. And, this may not sit well with some, Europe should allow him to refine his skills at the dark arts. Moving to England will no doubt prompt the same ire after a while. Less so on the continent. Why should Scottish football fans want Porteous to remain that mischievous side? The Scotland national team is full of really nice players, really nice individuals. There aren't a lot of shits. Porteous can be a shit on the pitch. It is important to possess that quality within a football team.
Hibs, as well as FC Edinburgh, have helped nurture the player across nearly 180 games. Now is the time to not just make a move but a leap into the unknown, whether it be Serie A, Ligue 1 or perhaps Belgium. It is a move which he deserves and will no doubt do the player a world of good in the short, medium and long term.