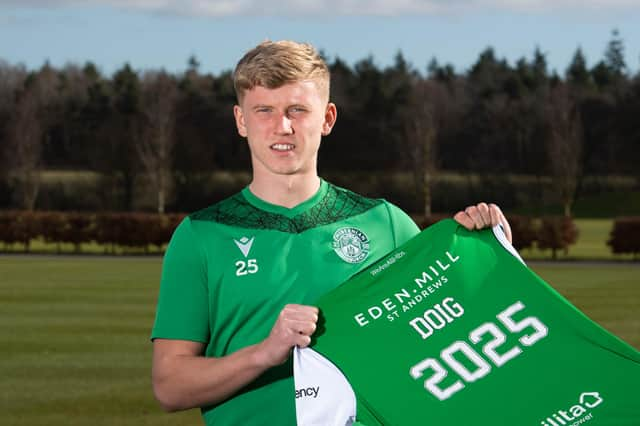 A fitting moment to stick a pin in the past and start looking ahead to what many believe will be a very bright future, he is no longer the kid who had to be reminded of his love for the game when he was rejected by Hearts, no longer a development squad wannabe dreaming of the big break, now he is a key member of the Hibs squad focused purely on pushing on to the finish line and delivering European football for the fans and themselves
Depending on if and how the Scottish Cup plays out, a top five finish could be enough to secure a spot in one of Uefa's club competitions but no-one at Hibs is targeting anything less than the third spot they currently occupy, which would guarantee European adventures well into December if the domestic cup competition cannot be played to a conclusion.
It would also earn them a place in history as one of a surprisingly-limited number of Easter Road teams who have returned such a lofty end of season position. This season could mark the first time in 16 years.
"Everyone knows that," said the Scotland U-19 fullback ahead of today's league meeting with Motherwell. "We all speak about it. It is the big final push now and what a moment that would be for the club and its history and for myself, in my breakthrough season, to do that. What an achievement that would be. It's still a shock where we are just now, playing all these games and doing so well. I didn't see that coming into this season but it's a big push to the end now.
"There is a major sense of excitement within the club and around the club. I get texts from all my pals, who are all massive Hibs fans, and they are all saying they will be coming to every single away game if we do get into Europe. It is now up to us as players to provide that for the fans.
"In a personal sense, to play in Europe and fly away to play football in all these different countries is a dream come true. Definitely one of the things on my checklist was to play in Europe in a massive competition. We will be working hard to do that."
The new contract will not be an excuse to relax, not with so much to aim for.
"It's a big confidence boost for myself but I can't take it for granted now, I can't be seen to take the foot off the pedal, I have to push harder than I ever have now. The club has shown loyalty and trust in myself and I have to prove that I'm worth what they've given me.
"My mum and my dad have an absolutely brilliant work ethic so that has rubbed off on me. It is drummed into me: 'You work for what you get, you don't get anything for free'."
While that commitment to better himself has reaped dividends, and he appears to have sailed through his debut season stress free, he says there have been moments of doubt and challenges to overcome.
Whether that be working through the conundrums posed by experienced rivals compared to development squad opponents, or the mental and physical strain so many games have placed on him, or the absence of family or fans in the stands, which meant that his debut and the scoring of his first goal, against Hamilton last weekend, played out differently in reality the experiences he had imagined.
"I don't think I have ever played this many games in my life and obviously training. I'm training with men now and that is obviously more physically demanding. It is much harder but I do enjoy that. I enjoy bigger challenges."
He has been spared the angst and the angry shouts from the stands when times get tough, though, making it easier to bed in. But he can't wait for their return, excited by the prospect of the positive atmospheres and better equipped to deal with any negatives.
"It's been good and bad. In my first season and especially for my first goal, there being no fans to cheer was a bit of a downer but it's probably a good thing in the sense that breaking into a first team environment, playing games, there's not been the boos and abuse you might get.
"But I definitely wish I had the atmosphere inside Easter Road. At games last season with the development squad and the 18's, coming to watch games, I loved it. But it's weird, it feels like a development game almost. Fans coming back is something I''m looking forward to. I'm nervous about it but I'm looking forward to it."
But empty stadia has not been a block to fan engagement, Having learned how to shrug off the negative interactions, those have been drowned out by the praise which has been heap upon him.
"It's a shock how many people actually message you that you don't know. They've just been amazing with me. On social media they have been so good, that's why I can't wait to get them back inside the stadium."
A message from the Editor:
Thank you for reading this article. We're more reliant on your support than ever as the shift in consumer habits brought about by coronavirus impacts our advertisers.
If you haven't already, please consider supporting our trusted, fact-checked journalism by taking out a digital subscription.