Why Hibs' Jack Ross has one big Scottish Cup question - inspired by an Aberdeen captain
Of all the Scottish Cup finals watched and recollections treasured, there is one moment that jumps to the foreground when Hibs manager Jack Ross' is asked to rummage through the memory vault.
"I remember Willie Miller lifting the trophy one-handed!" he says.
The Easter Road boss, who will lead his team out at Hampden on Saturday in the hope of progressing beyond Dundee United and into the May 22 final, would have been just five the first time he saw Miller hoist the nation's premier cup aloft. That wasn't the last occasion Miller lifted that particular trophy – he won a dozen major trophies, including four Scottish Cups – but every time the Pittodrie legend repeated the feat, the impact on the young Ross was just the same.
An iconic image that portrays the Aberdeen captain as somewhat cool and most definitely a winner, in the mind of one young football fan at least, it also, apparently, hinted at some Herculean strength.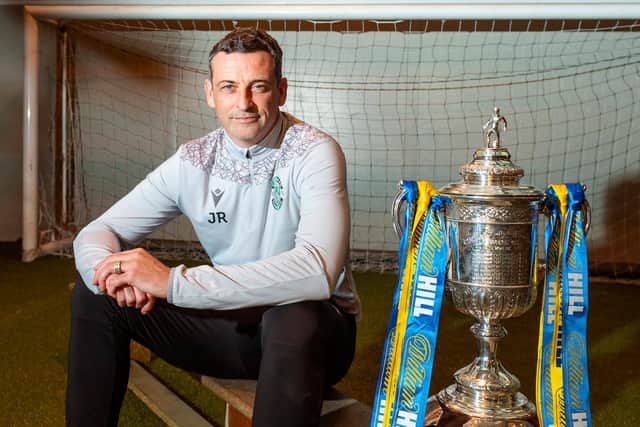 "That was always the thing for me, we all dreamed of winning the cup but I would be wondering if I would be able to lift it one handed if I ever won it because I was never sure how heavy it was or how strong he was to be able to do that!
"It is a daft memory but for me it was something that stood out amongst it all. I was born in '76 so there were a lot of games where he was lifting the trophy."
When Ross speaks of the Scottish Cup he does so with a dewy-eyed reverence that taps into those childhood recollections. There were the crowds, the noise and, at a time when televised football was a distinctly more limited treat, there was the communal air of excitement and anticipation, regardless who was playing.
"I would like to take credit for this, but there's a quote from an athlete [US gymnast Mary Lou Retton] that says something like jerseys and medals eventually gather dust, but memories get better with age, and I think that's a brilliant way to look upon it when you're trying to emphasise how big a deal it is to go and achieve success.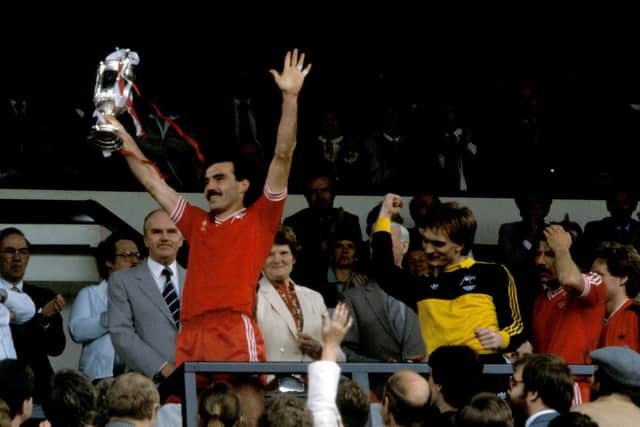 "Those memories you create, you look back on and when you get together with people and look back at old matches and talk about them they do get better.
"I have enjoyed watching those old games that have been getting replayed [on BBC] and I am sure the people involved in them, particularly those who were successful in them, have enjoyed them immensely.
"I remember Ian Ferguson's winner in '87, Celtic's double win, with late goals, against Dundee United, all those games.
"I think people of my age and my generation will recognise that cup final day was a massive day. It was a huge, huge day and even if you didn't support any of the teams in the final, there was always huge interest for me.
"I grew up with that romance of the Scottish Cup and for me it was always a dream to go and lift it. As a player, I didn't get to do that, so it is still as big a deal for me now as it has always been."
Like many in the game who, guided by superstition or by their belief that the opportunity to touch the trophy is something that has to be earned on the pitch, Ross has chosen to never get too close to the prized-silverware at photocalls and never taken the opportunity to sate his own curiosity about the weight of the cup or his ability to re-enact Miller's pose.
"The furthest I got in the tournament was with St Mirren in 2009 but we lost to a very good Rangers team. Andrius Velicka scored after about 20 seconds, which wasn't a great start! And we went on to lose the game 3-0. That was as close as I got as a player in that competition."
But, as a manager, he hasn't given up hope. Not when he believes he has a team who, with two semi-finals under their belt already, are determined to push to the next level and wrap up a season, which has already delivered European football, and the promise of a third place finish in the league, in winning style.
"I have never touched it actually! Listen, I'd love to get the opportunity in a couple of weeks time to see if I could do it one handed. We have a couple of games to go yet, but we'll see."
Standing on the brink of something historic, cementing their status as best of the rest in the Premiership and winning the cup, would see Ross and his players carve out a special place in the club's history, rendering them one of the most successful squads, and delivering more than any other since Hibs actually won top tier titles, in the 50s.
"It is as clear as anything that this is a huge period for us in terms of turning a very good season into one that is historic and memorable. Everybody at the club is aware of that and I don't think it increases the pressure on us because we have put pressure on ourselves all season to achieve and we have welcomed that pressure. Now it's a case of finishing the job.
"We now have three, hopefully four, games left, which is not a lot in the context of a whole season, where we can go and do something historic."
A message from the Editor
Thank you for reading this article. We're more reliant on your support than ever as the shift in consumer habits brought about by coronavirus impacts our advertisers.
Comments
 0 comments
Want to join the conversation? Please or to comment on this article.