Why Hibs feel wronged as club count cost of multiple refereeing decisions – they could be sitting third
The decision made by the SFA appeals panel regarding James Jeggo's weekend red card was pretty swift in the end. It was also correct. It is, therefore, just a shame that they weren't on hand at McDiarmid Park on Saturday.
Instead, there was the initial mistake by referee Craig Napier and that was compounded by his back-up in the VAR booth, Chris Graham, who, having reviewed the footage, didn't invite him to take a second look.
In a match which, potentially, had so much at stake - with top and bottom six being decided - it is no wonder that Hibs boss Lee Johnson was furious, and exasperated, and bemused, and weary. Had other results not gone the Leith side's way, it would have left them banging their head off the bottom-six glass ceiling for the remainder of the season and Johnson fighting for his job.
But what price do officials pay for their mistakes? While they hide in the shadows it is the panel who step in to correct their errors. Don't get me wrong, no-one is seeking public flagellation. Referees - those on the pitch and those studying the replays - are mere mortals and like managers, players, journalists and punters, they will make mistakes but it is what we do to minimise a repeat that demonstrates the sincerity of any apology.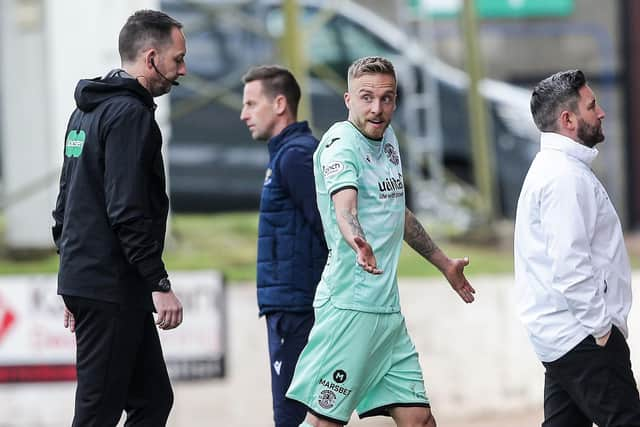 When the Hibs manager went on a post-match rant after the 1-1 draw at St Johnstone, he claimed the system is broken and plenty agree. Including his bosses in Leith. The fact is, standards have to improve next season if the officials want to retain any credibility.
Hibs' chief executive Ben Kensell, in a statement welcoming the decision to downgrade Jeggo's red card to a yellow, quite rightly, pointed out that this was not an isolated incident, with several such instances cropping up throughout the season.
Back in October, Myko Kukharevych's disallowed goal against Dundee United cost Hibs at least a share of the points, a few weeks later the penalty decision involving Duk at Pittodrie also irked. That day Hibs were well beaten but that wasn't the end of it. There was the non-penalty for handball against Rangers which prevented them moving 3-1 ahead, which could have been enough to earn them three points or, taking into account Rangers' fightback, at least a point.
Then there was the controversy over the equalising goal at Ross County, and another two points slipped away, before Elie Youan's red card versus Celtic, when the capital side surrendered a 1-0 lead in the final minutes after containing the champions elect for over an hour.
On Saturday, they had to hang on for a draw instead of pushing for the win. Add up those possible missed points and they could be sitting in third.
Of course, no-one knows for certain if they would have converted those opportunities but it would have been more palatable to see footballers, not poor officiating, determining which club will claim the £5m European windfall that comes with that exalted position.
It is no wonder Johnson hit out and Kensell vowed to 'work with other clubs and the SFA to bring needed improvement to the current systems'.
Because Hibs are not the only ones affected. They are simply the latest in a far too lengthy line and patience has all but expired.
Comments
 0 comments
Want to join the conversation? Please or to comment on this article.