'We are due them one': Hibs ready to stop Hearts' run as Joe Newell explains why it would mean 'world to him'
Hibs need to get back to winning points but when it comes to their next fixture – the capital derby – they also have a point to prove, according to midfielder Joe Newell.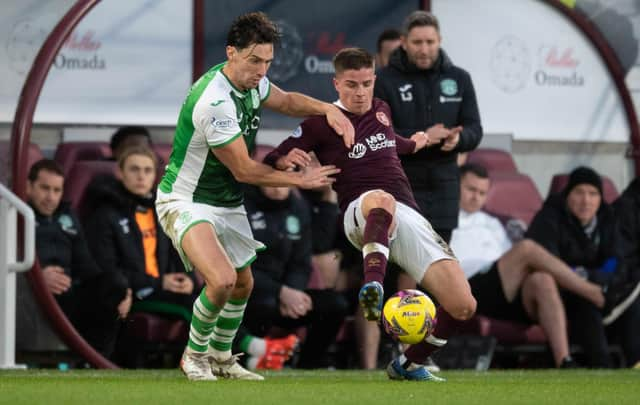 It has been five years since Hibs last won a match-up with Hearts at Easter Road, and nine games have passed since they enjoyed victory, regardless of venue. A Martin Boyle double gave them the 2019 Tynecastle 2-0 win but since then there have been six losses and three draws.
"I can't deny that they have had our number the last few times. We are due them one," admitted Newell, who was sidelined for most of February and March with injury, but has returned reinvigorated. "With the extra importance of making the top six, it should be a good game. I can't emphasise enough how much it would mean to me, it would mean the world. It's impossible to play for this club and not be really invested in it. I have been here four years now, you have got mates who are fans, your own family and friends become fans. It's impossible not to be a fan yourself when you have been here this long. It's something I have thought about a lot and I will be trying as hard as I can."
He certainly doesn't want to experience losing another head to head. "It's horrendous," said Newell, "definitely the worst part of being a footballer, losing your local derby. And then the absolute opposite, there is no better feeling in life. If we win next week I can't think of anything else I could do that will make me that happy. That's the reality and they will feel the same. All our lads will know the importance of it, there will be no question marks going into it and it's probably the perfect game to have after a few bad results."
The Leith side will need to find the form that gave them a return of just one defeat in seven matches during January and February. Recent results have been less encouraging, with the weekend outcome versus bottom of the table Dundee United making it one win in seven. But up against a wounded animal (Hearts have been enduring their own struggles, having been toppled from third spot and parted ways with manager Robbie Neilson) they will have to show some primal survival instincts as they look to bag the points needed to secure a top six spot at the split and position themselves to push for a European qualifying place.
"It's come down to a dogfight now, we have to win the last two to guarantee being in the top six," said Newell. "If we win the next two we are probably in a very good position so we have got to keep believing. Any week you are either on top of the world or think it's the end of the world. It can change so quickly and we know that."
And, his mate and former team-mate Christian Doidge has shown them the way, after he scored the winner as Kilmarnock defeated Hearts earlier this month. "He was happy, Doidgey, after that! He kind of went to give the Hearts fans a little bit and then backed off a little bit. He's too nice a guy to do that!"