The Hearts target Hibs have in race for 3rd as Lee Johnson talks data and reveals why Rangers should be 'wary'
The grotesquely named El Sackico, lacking any humour or imagination whatsoever, seems like a lifetime ago. Billed as such because Lee Johnson and Jim Goodwin were fighting for their managerial careers at Hibs and Aberdeen, if you were to listen to the external noise surrounding both coaches.
While Goodwin departed following the 6-0 thumping in Leith, his counterpart is thriving at Easter Road. No moment better encapsulated that than after Saturday's 4-1 win at Livingston. Johnson approached the travelling Hibee faithful with glee, a run up and half a dozen or so arm wind ups, like a dad extravagantly readying himself for the sandbag toss on fair day, before a fist pump. What a transformation on and off the field for the 41-year-old and his team. Hibs are putting pressure on Hearts in the race for third place and doing so in an entertaining fashion.
Take the last five games. Thirteen points, three clean sheets and an average of 2.8 goals per game. Third place was all but written off by many in January. Now it is a realistic target. The two Edinburgh derbies, providing Hibs finish top six, will be season-defining.
'Have to beat them'
"I think it's possible," Johnson said. "Obviously we are not favourites for it because Hearts are five points ahead of us but we have got to be thinking we have got them to play again and we have then the opportunity to nail down a top six spot and play them again. So that becomes absolutely key. We are going to have to beat them and probably we are going to have to go undefeated against them."
He added: "We are not looking that far ahead at the moment. We are literally just looking can we do everything we can to beat Rangers and then we take the next obstacle which is Celtic and we go from there."
The progress may be of a surprise to those not the outside. Not to Johnson. Even in the midst of a run of three wins in 14 matches, including two 3-0 defeats to their city rivals, there remained a belief, aided by data. A firm believer in statistics, he saw an encouraging trajectory which was boosted by shrewd tweaks in the January transfer window, summer arrivals continuing to settle in and others returning from injury.
Hibs reaching peak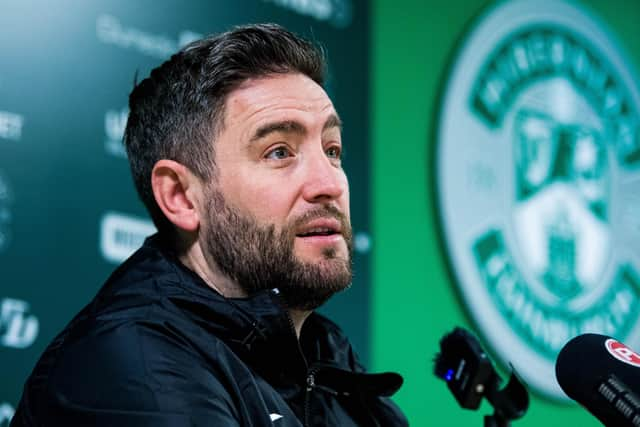 "We always use data," he said. "We present data a lot to the players. It's a narrative that I think is important because it sort of objectifies a lot of the subjective nature in Scotland, whether it be media or social media or our own feelings based on wins or losses.
"It's not just technical data. We look at the physical data too on an individual level so we are peaking at this time. We have a brilliant performance team here. Adam Owen as assistant manager is one of the best in the world, really, and Colin Clancy is brilliant as well as head of sports science. Those two work very closely together, overseen by me and the decisions that we make. I feel that physically we are starting to peak coming into an important start of the season.
"What I do believe, the majority of the fan base have understood the challenges we have faced this year, have enjoyed elements to our performances and have stuck with it. I have always said fans should be absolutely allowed to feel how they want to feel but always support the team. If we lose their trust and we gain it back then obviously they support us that little bit more."
He added: "We have to aim to get closer to the Old Firm. I am big on data and I said in my interview to get the job that was what we wanted to do. Celtic are way out ahead and then there is Rangers and then there are clubs like ourselves. Performances and consistency are key and I feel we are going on a steady trajectory."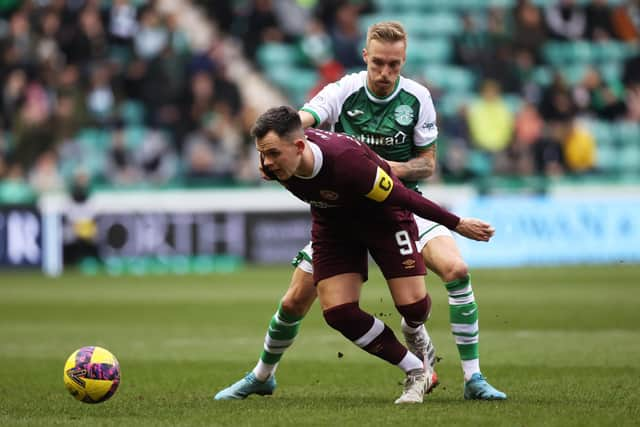 Box entries and Rangers beware
On specific areas of play, Johnson wants his team to use Manchester City and Celtic as inspirations. He wants his team to be a constant and relentless goalscoring threat and that means more "box entries". When Rangers visit Easter Road they won't find a team who will stand off them.
"We want to make sure that you get an overload in what we call the elbow of the box, which is the corner of the box, so we can get cutbacks," he explained. "If you get back into the cutback zone, like Manchester City and Celtic do, your opportunity of scoring is one in five. If you can then add another member of your team in the box the opportunity comes down to one in four. So can we get numbers in the box, can we get entries in good areas of the pitch. The more we do that the more the data will allow us to score goals. If you look at our goalscoring record it's starting to become the product that fans want to see in terms of scoring a decent number of goals and tightening it up at the back via a couple of new signings and a lot of implementation in training.
"Rangers have improved and the data shows me that they have changed their formation. It is getting the best out of individuals, they are narrow and the full-backs go high and wide. In the middle of the park they overload and that is hard to play against. We are going to need to formulate a plan that can deal with that and hurt them with our assets. We are blessed with pace, energy and running power. Rangers will have to be wary of that.
"Can we bridge the gap in terms of possession, shots on target? That all comes into it. It is a very tough game but we are at the top end of our levels of belief."
Comments
 0 comments
Want to join the conversation? Please or to comment on this article.