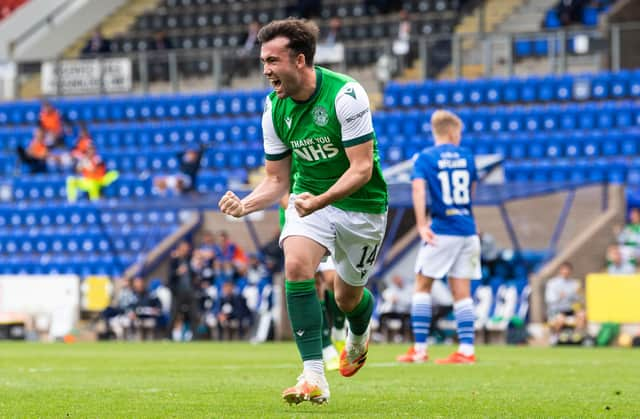 As the post-match gloom started to descend on McDiarmid Park on Sunday evening, Stevie Mallan's smile while speaking to the media was more than enough to light up the stadium.
The majority of 2020 has been trying for the 24-year-old. He had surgery on a knee injury picked up in a 2-0 win over Hearts on Boxing Day last year and just as he was about to return to full fitness, the coronavirus pandemic struck. Another complication with his knee surfaced just as this season was about to begin after featuring in some friendlies, forcing him to miss Hibs' first three matches. An unused substitute against Motherwell, he finally made it back on to the pitch against St Johnstone and his impact was huge, lashing home the winning penalty in stoppage time as Hibs defeated their Perth hosts 1-0.
Mallan is always a glass-full kind of guy, but his wretched luck of late is enough to test even the most positive of characters. The former St Mirren and Barnsley midfielder doesn't normally miss many matches and has a high selection rate under previous head coach Neil Lennon and current boss Jack Ross. Dispatching such a crucial kick past St Johnstone keeper Elliott Parish was just reward for such a spell out.
"It's been some seven months," admitted Mallan. "The only thing that really killed me though was lockdown, because I came back from injury the week before, just before we stopped, and then during lockdown I didn't really have the facilities to do my rehab. I had a little setback because all I did was run during lockdown, so to finally get on the pitch after a long seven, eight months is a great feeling and obviously to bag the winner is even better."
In the wake of the victory over the Saints, head coach Ross revealed he had told Mallan to come on and make the difference. The ex-Scotland Under-21 internationalist is one of those players who can illuminate stodgy affairs like what we witnesses in Perth, with his propensity for long-range strikes and threat from set-pieces. When referee John Beaton whistled for penalty after Liam Gordon fouled Ryan Porteous, Mallan immediately stepped up to the plate.
"I thought I would always get a chance," said Mallan. "There was actually one five minutes beforehand when I ran down and the ball was on my right foot. I tried to pass it instead of shooting and I've just heard everybody behind me shouting, 'shoot, shoot', so I knew the next time after that, if I got the ball I was going to go for it.
"Thankfully it led to the penalty and because Kev Nisbet wasn't here - he's been named the penalty taker - as soon as I heard the whistle go, I went looking for the ball. I think I ran the full length of the pitch to get the ball so nobody else could take it. I have that confidence in myself, set-piece wise, to score and I knew as soon as I'd hit the ball it was going in."
The next step for Mallan is to break into the starting XI. Hibs have looked slightly unconvincing in midfield during their past two matches, with creativity coming at a premium, but Mallan is fully aware how difficult it is to change a winning team.
"The week before [against Motherwell], I was on the bench but I'd only trained two days, but the gaffer put me in amongst the boys and it was a good feeling," said Mallan.
"I've had a good few weeks training now and I feel up for it, I feel fit. It'll be hard to obviously get in the team because the team is winning just now - it's probably the hardest point to get in - but then it's a good thing for the gaffer because he's got that squad at his disposal. It's just up to me - I've got to bide my time and wait for my chance and if I get a start, I've got to take it with both hands."
Playing against St Johnstone was Mallan's first taste of competitive action behind closed doors. Normally it is the fans who he hears shouting "shoot" – now it's just his team-mates. He admits to finding the whole experience a little surreal, but there are no complaints if the wins keep coming.
"It is a weird feeling because it feels like you are going to play a reserve game," added Mallan. "I think most boys would say that because when you play a reserve game, you almost have to create your own atmosphere, set your own standards. But the more experienced boys here have kept on at us to keep our standards high, especially the manager. You hear him every two seconds ... you can't blank him! It's probably a good point in that sense.
"It is a weird feeling - but we are relishing it all just now and hopefully we'll keep it going."