St Johnstone fume at officials as Hibs boss has say on red card and Marijan Cabraja tackle
Fuming St Johnstone manager Callum Davidson has called on referees to be consistent with their decision-making in the wake of the ten-man Perth outfit's 1-0 defeat by Hibs on the opening day of the cinch Premiership.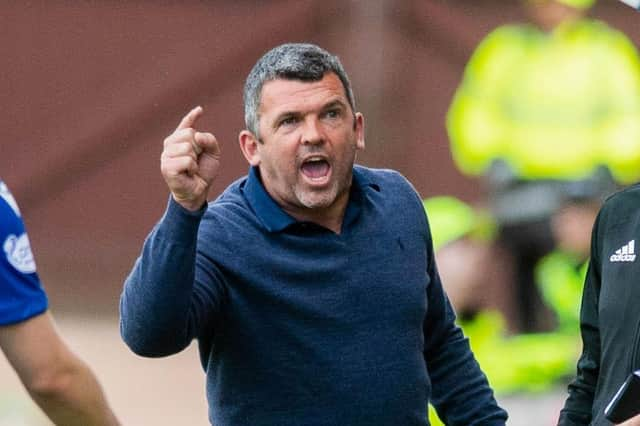 Saints midfielder Murray Davidson was sent off by referee Euan Anderson after 58 minutes due to a late tackle on Hibs defender Ryan Porteous, with Anderson taking guidance from his assistants before flashing a red card. He then only showed a yellow card to Hibs left-back Marijan Cabraja for what appeared to be a similar challenge on Ryan McGowan on 81 minutes, which infuriated the home boss.
Hibs capitalised on their numerical advantage right on 90 minutes when Josh Campbell bundled home to hand Lee Johnson's men all three points.
"I'm just looking for consistency in decisions," said Davidson. "That's the biggest thing for me. There are two massive talking points in the game. You come to the Murray Davidson sending off ... whether it was or not is debatable, you come to that second tackle [by Cabraja], to me it's the exact same tackle, there is no difference at all, and he gives him a yellow. We concede the goal in the 90th minute due to those decisions. It's really hard to take.
"The officials talked about it [the Davidson red card], I said, 'why did you not talk about his [Cabraja's} tackle?' It's dead simple. Just talk about it. I'm gutted for the players. We didn't play on the ball as well as we could but as a unit we were very good and defended well. It's a tough game against Hibs, they've spent a lot of money."
Asked whether he would appeal the red card, Davidson replied: "I think so. It depends if I can appeal it on grounds of another tackle in the same game. I'll have a look at it. Murray is an important player for us."
Hibs manager Johnson admitted that his team benefited from a degree of fortune from Anderson's decision to dismiss Davidson. While Hibs were in control of the match for large periods, they found it difficult to break down their hosts.
"To be honest, I thought it was a yellow and a half," said Johnson. "I thought it was a bit late. Being a midfielder myself, you get caught on your heels a little bit, stretching.
"I don't think he's gone to hurt anybody, I just think he's gone sliding in. It was a lunge, but not a stud lunge if you like. That's the difference and why I wouldn't have given a red.
"I thought it was high enough to be a bit of a dangerous tackle.
"If it happened against me, I'd be devastated, as a player and obviously as a manager."
On the Cabraja tackle, Johnson added: "It was a lower one. It was lungey and slidey but it wasn't an over the top challenge.
"If you look back at the slow-mo, his studs touch the ground 12 inches before he slides through.
"That's what I mean, he could have given it. But I thought they were two yellows. Marijan's was a yellow the other one was too."