Shocked Lee Johnson lambasts Hibs red card call at St Johnstone and says system is broken in explosive post-match interview
Hibs boss Lee Johnson eviscerated the decision to red card James Jeggo in his side's draw with St Johnstone, describing it as 'horrendous'. And he went on to say that there would be little point in appealing the judgement as he has no trust in the game's judicial system, which he has described as "broken".
The Hibs midfielder was sent off minutes into the second half for a tackle on Colin McLennan with the scoreline balanced at 1-1, but the decision infuriated and baffled the Easter Road manager, who was booked alongside his opposite number Steven MacLean and both assistant managers as referee Craig Napier and VAR caused an afternoon of frustration.
"The red card was a horrendous decision," said Johnson, whose team made the top six of the Premiership despite the draw in Perth. "If you look at the way the situation evolved, Jimmy Jeggo gets a clear first contact on the ball, a good 0.5 seconds before, and then his momentum carries him on. The ball bounces behind him; he doesn't know if there's someone there, he's just stretching to compete.
"The St Johnstone player [McLennan] steams in, and both compete but the St Johnstone player gets nowhere near the ball and Jimmy wins it. They'll talk about the follow-through because of Graeme Shinnie's one [last week for Aberdeen against Ross County] but it's a completely different angle. Honestly, I'm up to here in terms of these decisions. I can't believe it. I'm shocked."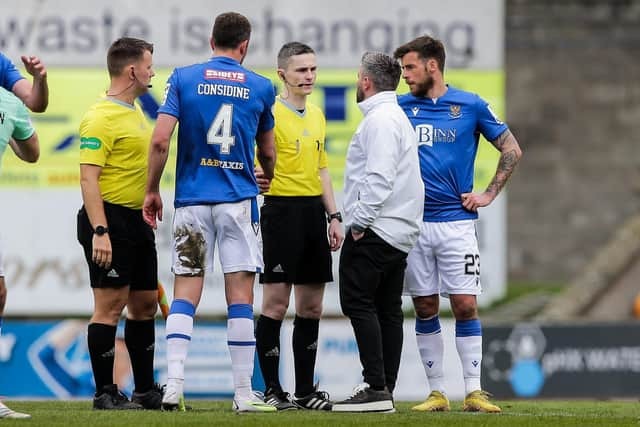 While the draw secured Hibs' place in the upper echelon of the league, Johnson will be without the Jeggo for some of the run-in and while he considers that an injustice, he questions the sense in appealing. "Yeah, because obviously a frivolous appeal ends up in an extra game," continued the Hibs boss. "I don't trust it. It was a really poor performance from the official, as bad as I've seen. I should be feeling quite happy that we've got the job done in terms of competing for a European spot and moving up a place in the league …but it's made tougher when there's such poor consistency in terms of delivery [of decisions].
"I've been told I'm not allowed to say what I want to do! I was absolutely certain that the referee had made a bad decision but after speaking to him he was talking about the cut on the St Johnstone player's leg. It's still a contact sport! What am I teaching my players? There have been too many scenarios this year. It's unbelievable.
"The system needs to be fixed. How do you stop a follow-through? He's trying to half-tackle and half-pass. He doesn't know if there's someone there or not. And did you see how quickly the referee whipped out the red card? And then to not go to the screen … honestly, it's broken. Seriously, it was like the show was all about the officials. And do you know what? He didn't even blow his whistle loud enough. He's having a go at everyone for playing on. Yeah, because you haven't blown your whistle!"
But, Johnson insisted that the issues go beyond individual refereeing performances. "There are so many things [in Scottish football] that need looked at," he concluded. "The managers up here are probably not powerful enough. Down in England, the LMA [League Managers Association] is a powerful unit. We have influence and can change the game for the better but up here I feel like we have no influence, and there's probably 11 other managers who feel the same."