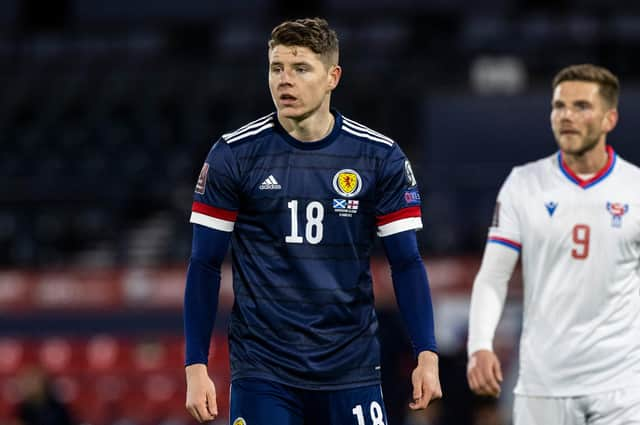 Hibs owner Ron Gordon told fans that the club would not have been able to bring a player like Kevin Nisbet to the club without their backing. Photo by Craig Williamson / SNS Group
Having assumed a majority shareholding in July 2019, the US-based entrepreneur had travelled to Edinburgh last February, just weeks before the world was plunged into crisis mode, and enthusiastically laid out the club's strategic plan.
Key to that was the improvement to stadium facilities and the overall matchday experience, and, most pertinently, the promise to bolster the squad budget and galvanise on-field aspirations.
But, when the season was curtailed, and play left in abeyance as health concerns took precedence, the focus was on simply surviving rather than thriving, as the club's previously healthy finances took a multi-million pound hit.
The way the fans rallied, buying season tickets and proving their generosity through donations and in messages to the executive chairman, kept his spirits up. They allowed the club to carry on and also made Gordon even more determined to weather the storm and get back to his origins plans.
"It's funny. I was forwarded something many, many moons ago, at the beginning of the pandemic. A fan had written 'of all the times to make an investment in football, this was the worst. Ron Gordon invested in Hibs at the worst possible time'. It almost brought me to tears because he added 'stick with it Ron, if you can take us through this, you are going to be a very good chairman for the club'.
"I was very emotional about that tweet or instagram post. But, honestly, there has not been one nanosecond when I said 'oh geez, what bad luck, why did I get into this?' Not at all. I'm very determined to do everything I can to take the club to the next level. It's a fantastic club, waiting for the opportunity to do more."
That determination has been reflected on the pitch this season. Finding money to buy Kevin Nisbet from Dunfermline in what was a calculated risk, given his scoring prowess but the fact he had not been tested at Premiership level, was an indication of that, while the decision to hold onto him in January made it clear that if the fans were willing to invest, the club would do all they could to reward them.
The combined efforts have paid off on the field, with Hibs heading towards their best league showing in 16 years, while also challenging in the cup competitions.
"They are the reason we have been able to do what we are doing," explained Gordon, who has been unable to get across to Leith as often as he would have liked this season, for obvious reasons but like the Hibs support he is hoping that changes next term. "It's entirely due to our supporters. To have 11,000 season ticket holders in a year when nobody knew if they could ever come to Easter Road and, in fact, they have not been able to come to Easter Road and will not be able to come to Easter Road this season.
"So, our gratitude to our supporters is enormous. Without them, we would not be sitting in third place. We would not be competing at the level we are currently competing at, we would not be getting a Kevin Nisbet into the club or bringing in a Kyle Magennis. Those kind of initiatives can only happen if you have the fans behind you."
That baking will need to be maintained as they head into a new campaign, but with a winning side and the expectation of grounds finally opening up to fans again, the club are hopeful.
"One of the messages that we have had from day one is that we are 'one team, one club'. Everybody at the club contributes, starting with the supporters. We need everybody to contribute. Somebody like Lynn in the ticket office is just as important as Kevin Nisbet to our success, somebody like William who handles the hospitality and makes sure sure that our guests are well taken care of is just as important as Ofir Marciano. They all contribute to the success of Hibs and our supporters are the foundation piece of that. We always have to keep that in mind. They are first and foremost the backbone, the foundation on which the club is built."
Continuing to build, dispute circumstances, it seems that there is plenty to look forward to next season. As well as European football and the chance to combine their domestic drive, with the chance to test themselves against fresh opponents on a UEFA stage, there is the anticipation of renewing rivalries with derby foes Hearts, with Gordon welcoming their return to the top flight.
"It is good for football and good for Edinburgh. Just so long as we win the derby!"
And the hopes is that Easter Road can be bouncing for those head-to-heads with Gordon optimistic that supporters will be admitted to stadia again next season, albeit with limitations initially.
"I don't anticipate it will happen for the start of the season but hopefully the vaccination programme keeps moving at a good clip and restricts the spread of the virus and if that happens then maybe we could be looking at getting back to normality by September or October, although that may be on the optimistic side."
But, he does see light at the end of the tunnel and a reason to keep believing and building, which is why there are no regrets.
A message from the Editor
Thank you for reading this article. We're more reliant on your support than ever as the shift in consumer habits brought about by coronavirus impacts our advertisers.
If you haven't already, please consider supporting our trusted, fact-checked journalism by taking out a digital subscription.