Nick Montgomery's attacking philosophy: The inside track on potential new Hibs manager from current Easter Road player
Adam Le Fondre says there will be mixed emotions if Nick Montgomery lands the vacant Hibs manager role.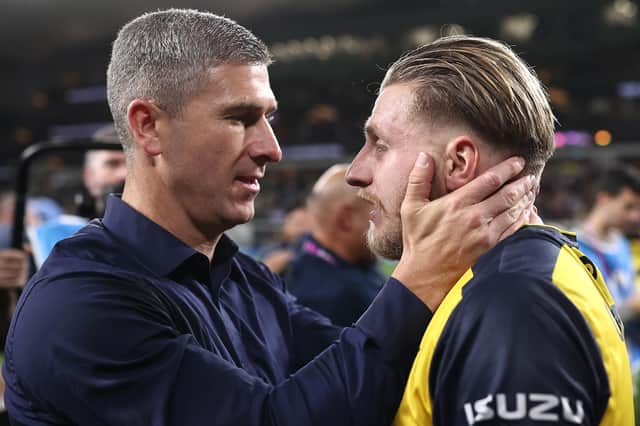 Montgomery remains one of the main contenders to replace the sacked Lee Johnson, as one of a handful of candidates being interviewed by the club hierarchy, ahead of an appointment later this week. And, the veteran striker has revealed he will bring an attacking style of football to the city if he does decide to swap defending A-League champions Central Coast Mariners for the Scottish Premiership side. But Le Fondre is less sure of the reception he will receive after the pair's paths crossed on several occasions during the striker's time in Australia.
"Whenever I played against him – and I know Monty quite well – I always scored," revealed Le Fondre. "So he might speak highly of me but he probably won't like me too much because I always score against him!" He was impressed enough to try to sign the Hibs man who banged in an impressive haul of goals every year he played for Sydney FC. "He's a good coach and he's done really well in Australia. His teams play attacking football. While he's been the Mariners coach they have done really well with young players and four or five have been sold from there off the back of last season. He was probably one of the best young coaches in Australia in my time there."
Montgomery guided his side to A-League glory last term and the fact he did so well on a limited budget is even more notable, according to the man who helped bolster Hibs' fortunes on Sunday, bagging the opening goal as Hibs recorded their first league triumph of the season to move off the bottom of the table, with a 2-0 win over Aberdeen at Pittodrie. "Yeah, the Mariners are known for having one of the smallest budgets in Australia and he gave a lot of chances to the younger players out there and you are seeing the fruits of that with Sammy Silvera going to Middlesbrough, James McGarry at Aberdeen, Garang Kuol, who was here last season at Hearts," said Le Fondre. "There are plenty of players who have gone on thanks to his coaching.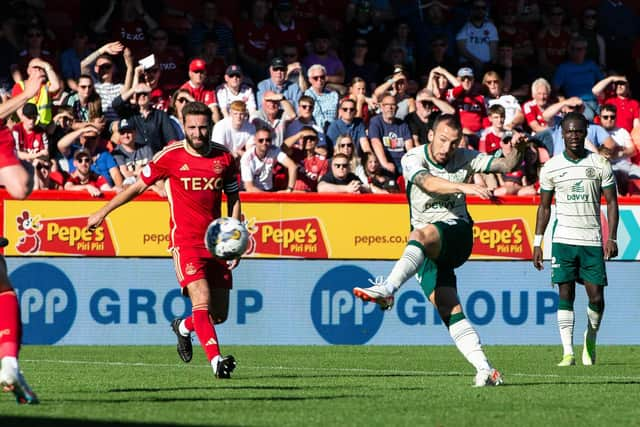 "They were always very attacking. They had Jason Cummings who has, obviously, been here before. They played two up top, with really good wingers, and they were just a really attacking team. Front foot, high pressure. The Australian game is a little bit different from the Scottish game, it's a little bit more transitional than here and they don't really value a point in Australia so it is a bit more cavalier when it gets later in the game. They just throw everyone forward and try to get the win. If they get the win, great, if they lose, so be it. There is no prize in their minds for getting a draw so they are very attacking teams."
Two goals in the final 15 minutes at Pittodrie – one from Le Fondre and one from fellow substitute Christian Doidge – gave the capital side, under the interim charge of David Gray, their first win of the league season and the experienced forward hopes that will prove the impetus they need for a winning run. Especially as they will all have a new boss to impress. "It was important for us to get a good, collective, team performance and I think, to a man, everyone was fantastic," continued Le Fondre. "Everybody put their body on the line and everyone defended. That started from the front and Dylan Vente ran himself into the ground and Josh Campbell as well. Me and Doidgey came on and got the goals but they did the groundwork before that and were instrumental in securing the three points.
"If you look at the games we've had, there's the high of the Luzern game and the high of the Andorran game but then we followed them up with not very good performances in the league, which is our bread and butter, so that was disappointing. It's been hard to find that consistency but, as a group, we've got to handle that ourselves. It's not external. It's our own preparation and performances that have not been good enough. So it was good to right a few wrongs with our performance against Aberdeen and to make the fans proud as well. You can't just sit there and start feeling sorry for yourself, you have to find a way. It's not just on the old gaffer, the performances are on us. It is us on the pitch who have under-performed and that has ultimately cost him his job."
Righting a few wrongs and continually having to prove themselves is part and parcel of a footballer's lot, according to the former English Premier League goalscorer. "Look at myself, when I arrived here it was under a cloud of 'why are they signing a 36-year-old?' and that is something I use to motivate myself," said Le Fondre. "I want to prove people wrong and show that I can still do a bit. I think I am proving that. It's the same with all the boys in this group, we all have the bit between our teeth.
"That's football for you. Every day, on the training ground, you are proving things to yourself and your team and you need that internal motivation to keep bettering yourself as a footballer, you have to have that or you won't have a long career and you won't get in the team. Everyone in this squad – we have a great group of people – knows what it takes to be a successful team and we are all going in the right direction. People had written us off after three games but look across the league, no-one has started consistently, so we just need to grow from this performance and prove that we have a talented squad here. We have to grow from this."