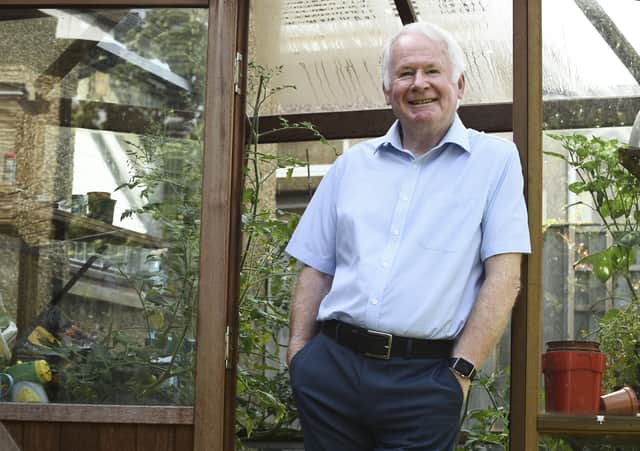 Now 78, Brian Marjoribanks in his garden at his home in Falkirk. Picture: Lisa Ferguson
It was front page news. "Every paper in Scotland and some in England," recalls Brian Marjoribanks with a chuckle. "And then BBC Radio's Today programme wanted to speak to me. They were all astonished by what I'd done."
Why would a footballer, just 21, who'd scored on his debut in an Edinburgh derby, give up the game for repertory theatre? "I told Today's presenter, Jack de Manio, that I thought I'd gone as far as I could in football and that theatre had always been my big passion, even though I was starting as the lowest form of life – assistant stage-manager. Then Jack asked me to recite some Shakespeare. I chose the prologue from act three of Henry V: "Thus with imagined wing our swift scene flies, in motion of no less celerity … "
Good old Brian, bringing erudition to the Saturday Interview. I wish that more subjects quoted the Bard and am thinking of making it a condition of entry to these pages. Imagine the fun we could have with, say, the world-class insults in King Lear: "A brazen-faced varlet … a worsted-stocking knave … a finical rogue … an eater of broken meats … the son and heir of a mongrel bitch … a whoreson cullionly barber-monger". And maybe worse, or worsted, of all: "A base footballer."
Brian Marjoribanks scoring on his Hibs debut in a 1961 Edinburgh derby against Hearts at Tynecastle.
Marjoribanks was not a base footballer. He'd turned down Hearts for Hibernian and ventured into Europe with them – his first trip on a plane – before crossing over to Tynecastle. "At that time, in the early 1960s, I think I was only the third player ever to represent both clubs. It's become desperately common since!" But he'd made up his mind. And, even though his appearance in Today's "And finally … " slot hadn't been any kind of audition, he received a phonecall that afternoon: how did he fancy starring in Dr Finlay's Casebook, the top TV drama watched by an audience of 12 million?
Most of you will remember Marjoribanks as a BBC Scotland sports anchor. He did that for 18 years, thus beating Steven Thompson by several decades in making the switch from pitch to presenter's chair – Gary Lineker, too. But this has been a life lived in three distinct acts, each equally fascinating, so let's begin at the beginning, which as a lad in hometown Falkirk was his love of football, but right alongside it, his love of drama.
I'm fascinated by this juxtaposition; weren't the two mutually exclusive? "Oh no," he says. "What I loved about acting, which I'd done in school plays and local am-dram, was the self-expression. It expanded my vocabulary and taught me how to communicate. I'm still passionate about what it can do for children and I adjudicate in drama competitions up and down the land. It gives youngsters the confidence of being in front of an audience which they can then carry into work and their careers. That applied to football for me. Believe it or not, what I tried to carry into my play was what I learned in ballet, which was part of my theatre training and, after all, just another way of expressing yourself through movement. I can tell you that an hour at the barre was no less tough than 90 minutes running up and down the terracing at Easter Road – and sometimes tougher!"
Now 78, Marjoribanks reveals there was drama behind the prospect from juvenile team Airth Castle Rovers signing for Hibs: "On the first Saturday in July, 1961, I had an audition for the Royal Scottish Academy of Music and Drama in Glasgow. I got back to Falkirk to find a big Jaguar parked outside our house. It belonged to the legendary Tommy Walker, manager of Hearts, and he was inside talking to my mother. He wanted me to sign there and then. I put him off that day because I'd already arranged to talk to Hibs. I went along to Easter Road having already found out I'd got into the RSAMD, which I was thrilled about, and [chairman] Harry Swan was very persuasive. He offered me a part-time contract, £12 a week, which meant I could take up the course. I wanted the security of a degree and thought I might one day use it to become a teacher."
Brian Marjoribanks' acting debut, playing a footballer with a bone disease in Dr Finlay's Casebook. In front of an audience of 12 million, he's tended by Dr Finlay, Bill Simpson.
As a centre-forward, Marjoribanks quickly demonstrated his celerity (it means "swiftness of movement" and, yes, I had to look it up). Two goals in the opening ten minutes of his first reserve match was "a nice start to the career". His fifth second-string outing was the wee Edinburgh derby, which back then attracted five-figure crowds. Another double and our man was promoted to the first team for their visit to Tynecastle three days later.
He cherishes a photograph of his goal that afternoon, not least because John Cumming is powerless to prevent it. "John was a great man and a very generous one. When I moved to Hearts I couldn't break into the first team but John, who dispensed the tickets for a free lunch at the Honeydew restaurant at Haymarket, usually managed to sneak me one." Was he nervous before that derby debut? "No, I wasn't. The confidence of youth, I suppose." And the confidence of a thespian, perhaps.
Briefly, Marjoribanks wondered if he might be the guy to replace Joe Baker, the sensational Leith goal machine just departed for Torino. "That was naive of me," he laughs. Ally MacLeod also scored for Hibs that afternoon, his Argentina ebullience some way off. "Ally wasn't very fit when he came to us. Eddie Turnbull, who was our trainer, sent him up the terracing and he was promptly sick." Hearts won a thrilling match 4-2, the Jam Tarts' Johnny Hamilton netting twice. "I remember his somersault celebration, radical for the time. Mine was quite refined."
But really Marjoribanks was the radical one. Which other Scottish footballer, before or since, has spent Monday to Friday steeped in the learning of the acting craft and treading the boards in modern versions of Ancient Greek legends? In Orpheus Descending, by Tennessee Williams, he was cast in the title role. "I charmed women with my guitar," he explains. Wikipedia describes the character as having "undeniable erotic energy". Marjoribanks would offer a different persona, more innocently fresh-faced, when fronting Sportsreel but that merely demonstrates what a capable actor he must have been.
He remembers another Williams piece, Suddenly Last Summer, in which he played a doctor attempting to save a girl with mental problems from the lobotomy ordered by her embarrassed parents. Heavy stuff. So what did his Hibee team-mates make of all this? "They were interested and supportive. I travelled through to Easter Road with Jim Scott, younger brother of Alex, who was always asking what play was on the go. John Fraser, when I quit football to go into rep with the Gateway Theatre, came to see me in The Happiest Days of Your Life. And Pat Stanton recently told my son [sportswriter Brian Jnr] that he remembered me at training trying to coax the ball to recite Shakespeare." Now, what am I always telling you, folks? Hibs are a very cultured club.
But it became increasingly difficult for Marjoribanks to juggle both disciplines. He was rushing back from drama school and missing training. The principal in Glasgow suggested he defer his studies to go full-time as a footballer but he was determined to get his qualification. Helpfully, Hibs suggested he switch to an English college and, as it was private, they would pay the fees. But a tipping point came when the club were setting off on a summer tour of the old Czechoslovakia and Marjoribanks stayed behind, having committed to another drama production. He didn't play for the first team again and was freed before the end of the following season, a campaign disrupted by the terrible winter of 1963.
Aberdeen still had games to complete but Rangers objected to him turning out for the Dons so quickly so he moved to Hearts where his football career fizzled out. "I don't think there was ever a single moment when I reckoned I'd made it in the game. Maybe if I'd started at a smaller club rather than Hibs, who'd beaten Barcelona and reached the semi-finals of the Inter-Cities Fairs Club a few months before I joined, things might have been different. But, nothing ventured. And at that moment I was particularly enthusiastic about drama and where it might take me."
Straight back to football was pretty much the answer, with the Dr Finlay producers casting him as Roddy Munro, star player for Tannochbrae United, the local team in the telly medic's home village. "Alloa Athletic will probably hate me for saying this but their Recreation Park was chosen for the action shots because it looked like it hadn't changed since the 1920s. Filming was to happen right after a game against East Fife. Alloa had asked if they wanted to sign me for the day, as 'A. N. Other' or similar, but, not doing so well at the time, they thought this would demoralise the players. In the end they lost the real game 7-2, after which Alloa, who had Willie Ormond's brother Gibby in their ranks, had to change into high boots and long shorts. Then the BBC director, an Englishman, grabbed his megaphone and announced: 'Now gentlemen of Alloa Athletic Football Club, Mr Marjoribanks will collect the ball on the halfway line, dribble past three men, nutmeg a fourth and smash the ball into the net. Those of you impersonating Tannochbrae's opposition must not – I repeat not – make contact with him when you tackle.' Whereupon one of the long-suffering Alloa fans who'd stayed behind to watch piped up: 'There winnae be any need for acting. These clowns have been daein' that all afternoon!'"
After a mazy run and goal that outdid any of Marjoribanks' real feats on the park, the storyline required poor Roddy to succumb to the bone disease osteomyelitis, prompting hundreds of letters of sympathy from Finlay fans, proof of the power of telly drama.
Old team-mates followed his new career with interest. "Sammy Baird, the left-half at Hibs, bought a pub in Bo'ness and invited me to the opening. John Greig was there. Sammy asked me to make a speech so I got up on a table and recited more Shakespeare, to a nice round of applause." Did he ever look back wistfully at his football days and wonder if he'd made the right choice ending them? "No, never. My mother told me to live for the present and I've really been quite happy with the variety there's been in my life."
And the football roles kept coming. Jimmy Logan adapted The Love Match, a play by the Irish writer Sam Cree, for STV. "We filmed before an audience at the Glasgow Metropole, me as Jimmy's son, a budding player signed by a big club, only it was Celtic and Jimmy's character was a Rangers diehard. I did other stage work with Jimmy, who was a delight, and I learned a lot about comedy from him which stood me in good stead when I lectured in theatre later. Depending on his mood and how keen he was to adlib, shows could finish at 10.30pm or 11.30pm. Once in Perth it was 11.30 and we had to be told: 'No no, this will not do. Everyone from the villages has missed their last bus home.'"
Then it was back on to TV for the Beeb's United!, a twice-weekly soap based round an English Midlands club. "The critics were rather unkind – one described it as doing for football what myxomatosis had done for rabbits – but I enjoyed it. When anyone was asked why I'd given up football, which they'd assumed had been well-paid, I was able to tell them that United! per episode earned me £120 a week which compared quite favourably with Hibs' £12. My character, Joey Furze, was eventually transferred although the show continued to use close-ups of my dribbling as I'd been the only ex-pro. None of the other actors could kick a ball for toffee."
Then in 1966 for Marjoribanks, dad of four and grandfather to eight who met his wife Kathleen when she was one of his students – "She hates me saying that" – it was time for the third act and the Sportscene precursor Sportsreel. First on the wireless and then on the goggle-box. First helming the tea-time results round-up and then when he'd coped admirably with phone-line gremlins: "How about you hang around and present the ten o'clock highlights as well?"
After experiencing the exigencies of live theatre, live TV did not scare Marjoribanks, which was just as well as these were "the elementary days" of the medium, when every ten minutes of a game a can of 16mm film would be rushed from ground to studio for frantic editing. I say I'm imagining a Keystone Cops-style pile-up of taxis. "That was just about what happened on the afternoon of the 1968 Scottish Cup tie which finished Dundee United 5, Hearts 6. So much stitching was needed that the film fell apart during transmission. I tried to cover up by saying: 'Viewers, we've got a great number of goals in this game so we're going to be serialising them over the next few weeks.'"
"Am I so round with you as you with me that like a football you do spurn me thus?" That's the boy Shakespeare again. Football, as you've learned, didn't spurn Marjoribanks. After hanging up his boots that all-important self-expression kept him involved in the game's dramas, fictitious and real. The smell of the greasepaint and the pong of the embrocation – a heady mix.
A message from the Editor:
Thank you for reading this story on our website. While I have your attention, I also have an important request to make of you.
With the coronavirus lockdown having a major impact on many of our advertisers - and consequently the revenue we receive - we are more reliant than ever on you taking out a digital subscription.
Subscribe to scotsman.com and enjoy unlimited access to Scottish news and information online and on our app. With a digital subscription, you can read more than 5 articles, see fewer ads, enjoy faster load times, and get access to exclusive newsletters and content. Visit https://www.scotsman.com/subscriptions now to sign up.
Our journalism costs money and we rely on advertising, print and digital revenues to help to support them. By supporting us, we are able to support you in providing trusted, fact-checked content for this website.